It's the first day of the month, and Varian has sent you a special invitation to join them at the Pond today. You remember the last time you had tea with them, and they had made their first costume (a rainbow!) and how they shared their favourite diverse anthologies with you. Could they possibly have a new costume?

When you finally find Varian by their favourite rock, they aren't a toad anymore. In fact, they're now a big and white panda, and they're sipping at, what smells like, a strong brew of jasmine tea.

"Friend!" they exclaim when they see you, and they do a small twirl. "What do you think? I finished it last night!"

You tell them that they look marvellous, and that they have definitely improved since the last costume; the fabric looks more aligned and the stitching much cleaner. Your kind comment gets a little blush out of Varian and they muster a thank you.

"This is for the Year of the Asian Reading Challenge that Xiaolong is helping out with," they explain. "I thought it would be fun to participate, and I am aiming to be a panda. Xiaolong has been thinking of what books to read, and so I thought I would share my knowledge and recommend a few to you."

Oh, this is wonderful! If you're not mistaken, the month of February is all about tropes, so Varian's recommendations are timely. You settle yourself down comfortably, and ask what recommendations they have today.
Greetings friends, and welcome to February and our second month of the Year of the Asian reading challenge!
Today's post is something I'm really excited to share with you all. If you haven't heard already, myself and three other spectacular book bloggers (Lily, Shealea, and Vicky) are hosting the Year of the Asian Challenge (or YARC, for short!) a year-long reading challenge dedicated entirely to reading Asian literature by Asian authors. As part of YARC, I have the privilege of sharing with you all my book recommendations for this month's prompts: tropes!
Whether you like them or dislike them, tropes are pretty important to books. It can pique our interest, it can be comforting, and it can draw us back to the ideas and trajectories that we love but with entirely different elements. In particular, I love reading books with tropes in diverse literature, especially Asian literature. There's something incredibly satisfying about seeing characters that look like you being at the forefront of the book, as well as seeing how nuances of identity, culture, and different lived experiences can influence and change how tropes are executed.
YARC's Official February Featured Books
Every month, Vicky, Lily, and I will take turns to feature our picks for each month and prompt. You don't have to read the prompts, but it can be a good way to connect with other readers who are also participating in YARC and you might discover some books you might have never heard of!
And so, before I share with you Varian's recommendations for this month, here are YARC's official featured books of February 2019:
Shadow of the Fox by Julie Kagawa is a book I cannot wait to read. Kagawa has written Japanese protagonists since The Immortal Rules, a YA vampire trilogy that released in 2012. And now Kagawa has blessed us with an ownvoices Japanese fantasy complete with yokai, samurai, and dragons. Indeed, Shadow of the Fox has the hero's journey trope and I absolutely can't wait to read this.
The Beauty of the Moment by Tanaz Bhathena releases on February 26th, and I can't wait to read it! In this YA romance, Susan, an Indian teen and the new girl who secretly wants to be an artist, and Malcolm, the bad boy who doesn't know what he wants in life, come together with a new girl/bad boy trope. Moreover, this book also explores family and culture, which are two themes that are irresistible to me. Whew! I want this book already.
If The Dress Fits by Carla de Guzman sounds like an absolutely delightful romance book, and features the fake dating trope! It centers on a fat Fillipina teen who needs a date to her cousin's wedding, so who does she employ as a fake boyfriend? Her best friend, Max. If the Dress Fits is an #ownvoices book for its Fillipino and fat rep and sounds like an absolute delight. I think I will pick up this book myself during February.
Are you going to be reading these books? 👀 If yes, be sure to add these to your progress trackers, TBRs, or talk about these featured books using the #YARC2019 Twitter and Instagram hashtag!
---
Varian's Recommendations
And now to my favourite part: the part where Varian recommends books! Varian and I are big believers in promoting books that aren't new and helping others find books that they might have missed over the years, so most of the books below are from 2015 to 2017! 💛
So, it's with excitement and pleasure that I share with you eight book recommendations that feature some exciting tropes.
1. The Epic Crush of Genie Lo by F. C. Yee
Trope: Resurrection/The Chosen One (Chinese mythology)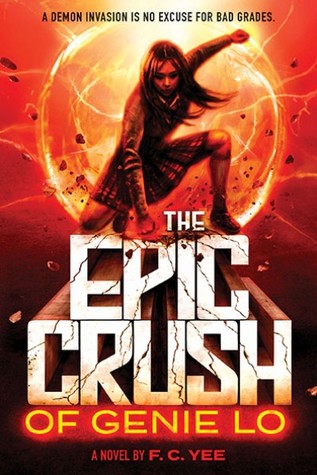 The Epic Crush of Genie Lo was one of my favourite reads of 2017! It's a fun retelling of the Journey to the West folktale set in modern-day San Francisco, and follows Genie, a Chinese teen, Ivy League hopeful, and suddenly the celestial-powered protector of her town. The Epic Crush of Genie Lo utilises the Resurrection/The Chosen One trope and it is brilliantly executed! Not only is it hilarious (because the last thing that Genie needs is another thing to worry about when she's already busy preparing her college applications), but it's action-packed, fun, and all tongue-in-cheek. Great for a light read and for those who grew up with Journey to the West!
---
2. A Spark of White Fire by Sangu Mandanna
Trope: The Lost Princess (Indian mythology)
I recently finished this gem and I absolutely loved this book, and it is criminally underrated. Not only is it inspired by the Mahabharata and ancient Indian stories, it's also a wickedly awesome YA space opera filled with political intrigue, sibling rivalry, and divine intervention by gods who have favourites. A Spark of White Fire follows Esmae, an orphaned child who is actually a twin to an exiled prince. This book is definitely as awesome as it sounds; the writing is marvelous, the characters absolutely wonderful, and also raises some fascinating philosophical questions about free will versus determinism. This is an absolute must-read for YARC2019, and I cannot recommend it enough. (And if you don't read it in YARC2019, I'm definitely going to be recommending it in 2020!)
---
3. To All The Boys I've Loved Before by Jenny Han
Trope: Fake Dating (Biracial Korean/White MC)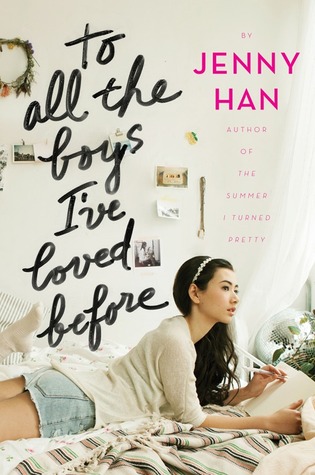 We all know about this book and its Netflix adaptation, so if you haven't read this charming and lovely book yet, then now's your chance! To All The Boys I've Loved Before is about Korean-White American Lara Jean, whose love letters she wrote to her crushes are mysteriously sent to all of them, including her current crush: Josh, the boy next door. As you would have already heard, this book features the fake dating trope, and yes! They definitely do start liking each other for real. This series is a personal favourite of mine (the last book being my favourite) and with the second book being adapted, now is a great time to read this charming series.
---
4. Not Your Sidekick by C.B. Lee
Trope: Everyone Is A Super (Vietnamese/Chinese MC)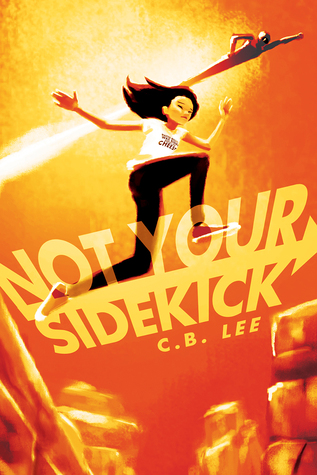 With the oversaturation of superhero narratives lately, it's refreshing to see some stories subvert this by utilising interesting tropes. Not Your Sidekick is one book that subverts the superhero narrative, even though it's a superhero book in itself. In a distant future where almost everyone has superpowers, Not Your Sidekick follows Jess, a Vietnamese/Chinese teen whose parents are the local superheroes and her sister is an up-and-coming superhero. Except there's one problem: Jess doesn't have superpowers of her own. So what does she do? She applies for an internship to beef up her college applications. This was one of my favourite books of 2016; it's fluffy, charming, delightful, and so wholesome. A must-read for YARC2019, especially with the last book of the trilogy releasing this year!
---
5. I Believe In A Thing Called Love by Maurene Goo
Trope: Every korean-drama trope (Korean-American MC)
I might actually re-read this book because I hadn't watched any k-drama (well, except for Boys Over Flowers) when I read I Believe In A Thing Called Love. And now that I've watched Go Back Couple (a k-drama that had me SOBBING every episode) and am currently watching One More Happy Ending, I think I'll appreciate this story a lot more. I Believe In A Thing Called Love follows Desi, a Korean-American who can ace a test and her extra-curricular activities but is absolutely useless in love. So what does she do? She studies rom-com k-drama to get better at love and tries to get the guy. I loved this book's refreshing and wild as heck narrative, and if you love k-drama, then you'll love this book.
---
6. Want by Cindy Pon
Trope: The Infiltration (Taiwanese MC)
If you have followed me since 2017, you'll probably know how much I love Want by Cindy Pon. Set in the vivid and futuristic Taipei, Want follows Zhou, a Taiwanese teen who, along with his friends, work together to bring down a corrupt organisation. And to do so? He must infiltrate the corrupt organisation by masquerading as someone much wealthier and more elite than who he really is. Not only is this book brilliant for its great action sequences,  memorable and lovable characters, but it also has some great themes and discourses on environmentalism, corruption, and inequality that are brilliantly told and executed. With Ruse, the sequel, being published next month (aaah!), now's a great time to read Want and prepare yourself for the series' next installment.
---
7. Under a Painted Sky by Stacey Lee
Trope: Found family (Chinese MC)
So here's my personal challenge to you all: you absolutely must read one Stacey Lee book during YARC2019! Stacey Lee's historical fiction books are brilliant – centering on an Asian character in a time where Asian characters don't often appear in history. My absolute favourite by her is Under a Painted Sky, her historical fiction set along the Oregon Trail. It follows Samantha, a Chinese teen whose life is forever changed when tragedy befalls. In order to survive, she escapes with runaway Black slave, Annamae, and together they disguise themselves as boys (another trope: Sweet Polly Oliver!) and trek across the Oregon Trail. This is such a gem of a book and I certainly loved this depiction of found family; the friendships and sisterhood in this book warmed my heart, and you'll feel like you've personally made the journey after reading it.
---
8. Heroine Complex by Sarah Kuhn
Trope: Swapped Roles (Japanese-American MC)
Goodness, this book is such a fun gem and this is also a reminder to myself that I need to pick up its two subsequent books. If you want a break from all the YA, this is a perfect adult urban fantasy with a fresh take on superheroes! It follows Evie Tanaka, personal assistant to Aveda Jupiter – childhood best friend and the city's most famous superhero. When Evie has to pretend to be Aveda for a night, all mayhem breaks loose. Heroine Complex has a great balance of mystery, romance, fantasy, friendship, and superhero-ism. This book was so much fun and – hello! – Asian superheroines!! I love this book. Gah, now I want to re-read it.
---
And here is the February monthly link-up!
I hope you enjoyed this month's YARC recommendation post, and I hope that you discovered a book or two that you want to add to your YARC reading list. As always, it's an honour and privilege to be able to share some brilliant books by Asian authors with you all, and to also be one of the co-hosts for the Year of the Asian Reading Challenge.
I hope you all have fun reading all the Asian literature! And thank you all for tagging me in your sign-up and TBR posts – I love reading about what everyone is planning to read, so please tag me! I'd love to pop by and visit your blogs and leave a comment. 💛
On the first of March, be sure to visit Lily's blog, as she will be sharing you her recommendations for our March prompt: books that challenge society. This is a prompt that I absolutely love and am excited for you, so make sure you don't miss this post next month!
What are you planning to read in February for YARC2019?
Are there any books here that pique your interest? What do you think you'll be adding?
Have you read any of the books recommended here? What did you think?