Today is the first day of June! And you know what that means: it's the first day of Pride! 🏳️‍🌈

You visit the Pond, feeling a lot of emotions today. You decide to visit Varian the Toadshifter – they'll know exactly what you need.

When you find Varian, they are wearing their rainbow skirt (the one that they wore a few months ago when you first met them!) and they're holding a really big rainbow flag.

"Happy Pride, friend!" they greet, jumping over to you while waving their big rainbow flag. They sense how you are feeling, and they give you a smile in solidarity. "I understand, my friend. Pride can bring out a lot of feelings – some are positive and joyful, some may be feeling like they are not enough, and some may feel like they don't belong. But the thing is, friend, you and the others who feel like they are not enough or feel like they don't belong? They are enough. And they do belong."

They point to the pins stuck to their sash. "I'm wearing these pins in solidarity of my asexual and aromantic friends out there. Pride month is for all queer friends, and all I want is for my queer friends, especially asexual and aromantic friends, to feel joy and love."

They settle down by the Pond, and gesture for you to join them by the water. "Today, I want to share with you some books that you can read! Xiaolong is still helping out with the Year of the Asian Reading Challenge, so she asked me to recommend some books with queer Asian characters to you!"

This sounds delightful! And you're always looking for more books to read. You tuck in, set yourself down next to Varian, and listen to the books they have to recommend.
Hello friends! Welcome to June and our sixth month of the Year of the Asian reading challenge!
In case you haven't heard, myself and three brilliant book bloggers (Lily, Shealea, and Vicky) are hosting the Year of the Asian Reading Challenge (or YARC!), a year-long reading challenge dedicated to reading Asian literature by Asian authors.
Now that it's June (I… can't believe it's June already?) it's time for a new prompt to help you find some reads! This month's prompt is PRIDE, just in time for Pride Month where we celebrate all our queer friends. Therefore, for June, our recommendations are centered around novels with queer and Asian main characters. This month, read a book in which the main character is queer, whether it is stated outright or mentioned more subtly.
YARC's Official June Featured Books
Every month, your co-hosts of YARC will feature three books! You don't have to read the prompts, but it can be a good way to connect with other readers who are also participating in YARC and you might discover some books you might have never heard of!
And so, before I share with you Varian's recommendations for this month, here are YARC's official featured books of June 2019:
She of the Mountains by Vivek Shraya is definitely a book I am looking forward to reading this Pride, and I hope you all will join me in reading it too. She of the Mountain is a illustrated novel, reimagines Hindu mythological stories, and explores a queer man's journey of his personal identity. Apparently the story also explores non-binary identity as well! This sounds like a gem and I can't wait to read this.
Tell Me How You Really Feel by Aminah Mae Safi is one of my most anticipated releases – I mean, two Asian girls on a book cover? in a romantic context? YES + YAY. This book is about two girls who go to a prestigious school, are enemies and – you guessed it – eventually fall in love. This is the perfect Asian pride read, and I can't wait to pick it up myself!
Not Your Sidekick by C.B. Lee is one of my favourite books of all time, and features a Vietnamese/Chinese bi teen by the name of Jess! This is a great feel-good story set following a catastrophic event that also activated a gene, giving rise to metahumans – kinda like superheroes! This book is so charming and the romance (which is f/f!) is so charming.
Are you going to be reading these books? 👀 If yes, be sure to add these to your progress trackers, TBRs, or talk about these featured books using the #YARC2019 Twitter and Instagram hashtag!
---
Varian's Recommendations!
Varian has done a good job at recommending reads so far. They recommended you books with tropes in February, and books about power in April! Varian is super excited to recommend some Asian Pride books for you all to read this month. 🌈
1. The Devourers by Indra Das
I haven't read this book myself, but while researching books to recommend to you all, I stumbled upon The Devourers – which sounds like such a fascinating and compelling read? It's an adult paranormal story about a college professor who meets a mysterious stranger who tells him a story. This book infuses its story with Indian mythology and folklore, and there's genderfluid representation as well? I can't wait to read this; this sounds like a book that'll get under my skin in a good way. Note: book has content warnings for rape.
Add this book to your Goodreads!
2. Seven Tears at High Tide by C.B. Lee
This might be one of the most wholesome and softest stories I've ever read, and I'm so excited to recommend it to you all today. The book follows Kevin, a Vietnamese bisexual teen who makes a wish to the ocean to fall in love — only for the ocean to send him a Morgan, a selkie who has heard his wish. If you want to feel good, want to read something that's stress-free and absolutely lovely for Pride, this is your go-to book. I cannot recommend it enough.
Add this book to your Goodreads!
3. Summer Bird Blue by Akemi Dawn Bowman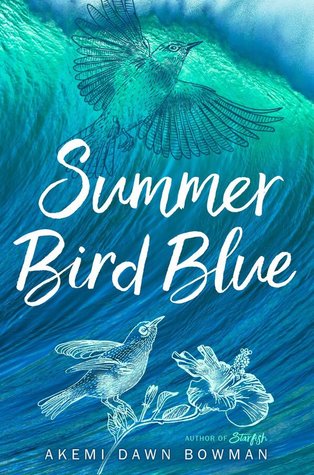 I haven't read Summer Bird Blue, but I'm making it my personal mission to read it during Pride, especially since it has asexual rep — which we don't get to see! The story follows Rumi Seto following the death of her little sister, who travels to Hawaii to live with her aunt. Not only is the story led by biracial protagonist who is questioning (and later figures out she is asexual and possibly aromantic as well), this story sounds like an emotional and evocative read about siblinghood and grief.
Add this book to your Goodreads!
4. Come Drink With Me by Michelle Kan
If you haven't heard of this wonderful gem, Come Drink With Me by Michelle Kan is the novella you never knew you needed. The story follows a Dragon and Phoenix, and has every sense of a magical Chinese fairytale and is set in the context of a Chinese opera. It's about the incredible bond that they share, and how it transcends time and space. This is the perfect aromantic read, and I can't wait for you all to read this gem.
Add this book to your Goodreads!
5. Huntress by Malinda Lo
I am determined to read this book for Pride Month, especially since Lo published this gem in 2011 – 2011! The story follows two girls who journey to the city of the Fairy Queen to stop an impending disaster. However, the two girls fall in love, and their destinies collide. This book sounds like everything that I'd love in a fantasy – Asian-inspired, queer, and revolutionary. I hope y'all will join me in reading this book!
Add this book to your Goodreads!
---
Don't forget to add your links to our monthly link-up!
In case you've missed our previous recommendation posts, you can find them here:
I hope you all these Year of the Asian Reading Challenge recommendations, and I hope that you discovered a book that you want to add to your YARC reading list. As always, it's an honour and privilege to be able to share some great books by Asian authors with you all. 💛
What are you planning to read in June/Pride for YARC2019?
Are there any books here that pique your interest? What do you think you'll be adding?
Have you read any of the books recommended here? What did you think?