Welcome to Issue #10!
Welcome back to another exciting week of The Pond Book News, friends! Every Monday, The Quiet Pond releases a new issue of book news to help you keep up-to-date with the latest diverse book releases, book news, cover reveals, and more! Every week, we also feature three incredible people in the book community!
This week, Xiaolong is taking over because Stella the Dragonfly is recuperating after her big travels! We hope that Stella rests well and so, this week, Xiaolong, dressed up as Stella again and is delivering your latest book news! Xiaolong will be sharing the book news with you today, and you'll see Stella next week!
Book Releases This Week [July 29th – August 4th]
Shatter the Sky by Rebecca Kim Wells
Raised among the ruins of a conquered mountain nation, Maren dreams only of sharing a quiet life with her girlfriend Kaia—until the day Kaia is abducted by the Aurati, prophetic agents of the emperor, and forced to join their ranks. Desperate to save her, Maren hatches a plan to steal one of the emperor's coveted dragons and storm the Aurati stronghold.

If Maren is to have any hope of succeeding, she must become an apprentice to the Aromatory—the emperor's mysterious dragon trainer. But Maren is unprepared for the dangerous secrets she uncovers: rumors of a lost prince, a brewing rebellion, and a prophecy that threatens to shatter the empire itself. Not to mention the strange dreams she's been having about a beast deep underground…

With time running out, can Maren survive long enough to rescue Kaia from impending death? Or could it be that Maren is destined for something greater than she could have ever imagined?
Collectively, I feel like a lot of us love the idea of dragons, but we don't often see many books about dragons. Thankfully, Shatter the Sky releases very soon and it's a sapphic fantasy that has dragons! We can expect a bisexual heroine who goes on a journey to save her girlfriend, dragons, prophecies, and great worldbuilding.
Releases on the 30th of July 2019. Add this book on Goodreads.
---
For Black Girls Like Me by Mariama J. Lockington
Makeda June Kirkland is eleven years old, adopted, and black. Her parents and big sister are white, and even though she loves her family very much, Makeda often feels left out. When Makeda's family moves from Maryland to New Mexico, she leaves behind her best friend, Lena―the only other adopted black girl she knows―for a new life. In New Mexico, everything is different. At home, Makeda's sister is too cool to hang out with her anymore and at school, she can't seem to find one real friend.

Through it all, Makeda can't help but wonder: What would it feel like to grow up with a family that looks like me?

Through singing, dreaming, and writing secret messages back and forth with Lena, Makeda might just carve a small place for herself in the world.
For Black Girls Like Me sounds excellent – but also necessary. There is a blatant dearth of books that explore trans-racial adoption, and this book will follow Makeda, a Black girl, who is adopted by a white family. I'm curious to read this book and follow Makeda on her journey, and I'm looking forward to the experiences and identity-related discussions that this book will explore.
Releases on the 30th of July 2019. Add this book on Goodreads.
---
My Fate According to the Butterfly by Gail D. Villanueva
When superstitious Sab sees a giant black butterfly, an omen of death, she knows that she's doomed! According to legend, she has one week before her fate catches up with her — on her 11th birthday. With her time running out, all she wants is to celebrate her birthday with her entire family. But her sister, Ate Nadine, stopped speaking to their father one year ago, and Sab doesn't even know why.

If Sab's going to get Ate Nadine and their father to reconcile, she'll have to overcome her fears — of her sister's anger, of leaving the bubble of her sheltered community, of her upcoming doom — and figure out the cause of their rift.

So Sab and her best friend Pepper start spying on Nadine and digging into their family's past to determine why, exactly, Nadine won't speak to their father. But Sab's adventures across Manila reveal truths about her family more difficult — and dangerous — than she ever anticipated.

Was the Butterfly right? Perhaps Sab is doomed after all!
Something that I love about middle-grade novels is that they explore the world through the eyes and perspective of a young child. My Fate According to the Butterfly sounds like such a poignant and great read, especially since the story is centered on superstition — something that is prevalent in South-East Asian cultures but is looked poorly on in Western cultures. I look forward to reading this book – it sounds like a gem.
Releases on the 30th of July 2019. Add this book on Goodreads.
---
Truly Madly Royally by Debbie Rigaud
Fiercely independent and smart, Zora Emerson wants to change the world. She's excited to be attending a prestigious summer program, even if she feels out of place among her privileged, mostly white classmates. So she's definitely not expecting to feel a connection to Owen, who's an actual prince of an island off the coast of England. But Owen is funny, charming…and undeniably cute. Zora can't ignore the chemistry between them. When Owen invites Zora to be his date at his big brother's big royal wedding, Zora is suddenly thrust into the spotlight, along with her family and friends. Everyone is talking about her, in real life and online, and while Owen is used to the scrutiny, Zora's not sure it's something she can live with. Can she maintain her sense of self while moving between two very different worlds? And can her feelings for Owen survive and thrive in the midst of the crazy?
I have a confession: I am an absolute sucker for books that have the royal-and-non-royal romance trope. There's something so fantastical and charming about them, and I really can't wait to read this? Also, an interracial relationship? I'm looking forward to reading that. This sounds like the perfect summer read – for those who are currently in the Northern Hemisphere! – and such a delight.
Releases on the 30th of July 2019. Add this book on Goodreads.
---
The Merciful Crow by Margaret Owen
A future chieftain

Fie abides by one rule: look after your own. Her Crow caste of undertakers and mercy-killers takes more abuse than coin, but when they're called to collect royal dead, she's hoping they'll find the payout of a lifetime.

A fugitive prince

When Crown Prince Jasimir turns out to have faked his death, Fie's ready to cut her losses—and perhaps his throat. But he offers a wager that she can't refuse: protect him from a ruthless queen, and he'll protect the Crows when he reigns.

A too-cunning bodyguard

Hawk warrior Tavin has always put Jas's life before his, magically assuming the prince's appearance and shadowing his every step. But what happens when Tavin begins to want something to call his own?
I've heard the buzz for this book, and I'm looking forward to finally read this for myself! This story features a pansexual main character, and is about mercy-killers who draw magic from the teeth of the dead? I'm a little terrified but also incredibly intrigued. This sounds like an exciting fantasy with complex and intricate worldbuilding, and I'm excited.
Releases on the 30th of July 2019. Add this book on Goodreads.
---
Book News
Book Trailer: Frankly In Love!
This delightful and wholesome book trailer made the rounds on Twitter, but in case you have missed it: the book trailer for Frankly in Love by David Yoon is out! Make sure you watch it – you won't regret it.
---
Cover Reveal: Nic Stone's new book has a cover!
Nic Stone's new book, Jackpot, has a book cover and I love it! I love that Black girls are getting a cover that features a Black woman with curly hair, and this book sounds wonderful. You can add the book on Goodreads here.
---
Cover Reveal: The final book of Shatter Me has a cover!
Shatter Me fans, rejoice! The book cover for the final book is finally here, and I'm kinda loving the evolution of the eyes. This bejeweled look seems to promise an epic conclusion, and I'm excited for all Shatter Me fans out there!
---
Book Community Spotlight
Book blogger: Kal from Reader Voracious
I only started following Kal this year, but my life and my time in the book community are so much better with her in it. Kal's book blog is incredible – from her wonderful blog series where she features book bloggers from around the world (Reading Around the Globe) and her new international ARC program (Flapping Pages), Kal gives so much to the community and I appreciate her hard work and her efforts immensely. Don't miss out and make sure you follow Kal!
You can follow her blog, and also follow her on Twitter, and Instagram.
---
Bookstagrammer: Jaime (@absorbedinpages)
Jaime's feed is so warm, comforting and homey, and I love the wonderful energy of all her photos! Her feed is gorgeous and her book recommendations are on-point.
You can follow her on her Instagram, and also her blog!
---
Booktuber: Madalyn (NovelInk)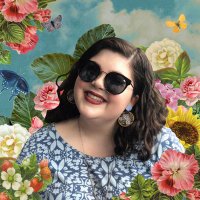 Madalyn is an absolute gem in the book blogging community – and she's also a booktuber! I love seeing her sunny and bubbly face on my timeline, and I also really enjoy watching her videos – especially her TBR videos! In particular, I loved her June TBR video; I added so many books to my TBR because of her and I'm thanking her for it.
You can follow her Youtube channel, and you can also find her on her blog, Twitter, Goodreads, and Instagram!