Welcome back to the Pond, friends! This recommend post comes a little late, but it's never too late to recommend some awesome books, right?
In case you haven't heard, myself and three brilliant book bloggers (Lily, Shealea, and Vicky) are hosting the Year of the Asian Reading Challenge (or YARC!), a year-long reading challenge dedicated to reading Asian literature by Asian authors.
We are currently in our tenth month of the Year of the Asian Reading Challenge! Since it is spooky season, we thought that we would recommend some Asian books influenced by folklore, fairytales, and myths! (And for those of you who aren't a fan of spooky season, it's always a good month to read stories inspired by tales of old.)
Therefore, our October prompt is one that I absolutely love and am excited to share with you all: folklore, fairytales, and myths!
---
Some of my favourite stories in existence are stories that are inspired by folklore and myths. Not only are folklore, mythology, and fairytales intrinsically tied to identity and culture, they also tend to be connected to our childhood and may play a big role in shaping who we become. For this reason, I absolutely love retellings, especially Asian retellings that remind me of my childhood.
Today, Varian's costume is very moon-inspired! A lot of myths, stories, and folktales involve or incorporate the moon, and is often linked to celestial and heavenly themes. Some of my favourite stories or deities related to the moon are Chang'e, the Chinese goddess of the moon, Chandra, a lunar deity and one of the nine planets in Hinduism – and Lunar New Year is all about the lunar/moon cycle!
---
YARC's Official October Featured Books
Every month, your co-hosts of YARC will feature three books! You don't have to read the prompts, but it can be a good way to connect with other readers who are also participating in YARC and you might discover some books you might have never heard of!
Here are YARC's official featured books of October 2019:
The Dragon Warrior by Katie Zhao is a book I've talked about a few times and is a book that is close to my heart. This middle-grade quest adventure story follows 12-year old Faryn, who discovers that she is the powerful Heaven Breaker. She goes on a quest to prove her worth, makes unlikely friends along the way, and goes on an incredible and life-changing adventure.
The Candle and the Flame by Nafiza Azad made waves in May, and here is a reminder to you all that you should read this book! Influenced by Middle-Eastern mythology and based on the Silk Road, this book is one of magic, adventure, djinn, and fiercely independent women who take lead in the story.
A Thousand Beginnings and Endings edited by Ellen Oh and Elsie Chapman was one of my favourite books of 2018, and I'm excited that I can recommend it to you all as part of YARC2019! A Thousand Beginnings and Endings is a fantastic YA anthology of Asian myths and folktales retold by Asian diaspora writers. The stories are magical, impactful, and absolutely splendid — and I cannot recommend this anthology enough.
Are you going to be reading these books? 👀 If yes, be sure to add these to your progress trackers, TBRs, or talk about these featured books using the #YARC2019 Twitter and Instagram hashtag!
---
Varian's Recommendations!
Every time The Quiet Pond recommends some books for YARC2019, Varian will also throw in some recommendations – just in case you're looking for more Asian books to add to your to-read lists!
1. Wicked Fox by Kat Cho
If you're looking for a story with Korean mythology, then look no further than Wicked Fox by Kat Cho! A wonderful blend of old lore and its modern setting in Seoul, Wicked Fox follows Korean teen who crosses paths with a gumiho – or a nine-tailed fox who feeds on humans to sustain their longevity. Wicked Fox is a story of detailed mythology, characters that bring extraordinary presence to the story, and a little bit of family drama as well!
Add this book to your Goodreads!
2. The Serpent's Secret by Sayantani DasGupta
If you grew up with Indian mythology, then you're in for a treat with The Serpent's Secret! The story follows Kiranmala, your average Indian girl who is actually an Indian princess from another realm, as she goes on a perilous adventure to save her human parents. The Serpent's Secret is filled with nods to Indian folklore and stories, is told with light and humorous storytelling, and is also accompanied by beautiful illustrations. A delightful pick for young kids, but will also delight older readers too.
Add this book to your Goodreads!
3. A Spark of White Fire by Sangu Mandanna
I've probably already recommended A Spark of White Fire, but with its sequel A House of Rage and Sorrow releasing only last month, it's a good time as any to read this book! Inspired by the Mahabharata and other Indian stories, this is a YA space opera at its finest – filled with familial politics, intrigue, fantastic characters, meddling celestial beings, and even a sentient warship who abhors war. Read this book; you'll thank yourself for it.
Add this book to your Goodreads!
---
4. Where the Mountain Meets the Moon by Grace Lin
This is an oldie but a goodie, and I cannot resist recommending this timeless middle-grade classic! Where the Mountain Meets the Moon, alongside its standalone-but-also-a-sequel, When the Sea Turned to Silver are wonderful stories that feature a blend of Chinese folktales and always follow brave and wonderful young Chinese kids as main characters. I loved reading this years ago, and love the simplicity but also how wholesome they are. I cannot recommend this book enough.
Add this book to your Goodreads!
---
5. The Forbbiden Wish by Jessica Khoury
No recommendations post entirely dedicated to fairy tales is complete without recommending The Forbidden Wish by Jessica Khoury! I read this many years ago and the feminist retelling, and its strong emphasis on the bond between two girls, was so revolutionary to me – and still is! This is a retelling of Aladdin, told from the perspective of the jinni, Zahra. The world is enchanting, the romance breathtaking, and the adventure absolutely stunning. If you've slept on this, now's the time to read it! You're welcome.
Add this book to your Goodreads!
---
6. The Tiger at Midnight by Swati Teerdhala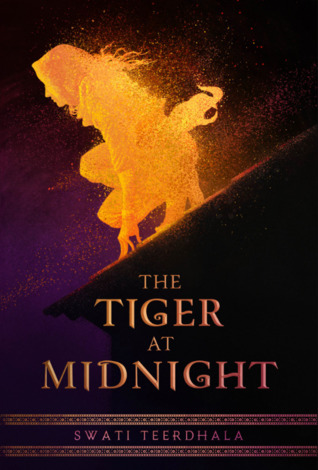 Assassins, rebels, and fighting for what is right – what more could you want? The Tiger at Midnight is the Indian fantasy that sounds absolutely delightful and its developments nail-biting and compelling. A story inspired by Indian and Hindu mythology, I can't wait to join you all in reading this – it sounds like a story I will fall in love with.
Add this book to your Goodreads!
---
Don't forget to add your links to our monthly link-up!
In case you've missed our previous recommendation posts, you can find them here:
I hope you all these Year of the Asian Reading Challenge recommendations, and I hope that you discovered a book that you want to add to your YARC reading list. As always, it's an honour and privilege to be able to share some great books by Asian authors with you all. 💛
What are you planning to read in October for YARC2019?
Are there any books here that pique your interest? What do you think you'll be adding?
Have you read any of the books recommended here? What did you think?