The air is woody and crisp as you step into the Pond. You're up early today, feeling refreshed and rejuvenated by the morning breeze. Closer in, you notice Sprout's little plant bobbing up and down behind a bush, glowing faintly. You smile, and make your way towards them to say hello.

As you grow closer, you notice a stream of water that wasn't there in all your visits to the Pond. The small, shallow river gurgles cheerfully, seemingly connecting the Pond to streams beyond. You notice something else too, by the spot where Sprout is sitting: something luminous in the water, reflecting the light of the morning sun.  Sprout notices you as you curiously walk forward, and waves an enthusiastic hello.

"Good morning, friend! Have you eaten your breakfast?"

As you affirm their question, the light in the river pokes its head out of the water. It's a carp! Its iridescent scales seem to glitter a hundred different colors at once.

"Friend, this is Christina!" Sprout introduces. "She's visiting the Pond today to tell us all about her new book, A Wish in the Dark. I had the opportunity of reading it just before it was published, and it's become one of my favorite stories! It was about so many things—about mangoes, and revolutions, and light, while still being a fun adventure through a world filled with magic. Will you come and listen to us for a while?"

Well, how could you refuse a carp that glitters? You settle down next to Sprout, and prepare yourself to listen to Sprout and Christina discuss this wonderful new book.
Welcome back to the Pond, friends! Today is a special, special day here for all of us, because this is my first author interview here at the Pond (and also in my blogging career)!
I was very blessedly sent a digital ARC of A Wish in the Dark by Candlewick Press earlier this year, and though I had only a passing interest in the story when I found the book on Goodreads, I ended up reading the whole book in one sitting after I read the first chapter! It was such a brilliant middle-grade adventure with so much to say about important, complex topics like revolution and justice. I genuinely hope that more readers consider picking it up, because it completely stole my heart!
I'm so honored to have Christina here with us at the Pond today, and hope you enjoy the interview ahead of us: Christina's responses are an absolute delight to read. But first, let me tell you what A Wish in the Dark is all about, too!
Summary:
A boy on the run. A girl determined to find him. A compelling fantasy looks at issues of privilege, protest, and justice.

All light in Chattana is created by one man — the Governor, who appeared after the Great Fire to bring peace and order to the city. For Pong, who was born in Namwon Prison, the magical lights represent freedom, and he dreams of the day he will be able to walk among them. But when Pong escapes from prison, he realizes that the world outside is no fairer than the one behind bars. The wealthy dine and dance under bright orb light, while the poor toil away in darkness. Worst of all, Pong's prison tattoo marks him as a fugitive who can never be truly free.

Nok, the prison warden's perfect daughter, is bent on tracking Pong down and restoring her family's good name. But as Nok hunts Pong through the alleys and canals of Chattana, she uncovers secrets that make her question the truths she has always held dear. Set in a Thai-inspired fantasy world, Christina Soontornvat's twist on Victor Hugo's Les Misérables is a dazzling, fast-paced adventure that explores the difference between law and justice — and asks whether one child can shine a light in the dark.
Author Interview: Christina Soontornvat
I'm so excited to share this interview with you, friends! As a Southeast Asian reader, the Thai-inspired fantasy setting and the themes of the book greatly resonated with me, and I truly feel that such a thoughtful, well-written story ought to receive more attention from our community. I hope that this convinces you (even just a little) to read this lovely book, and that you fall as deeply in love with it as I did. Now I shan't keep you any longer! Onwards!
Sprout: Hello Christina! Thank you so much for joining us today here at the Pond! Before we begin, could you tell us a little about A Wish in the Dark?
Christina: This is a middle grade novel, a fantasy adventure that is a twist on Victor Hugo's Les Misérables, and set in a Thai-inspired world. 
(Note from Sprout: this answer was initially a little longer, but it's also covered in the summary above!)
---
Sprout: What inspired and/or motivated you to write a middle-grade fantasy retelling of Les Misérables?
Christina: When I was 10, my mom was reading Les Mis and she would summarize the story for me as she went along. I became obsessed with it! And as a teenager, it became my favorite book (and musical). I always wanted to write a twist on the story, but I couldn't figure out how to make it my own until I decided to set it in a magical Thailand. Once I had that settled, everything fell into place.
---
Sprout: The universe the story is set in is fictional, but it also reads as a fond love letter to Thai culture: the food, the winding rivers, the monk-blessed string bracelets. Is there any part of the worldbuilding in the book that's special to you personally?
Christina: Yes, it is a love letter to Thailand for sure! The world in the book is based on my dad's stories of growing up in Bangkok as a young boy. When I was a kid, those stories were so vivid and fairytale-like to me, and that mood is what I tried to bring into the story. One particularly personal part of the book is when Pong talks about a boy and his grandfather who go to the river's edge to catch crabs. This is based on my dad's stories of going prawn fishing with his own father. It was so special to be able to find a spot in the novel where this family story could fit!
---
Sprout: A Wish in the Dark is very much a book for young readers, but it also never condescends to the audience it was written for. I always felt that there was a spirit of adventure and hope underpinning the story even as the characters dealt with pretty heavy issues like revolution, justice, and incarceration. Do you have any advice for writers looking to weave complex real-world themes into the stories they write while still maintaining the story's tone?
Christina: Oh gosh, that is the highest praise ever! I never want to talk down to young readers. I know from my own experience with hearing the Les Misérables story at a young age that kids are really yearning for truth. They don't want to be coddled by authors. I feel like we can give them anything (presented appropriately, of course) as long as it's true. And you landed on the secret for how to do this well – leave readers with hope. I think if you are writing books for kids, you are probably already a hopeful person who believes that children will grow up to make the future brighter for us all. We just need to give them the stories that will help them get there.
---
Sprout: In the book, Pong discovers magic in the form of the blessed string bracelets he receives from the monk who takes him in. If you could have one tiny, magical blessing in this life, what would it be?
Christina: Ah! This is easy. I would wish that mosquitoes couldn't smell me. What a superpower that would be!
---
Sprout: You've mentioned that A Wish in the Dark is the book of your heart, and I think the passion you've poured into this really does shine through in the story. Is there anything that specifically sets this book apart for you personally from the previous ones you've written?
Christina: Oh my goodness, thank you! I am so glad to know that my heart comes through. Definitely writing about Thai culture was different for me. I felt like I had to take a leap and just do it, even though I worried so much (like, I'm talking night sweats) about getting it wrong. The underlying theme of the book—compassion—is one that is personally important to me. I am constantly working on cultivating compassion for myself and toward others. I have so much work to do. But writing this book has made me want to try to get better at it every day.
---
Sprout: What are you hoping readers will take away from Pong and Nok's adventures?
Christina: I hope that they see that they are each a light, and even as children they have an incredible power to shine and make the world better. I want every child to know they are worthy and they have this power, no matter what anyone else has told them.. It is easy to forget that every single person on this earth has the potential to shine a light – including the people that society often deems "unworthy" or "bad". Imagine if we all helped each other to reach our fullest potential, how bright the world would be?
---
Sprout: Fruit plays a pretty big role in the book—the story both begins and ends with a mango tree, and fruits are generally viewed as luxury food items by a lot of the citizens of Chattana. Currently, what's your personal favorite fruit?
Christina: Oh my gosh – TOO HARD! Fruit is my favorite thing to eat and it is no exaggeration to say that I love (not just like, but LOVE) every fruit I have ever had. Even durian. Maybe I should say durian because I feel like some people give it a bad rap! I love you, durian, in all your stinky glory.
About the Author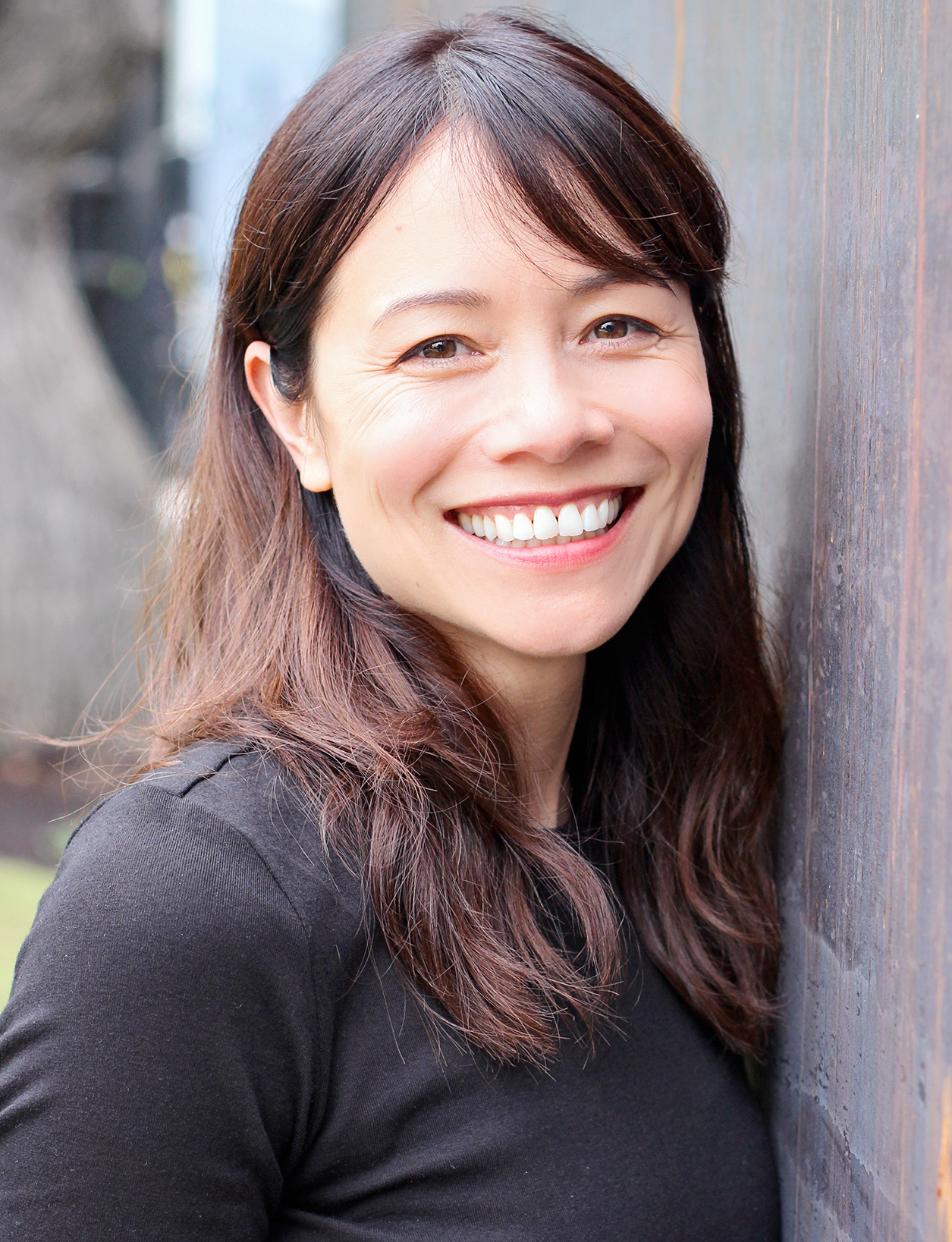 Christina Soontornvat grew up behind the counter of her parents' Thai restaurant in a small Texas town with her nose stuck in a book. She is the author of the fantasy middle grade series, The Changelings, and the early chapter book series, Diary of an Ice Princess. Her forthcoming books include the middle grade fantasy, A Wish in the Dark, and All Thirteen, a nonfiction account of the Thai Cave Rescue. In addition to being an author, Christina holds a B.S. in Mechanical Engineering and a master's degree in Science Education. She spent a decade working in the science museum field, where she designed programs and exhibits to get kids excited about science. She is passionate about STEM (science, technology engineering, and math), and loves learning new things. She lives in Austin, Texas with her husband, two young children, and one old cat.
You can find Christina on her website and Twitter!
Photo credit: Sam Bond Photography
---
Yay, you've made it to the end! Thank you so much for reading our interview today, friend, and I hope you enjoyed your time here with us! The book is already out as of today, and I genuinely cannot wait for more people to discover and dive into its amazing, light-filled story. 💛 
You can add A Wish in the Dark on Goodreads, or look for it at your nearest friendly bookstore!
Find the book on Indiebound, BookDepository, Blackwells.