Our Friend is Here! is a guest feature at The Quiet Pond, where authors, creatives, and fellow readers, are invited to 'visit' the Pond! In Our Friend is Here! guest posts, our visitors (as their very own unique character!) have a friendly conversation about anything related to books or being a reader — and become friends with Xiaolong and friends.

Asian Heritage Month Edition is a month-long event at The Quiet Pond, where Asian authors and bookish content creators are invited to celebrate being Asian, Asian books, and the experiences of being an Asian reader. (Note: Here is an explanation of why we are calling this guest series 'Asian Heritage Month'.)
Something that we have been seeing more of in the last few years is Asian middle-grade books! Asian middle-grade books are a personal favourite; I love how middle-grade stories are often centered on learning about yourself, doing your best, and finding your space in the world while navigating change and growth. I love Asian middle-grade even more too! Seeing Asian authors write empowering stories and giving voice to younger Asian children – especially when being young and being Asian can be very confusing in today's world – fills me with so much hope for the future.
When Jessica Kim told me that she wanted to visit the Pond for Asian Heritage Month, I was delighted! Jessica is the author of Stand Up, Yumi Chung!, a delightful middle-grade novel about a young Korean-American girl who decides to pick up comedy. When I first heard about Stand Up, Yumi Chung! I was so, so excited – what's not to love? And friends, after reading today's wonderful author interview with Jessica, I hope you will feel excited to pick up her debut as well.
I'm excited to have Jessica visiting us at the Pond today! She's come in the form of a dragon, wearing a hanbok and holding up a microphone – just like Yumi in the book cover! So, before we have a chat with Jessica, allow me to introduce her middle-grade debut, Stand Up, Yumi Chung!
---
Stand Up, Yumi Chung! by Jessica Kim
Blurb:
One lie snowballs into a full-blown double life in this irresistible story about an aspiring stand-up comedian.

On the outside, Yumi Chung suffers from #shygirlproblems, a perm-gone-wrong, and kids calling her "Yu-MEAT" because she smells like her family's Korean barbecue restaurant. On the inside, Yumi is ready for her Netflix stand-up special. Her notebook is filled with mortifying memories that she's reworked into comedy gold. All she needs is a stage and courage.

Instead of spending the summer studying her favorite YouTube comedians, Yumi is enrolled in test-prep tutoring to qualify for a private school scholarship, which will help in a time of hardship at the restaurant. One day after class, Yumi stumbles on an opportunity that will change her life: a comedy camp for kids taught by one of her favorite YouTube stars. The only problem is that the instructor and all the students think she's a girl named Kay Nakamura–and Yumi doesn't correct them.

As this case of mistaken identity unravels, Yumi must decide to stand up and reveal the truth or risk losing her dreams and disappointing everyone she cares about.
Doesn't this book sound so good? The very premise makes my heart soar and ache, and it feels like the kind of book that a younger reader, especially a younger Korean reader, will love and appreciate.
Find this book on:
Goodreads | IndieBound | Blackwells | Book Depository | Amazon
---
Author Interview: Jessica Kim
Xiaolong: Hi Jessica! Welcome to The Quiet Pond, and thank you so much for visiting us during Asian Heritage Month – we are super excited to have you! Can you tell us a little bit about yourself?
Jessica: Hello, I'm Jessica Kim and I'm the author of Stand Up, Yumi Chung! A little about me, I live in sunny San Diego, CA with my two daughters and husband. When I'm not writing, I can be found hiking at the beach, taking pictures of flowers, working my way through good eats on Yelp, or carting my kids around to their softball games. I used to be a public school teacher and I'm very much enjoying my new career as an author!
Xiaolong: Your middle grade debut, Stand Up, Yumi Chung! released last month. Can you tell us a little bit about what Stand Up, Yumi Chung! is about?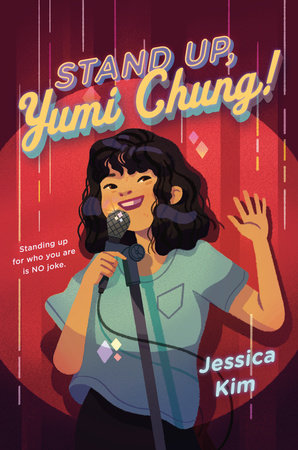 Jessica: Sure, my book is about a shy eleven-year-old Korean American girl named Yumi who is obsessed with stand-up comedy. Unfortunately, her parents are not. They would much rather have Yumi spend her time studying for her upcoming scholarship exam for her fancy private school. One day, Yumi randomly stumbles into a comedy camp taught by none other than her own comedy idol, Jasmine Jasper who she's been watching religiously on YouTube. Things get out of hand when Jasmine mistakes her for an absent camper named Kay Nakamura. Yumi, too stunned to correct her, ends up accidentally stealing her identity and finding freedom and escape in her new persona at comedy camp. Readers follow along with Yumi as she gets more and more tangled in her webs of lies while her family struggles to keep their Korean barbecue restaurant afloat. It's a fast-paced adventure story with lots of hijinks and humor as well as heart. You might even find yourself shedding a few tears with Yumi as she tries to find her voice and her place in the world.
Xiaolong: That sounds so delightful! It sounds like comedy is a big focus in Stand Up, Yumi Chung! What was the reason behind your decision to explore stand-up comedy through the lens of a young Korean-American girl?
Jessica: I really wanted to write a book about a kid like me: someone who was born and raised in America by immigrant parents trying to find her place in the world. There's so much beauty and tension that exists growing up as a second-generation American and it compelled me to explore the themes of colliding identities and values in a fun, fast-paced story with humor and heart.
In order to show that friction, I needed my main character to be passionate about something that'd drive her traditional immigrant parents nuts, and it was then that I conceived of the character of Yumi, the aspiring stand-up comedian!
Xiaolong: Stand Up, Yumi Chung! also explores what it's like to be a young Korean-American  and it's exciting to see more Asian diaspora representation in children's literature. What was your experience of writing a character who shares the same identity as you?
Jessica: Very natural, actually. I can't imagine writing from any other perspective. I'm most excited about reaching young readers who haven't seen themselves represented on the page before. My book hasn't been out very long, but I'm already getting emails from kids who are so thrilled to see words and names and references that are familiar to them and it's been such an amazing experience to witness that excitement. When I was growing up, there weren't many books featuring Asian or Asian-American characters, main or otherwise. The ones that existed were mostly about first generation immigrants or were historical fiction set in Asia, or nonfiction books about Lunar New Year or Taekwondo. It would have been so powerful for me to see stories of normal kids doing normal kid things in their Korean American worlds without the pumped-up foreign or exotic factor. When you're never represented in the media, it's easy to feel like your stories don't exist or they don't matter. I hope that things continue to change in this direction so even more kids can see that their stories are worthy of being read, too.
Xiaolong: Family is also an important theme in Stand Up, Yumi Chung! What motivated you to write a story that explores both identity and family? 
Jessica: For me identity and family are intricately tied together. Kids make sense of who they are by their place in their families. It isn't until about middle school age when kids start to see themselves in context of the greater community and society around them. That's right around the time many second-generation kids start to realize that their families might look and act differently from their friends and that clash can cause a lot of tension between kids and parents.
In this story, Yumi starts the book feeling down on her parents for not being more supportive of her comedy. She doesn't yet understand their traditional Asian values and the reasons why they pressure her to excel in school. Through Yumi's adventures, she comes to better understand and appreciate her parents' sacrifices and language of love and thus comes to accept herself, both sides of herself.
Xiaolong: What do you hope readers of Stand Up, Yumi Chung will take away from reading the book?
Jessica: More than anything, I hope that readers can come away from Yumi's story feeling encouraged to be themselves, just as they are. These days, there are so many things, especially with the increasing role of social media, that pressure young people to feel like they have to be perfect. After reading this book, I hope kids will be more open to trying new things, and learn to be gentle with themselves when they mess up sometimes, because it'll get them closer to their Tutti Fruitti jellybeans if they keep trying.
Xiaolong: Last question – and just for fun! What is a food that reminds you of 'home' – wherever or whoever that may be?
To me, home is a steaming bowl of galbi tang, a hearty Korean soup with short rib meat. It's perfect after a long day. Goes great with some extra-fermented kimchi and a generous sprinkling of green onion. It's basically a hug in food form!
---
About the Author
Jessica Kim writes about Asian American girls finding their way in the world. Before she was an author, Jessica studied education at UC Berkeley and spent ten years teaching third, fourth, and fifth grades in public schools. Like Yumi, Jessica lives with her family in Southern California and can't get enough Hot Cheetos, stand-up comedy, BTS, and Korean barbecue.
Find Jessica on: Website | Facebook | Twitter | Instagram| Goodreads
---
My heart feels so full after doing this interview. I just love Asian middle-grade so, so much and I cannot wait to read what else Jessica will write in the future. Don't forget to add Stand Up, Yumi Chung! on Goodreads and add it to your to-read lists, friends! It's definitely a good one and one you cannot miss.