Our Friend is Here! is a guest feature at The Quiet Pond, where authors, creatives, and fellow readers, are invited to 'visit' the Pond! In Our Friend is Here! guest posts, our visitors (as their very own unique character!) have a friendly conversation about anything related to books or being a reader — and become friends with Xiaolong and friends.

Asian Heritage Month Edition is a month-long event at The Quiet Pond, where Asian authors and bookish content creators are invited to celebrate being Asian, Asian books, and the experiences of being an Asian reader. (Note: Here is an explanation of why we are calling this guest series 'Asian Heritage Month'.)
When I first read The Silence of Bones last month, I was deeply enchanted by the world the story was set in—the way all the settings were lushly crafted and had a solid sense of place, and how June's careful research shone through in every aspect of the story, from the instigators of the primary conflict to the little details in the police bureau, where the protagonist Seol worked as an indentured servant.
To me, the book read clearly as a love letter to the intricacies of Korean history, to loyal, unwavering girls who were curious above all else, and to the complicated ideas of family that can exist in flawed patriarchal systems. After I had recovered from the book's incredible ending, I was beyond excited to talk to June about her craft and process—and get to share them with you here!
And so, friend, it is with this that I have the absolute honor of having June visit the Pond today as an adorable little turtle with glasses! Before we dive headfirst into the conversation, allow me to introduce June's genuinely impressive YA debut a little better:
---
Silence of Bones by June Hur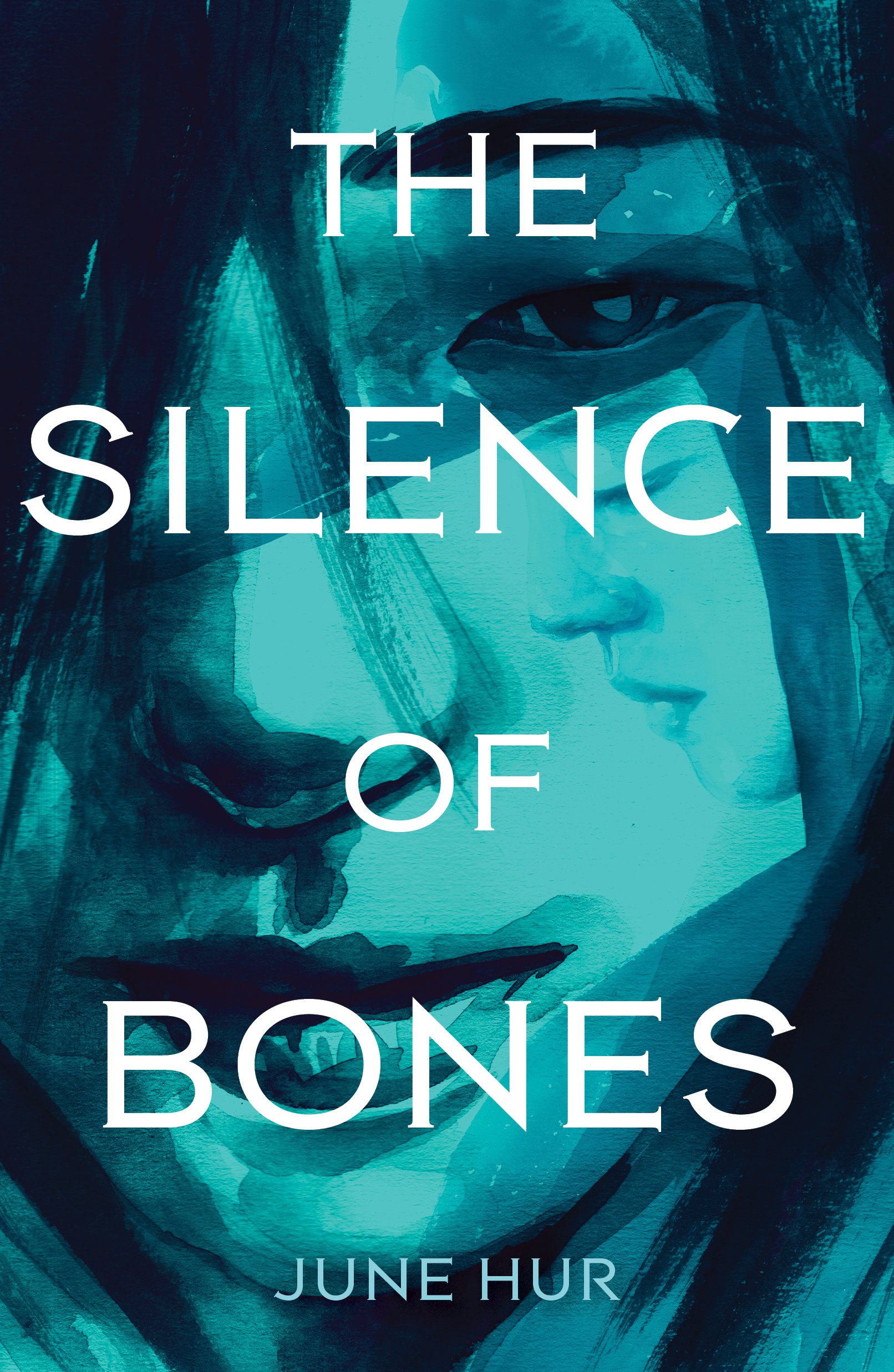 1800, Joseon (Korea). Homesick and orphaned sixteen-year-old Seol is living out the ancient curse: "May you live in interesting times." Indentured to the police bureau, she's been tasked with assisting a well-respected young inspector with the investigation into the politically charged murder of a noblewoman.

As they delve deeper into the dead woman's secrets, Seol forms an unlikely bond of friendship with the inspector. But her loyalty is tested when he becomes the prime suspect, and Seol may be the only one capable of discovering what truly happened on the night of the murder.

But in a land where silence and obedience are valued above all else, curiosity can be deadly.
If you're a fan of: (1) mysteries that have slow build-ups but absolutely dazzling payoffs when all the clues begin to come together to perfectly complete a puzzle, (2) explorations of gender-based discrimination in period, historical settings, and (3) honestly? Korean media in general, friend, this is absolutely the book for you.
Find this book on:
Goodreads | IndieBound | Blackwells | Book Depository | Amazon
---
Author Interview: June Hur
Sprout: Hello June! Thank you so much for joining us today here at the Pond! Before we begin, could you give us an elevator pitch of The Silence of Bones?
June: Set in 1800 Joseon (Korea), a sixteen-year-old indentured servant named Seol has been tasked with assisting a young inspector with the investigation into the politically charged murder of a noblewoman. But there's more to the case than meets the eye.
Sprout: What inspired and/or motivated you to write a historical murder mystery set in Joseon Korea, specifically through the lens of a police damo?
June: I grew up watching K-Dramas set in Joseon Dynasty-era Korea, and I also spend most of my spare time watching crime watch, so I was destined to write a Joseon Korean mystery!
I specifically chose the lens of a police damo because I was so fascinated by this group of women. These female police officers were formed due to the Confucian-based moralistic naewoebŏp (a law that prohibited free contact between men and women) that dominated Joseon Korea. It resulted in intense gender segregation, and that's why the police bureau placed female servants in charge of female victims, culprits and corpses.
Damos were apparently the first female police force to ever have actual arresting power in all of world history. But this damo position wasn't formed because women were respected. The reason for a damos existence was rooted in gender segregation.
Damos were needed in the police bureau because of the strict Confucian rule that forbid contact between men with women. So basically, male officers had limited access with women in general, which made investigating nearly impossible for them. That's why they needed these damo women to do the work they couldn't do.
But despite the deeply patriarchal reason for the existence of 'damo', these women were able to subvert their role and prove how capable they were. I was so intrigued by damos that it inspired the bulk of my novel, and that's why I made the heroine of THE SILENCE OF BONES a 16 year-old damo.
Sprout: The details of Seol's world feel so rich and vivid—from the police bureau to the forests of Mount Inwang, where white tigers dwell. Is there any part of the worldbuilding in the book that's special to you personally?
June: When I write a scene, I need to feel like I'm there with the main character, and so I love layering every scene with unique details—whether it's historical facts or the colour and scent of the world. The part of the worldbuilding most special to me was the Confucian values the Joseon kingdom was steeped in. For a long time, I thought Korean history was irrelevant to me until I began learning more about the past, and Confucianism was one of the things I learned about and added into my world, mainly because I related so much to it. I didn't know how much Korea's past had influenced me until then.
Sprout: The Silence of Bones is your debut novel! What are some of the biggest lessons you took away from the experience of writing this book?
June: I learned the importance of writing stories that challenge and slightly terrifies me. Writing outside my comfort zone—writing the book that I didn't quite feel ready to write—really helped me grow as a writer.
Sprout: In the book's early chapters, Seol's defining motivation is her homesickness: she gets branded as a servant on her cheek because she once tried to run away from the police bureau, and her hazy memories of home are punctuated by the smell of fresh pines and conversations with her elder brother. If you could pick one thing that personally reminds you the most of home, what would it be?
June: The first memory that comes to mind would be me lounging at my parents' home in Korea. It's summer and all the windows are open. To the front of me is a wide ceiling-to-floor window that looks out onto the rice field and rolling green hills. The warm, earth-scented wind blows through the living room and out the back window, which is small, stationed right above the kitchen sink. It looks out onto a cluster of apartments, and below is a playground where you can hear the loud, joyful echo of children playing and running around. And I just bask in this peacefulness while reading a book.
Sprout: What are you hoping readers will take away from Seol's adventures?
June: The richness and complexity of Korean history, as well as the importance to always seek the truth.
Sprout: Historical YA can be pretty challenging to write, as they usually require a lot of research upfront. When you consider the fact that non-Western histories are sometimes guarded behind very specific sources that are potentially difficult to parse as well, the task feels almost monumental! Do you have any advice for authors looking to take on more research-heavy stories?
June: I would recommend breaking down the research into bite-sized tasks, over the span of several months. What really helps is to first have a detailed map of the village/town/city/etc you want to write about. From there, research the things that have the most priority, and this will allow you to gain a foundational knowledge of the period. Once you have a somewhat strong grasp of the period, enough to feel comfortable, I'd say just begin drafting. I don't think you need to know everything about the world you're writing about, as you end up doing more research anyway as you draft.
Sprout: The Forest of Stolen Girls is slated to be your next book project! Can you tell us more about the book and what you're excited to explore in it?
June: The Forest of Stolen Girls is set on Jeju (back when it was a penal island) and explores the topic of sisterhood, which I had a lot of fun writing about, and it also touches on a tragic part of Korean history that isn't well known.
And here's the summary I recently discovered was already up on Goodreads (Yay!):
Hwani's family has never been the same since she and her younger sister went missing and were later found unconscious in the forest, near a gruesome crime scene. The only thing they remember: Their captor wore a painted-white mask.

To escape the haunting memories of this incident, the family flees their hometown. Years later, Detective Min—Hwani's father—learns that thirteen girls have recently disappeared under similar circumstances, and so he returns to their hometown to investigate… only to vanish as well.

Determined to find her father and solve the case that tore their family apart, Hwani returns home to pick up the trail. As she digs into the secrets of the small village—and reconnects with her now estranged sister—Hwani comes to realize that the answer lies within her own buried memories of what happened in the forest all those years ago.
My goal in writing The Forest of Stolen Girls is to explore a tragic part of Korean history that isn't well known, a haunting historical mystery sure to keep readers guessing until the last page.
---
About the Author
June Hur was born in South Korea, raised in Canada, and studied History and Literature at the University of Toronto. She began writing her debut novel, The Silence of Bones, after obsessing over books about Joseon Korea. She lives in Toronto with her husband and daughter.
Find June on: Twitter | Instagram | Website
---
Thank you for reading our interview with June today, friend! I hope you enjoyed our conversation (and maybe, if you're a fellow storycrafter looking to take on that big book project of your heart—I hope that her wisdom has made it feel a little less daunting). Don't forget to add The Silence of Bones on Goodreads, and please consider picking it up at your local bookstore too!