Our Friend is Here! is a guest feature at The Quiet Pond, where authors, creatives, and fellow readers, are invited to 'visit' the Pond! In Our Friend is Here! guest posts, our visitors (as their very own unique character!) have a friendly conversation about anything related to books or being a reader — and become friends with Xiaolong and friends.

Pride Month is a month-long event at The Quiet Pond, where during the month of June, queer authors and bookish content creators are invited to celebrate being queer, queer books, and their experiences of being a queer reader. Find the introduction post for Pride Month at The Quiet Pond here.
It's been an amazing month, friends. It's been a delight to have 21 amazing queer book bloggers and authors visit us to talk about all things queer and also an incredible honour to have such brilliant people give their time and energy to be a part of our little Pride Month series. It was a lot of hard work – for all of our guests and myself – but I do not regret a second of it all.
Pride Month at the Pond aimed to highlight the intersectional ideas and voices within the queer community. Queer experiences can be so interesting, varied, and complex – which is what makes the queer community and its people so beautiful – and our guests have done a stunning job at showcasing the beauty and power in their voices and their experiences.
It feels very right, then, for Pride Month at the Pond to conclude with our final guest here: Joel, a friend and an up-and-coming, rising star in the booktube world, whose smile is just as lovely and sunny as his warm personality. Joel visits us as a lion cub, wielding a wand and a sun crown! It is such a honour to have Joel visit us and talk to us about the importance of intersectionality in what we do, and I can't wait to share his piece with you all.
But, before we dive right in and I share what he's written, I'd like to take a moment to share with you all Joel's wonderful booktube channel!
---
Joel's Booktube Channel, Fictional Fates
When Joel announced that he was going to start a booktube channel, I think I would not be alone in saying that I was thrilled beyond words. Furthermore, when Joel hit 10k subscribers within 10 days of his first video, I wasn't surprised at all – in the best way possible! Joel is such a sunny person, I adore him, and he wholly deserved all the love and support that he received and still receives!
But just in case you haven't come across his booktube channel, then you'll find no lovelier introduction than his delightful Booktube Newbig Tag!
And if you are ever in need of some book recommendations for Black books? Then Joel's got you in his video all about Black books. Not only is he holding The Black Veins – and fantastic YA urban fantasy – by Ashia Monet, but he also recommends some outstanding books – some of which are on my to-read list! (Definitely give that video a watch!)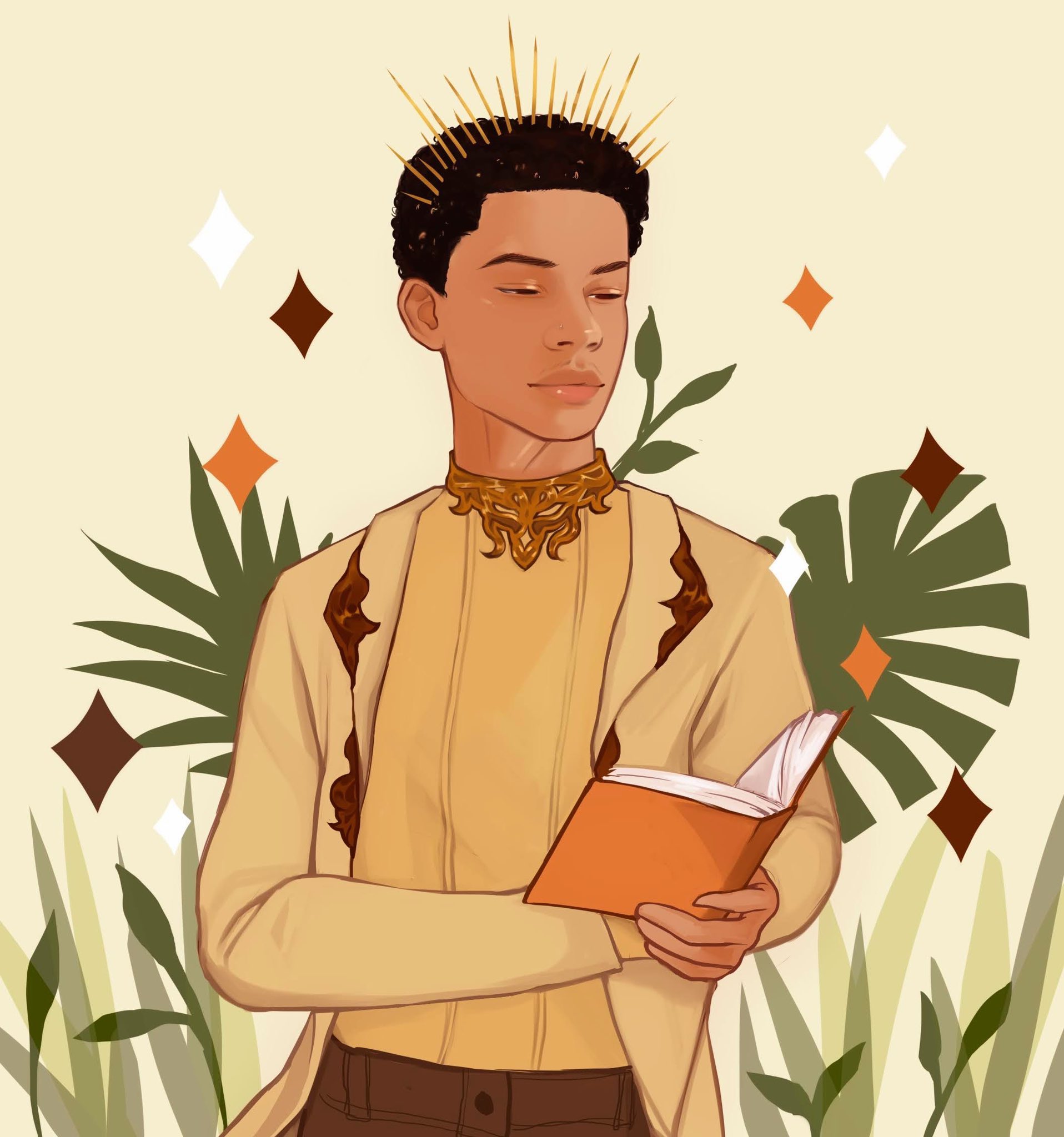 Furthermore, Joel hasn't quite launched his blog, Fictional Fates, yet, but if his current homepage is any indication, then I think we're in for a huge treat when it finally releases!
---
Joel: If your activism is not intersectional, it is not activism.
There is no such thing as a single-issue struggle,

As we do not live single-issue lives.

Audre Lorde
This post has taken me a long time to write. This is specifically why I'm the last person to post for Pride Month on The Quiet Pond. It's been tough to attempt to find the words to convey how I feel about my identity, how to summarise and reflect how tough it has been. It is as though a Sea Witch had stolen my voice. No matter how much I wanted to scream, the words would not appear. However, CW, in her amazing ways, gave me the courage and the confidence to speak about it here. And so, with my voice, my stronger and empowered voice, I am finally ready to say my piece.
My name is Joel Rochester, I am 20 years old and I am both Black and bisexual. 'Both', being the keyword of that statement. There is no dismissing one in favour of the other. I am always going to be Black, I am always going to be bisexual. Both have been major parts of my identity and I have received prejudice from being both identities. Yes, being Black and bisexual constitutes a major part of my personality, as who else am I supposed to be? 
Dismissing one part of me is dismissing all of me. The issues I face being a Queer Person of Colour differ from that of a white Queer or a heterosexual Person of Colour. My life has never been easy, nor has it been simple as my identity was something that took me a while to not only figure out, but to accept for myself.
In this world of infinite viewpoints, people are often quick to dismiss those that are from a person with an intersectional identity. We see this in media, we see this in publishing, we see it in real life. People value the voices of white Queers more because they still possess white privilege. They value the voices of heterosexual people of colour more because they fit into their ideas of heteronormativity. Queer People of Colour have had to fight increasingly hard to see their voices represented and even today, we still don't have the numbers. In UK Publishing in 2018, only 7% of Children's Books published that year featured a Person of Colour. How many of them were also Queer? Whilst not known specifically, I wouldn't be surprised if it were less than 1%. 
Going back to myself, my childhood was a mixed bag. Whilst I had amazing friends and a great support system, that didn't stop the blatant prejudice I received. These people made me afraid of being Queer, the way they would stare at me, who couldn't help but act effeminate. I would always remember this one boy in P.E. (Gym) who sat next to me. Once he realised who he was sat next to, he slid away from me saying that he "wasn't gay", as if he would catch homosexuality from me. I won't lie, I cried. 
What was I told in return? 
"Man Up." This was very much a time of Toxic Masculinity, one where they wanted me to fit into the archetype of an emotionless Black man. It was a mould I was and still am uncomfortable with.
My father, who is no longer present (he isn't dead, but he's dead to me), would often remark on the way I presented myself. He would tell me to unfold my arms, or to do more manly things in order to appear more heterosexual to him. At one point in my life, we had an argument about a gay couple on Eastenders (Christian and Syed). My father was of the opinion that it was disgusting. Whilst I, I was happy for them. When I told my father I disagreed with him, he looked at me as if I was abhorrent, as if the very idea of me supporting Queer people was abominable.
When he left, I felt as though a massive weight had been lifted from my chest. The emotional abuse I had received from him still lingered, but his hold on me had slipped away. I didn't need to be afraid anymore. The repressed feelings that I had held in could finally shoot to the surface, I could be wholly me. I had to unlearn a lot of the defensive mechanisms I had set up for myself. Even now, I find it hard to trust and allow people to know me fully, because of how many times I've been hurt over the years by people assuming things about my identity. A more accurate name would be emotional trauma, something I'm now working through.
Over the years, I had become comfortable with the fact that I had liked men, but what was surprising to (most) people, was that I also liked women. Most people had automatically assumed that I was gay, and that I would only date men, purely based on my mannerisms. Even when I had told people that I was bisexual, they would often remark it was just a 'stepping stone' towards full homosexuality, or that I was 'greedy' for being attracted to men and women. This was when I learnt a new term, biphobia.
How does this intersect with me being Black? As a Black person, there are definitely times where I have faced biphobic remarks from fellow Black people, the ones whom I thought would understand what it meant to be oppressed. However, they were heterosexual, they couldn't understand. In positions of privilege, people are quick to dismiss the struggles of the oppressed. 
In the queer space, racism is very much still prevalent. When I used to be on Tinder, men would often call me "chocolate" or "caramel", and make remarks about me being Black and what that meant for their own personal pleasure. I was described as if I was in a book written by a white author. I was treated more as a commodity, a museum piece, rather than an actual person. It was racial fetishization and it was something I had to learn to fight against, rather than let it happen. I couldn't dismiss their racism because they were queer, I couldn't let them be prejudiced about a part of myself.
Of course, with being a Queer Black person, you are used to two kinds of stares. The 'Vigilant Black' stare, as if I'm about to stab someone. And the 'Disgusted Queer' stare, as though me holding hands with a man is about to take away their right to breathe. Both of these stares I have experienced, and both of them are something I've come to ignore. If they want to give me attention? So be it, I could use the boost to my ego.
You may be asking yourself, what is the takeaway from this? Well, if you're a Person of Colour (or just) questioning your identity, don't let anyone force an identity onto you. You are the sole owner of your identity, don't give that control to anyone else. Trust me, it's not a great place to be in. Your identity is the one thing you truly are in control of in this world, and you have the right to define it how you wish. You have the right to express it when and how you wish.
To everyone else, in this current climate of Black Lives Matter, you have to remember that Queer and Trans Black Lives Matter too. If you choose to only support cishet Black lives, then you are not supporting the Black Lives Matter movement. You are not an ally, you are prejudiced. If your activism is not intersectional, it is not activism. 
To white queers, whilst you wave your pride flags and parade how proud you are, remember it was Black Trans Women who fought for what you have today. Remember the name Marsha P. Johnson, who was on the frontlines of the Stonewall Riots. Your remarks of racial fetishization are not cute, nor funny, they are microaggressions and a display of your privilege. You are part of the problem, and you need to work twice as hard to become part of the solution. Don't center yourself in my narrative, for my space does not belong to you. 
After a long time of hating myself, after almost ending it all, I feel as though I've finally reached a place where I am happy. I have such an amazing community of friends, and I am truly appreciative of every single person I have in my life. They truly accept me for who I am, and allow me to come to them whenever I am emotional and vulnerable. Again, being more open with them is something I am constantly working on but I feel as though I am getting better each day. It still hurts, the fact that I will never have a father that supports me, and that there will always be someone who hates me for who I am, but my mother has been my rock, and the most phenomenal woman I know. Like most queers, I had also pushed my father figures onto my English teachers, Mark Vaughan and Chris Mounsey, I'm looking at both of you. 
But, at this point, I wanted to say a special thank you to CW, who has championed and supported me from the first day we interacted, thank you so much for being such a great friend. I love you, and I look forward to posting more on The Quiet Pond, for CubJoel and Waddles to go on some awesome adventures together. 
My name is Joel Rochester, and I am a fucking beautiful iconic prince. This used to be a story of Black bisexual pain. But now, I intend to live a life of Black bisexual joy.  
---
About the Blogger
Joel Rochester is a Black Welsh bisexual creative, mostly known for his bookish presence of Fictional Fates. Joel also advocates for more diversity in literature, particularly more QPOC representation. Raised in Newport, Wales, he currently studies BA (Hons) Creative Writing and English Literature at the University of Winchester. When he isn't suffering under the pressure of a degree, Joel also writes stories about emotional soft boys, daring fantasy worlds, and intriguing tales. He is currently working on The Dream Prince.
Beyond reading and writing, Joel enjoys playing video games like Dragon Age and Skyrim; listening to K-Pop and watching the latest K-Dramas, planning fashionable outfits, updating his skincare routine, and finding new diy and decoration projects to get his hands stuck into.
Find Joel on: Blog | Youtube | Twitter | Instagram | Goodreads
---
What an amazing way to conclude Pride Month at the Pond! It's been a journey to get here, and I could not be happier with how we've ended our series with an incredible and electrifying piece by Joel. I'm so grateful to Joel for contributing to our Pride Month post, and I hope you all will check out his wonderful booktube channel!
And I suppose that's it, friends! Pride Month at the Pond was a lot of hard work, but – we did it! Thank you so much for supporting us through May (Asian Heritage Month) and June to July (Pride Month); it's been a busy, tough, but incredibly satisfying few months, but I am so proud and happy.
I'll be taking a short break from blogging (daily posts for almost two months was no easy task!) but I'll be back in no time with some book reviews of all the books I read during May, June and July. Until then, take care friends!