An excited and warm welcome to the Pond, and an even more excited and happy Latinx Heritage Month to you all! One of our goals at The Quiet Pond is to uplift and celebrate the diversity of work, art, and voices in publishing and literature, and we are so thrilled to dedicate a month to celebrating Latinx voices and books.
Following the really fun Our Friend is Here guest series that we did for Asian Heritage Month and Pride Month, we wanted to do our small bit and join in to celebrate Latinx Heritage Month! And with the help of a new and good friend of the Pond, we have some wonderful guests and features lined up for you (and I can't wait for you all to meet her)!
For those of you who may be unfamiliar, Latinx Heritage Month takes place between September 15th and October 15th and, more widely, aims to recognise and celebrate the contributions and influences of Latinx people to history and culture. Though it is widely known as Hispanic Heritage Month, we have followed the footsteps of the wonderful Latinx advocates in the community to use the more inclusive term 'Latinx'. For those who are unfamiliar with why the term is used, you can read more in this article.
---
Celebrate Latinx Heritage Month: What's Going On in the Community!
But, before I formally introduce you to what we at the Pond are doing for Latinx Heritage Month, I want to take an opportunity to spotlight the exciting work that Latinx content creators in the book community are doing for Latinx Heritage Month. I encourage you all to check out the cool things that they have planned, show up, participate, engage, and have fun with them!
Latinx Heritage Month Book Fest
Latinx Heritage Month Book Fest is an online book festival dedicated to celebrating Latinx Literature! This event is hosted by Paola (who will be visiting us during Latinx Heritage Month at the Pond tomorrow!), and we are really excited to see the awesome panels planned! Check out the full schedule here and be sure to tune in. Keep up to date by following the book fest's Twitter!
Latinx Heritage Month at 24hryabookblog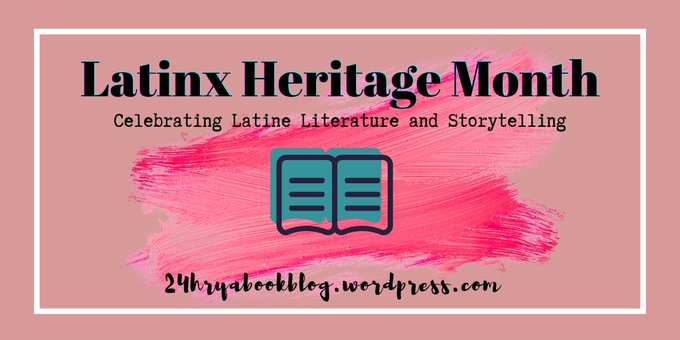 Karina over at 24hryabookblog is also running her own Latinx Heritage Month blog event! She's got Latinx book lists and recommendations ready and will be interviewing with Latinx creators. I can't wait to see what she has planned for us!
Reading Events You Can Join During Latinx Heritage Month
… (and every other month of the year)! If you love readathons, there are some wonderful ones that you can join, hosted by some amazing Latinx content creators. There is so much energy and love that goes into hosting these, so be sure to join in, read a cool book along with some others, and have fun talking about it!
Latinx-a-thon is a 10-day readathon dedicated to Latinx-authored literature that takes place on September 15th – 24th and is hosted by Andrea, Yvette, Joce, Priscilla, Tash, and Kathleen. For more information about Latinx-a-thon, visit their Twitter (@latinxathon) and have a read through their information here!

Latinx Book Club is a year-round Twitter-based book club dedicated to reading and boosting Latinx books and voices, hosted by Sofia, Alicia, Joce, Dani, Caro, and Cande. For more information about Latinx Book Club, visit their website, their Twitter, and have a read through what they are doing for Latinx Heritage Month here!
Latinx Book Bingo is a book bingo dedicated to reading Latinx books that takes place between September 15th to October 15th, and is hosted by Allie, Paola, and Sofia! Find 2020's bingo board here (and read books with the prompts to bingo!), and for more information, visit their Twitter and their Instagram!
Join the #LatinxLitTakeover!
The creators and hosts of the reading events above are teaming up to bring you the #LatinxLitTakeover! During Latinx Heritage Month, the teams behind Latinx-a-thon, Latinx Book Club, and Latinx Book Bingo are hosting a readalong for By Any Means Necessary by Candice Montgomery.
Join in, use the hashtag, and follow the Twitter accounts above to get updates!
---
Our Friend is Here: Maria!
Friends, we have a really special friend visiting us to help out during Latinx Heritage Month today!
Please help me give a very warm welcome to Maria, who is visiting us as a quetzal wearing a mariachi sombrero! When I announced that Latinx Heritage Month at the Pond was happening, Maria reached out to me and said that she wanted to help out – and I was delighted to have her on board! During Latinx Heritage Month at the Pond, Maria will be hosting three of our guests! We are so excited to have Maria make the Pond her home for the next month and look forward to sharing her interviews. Welcome, Maria!
---
Introducing: Latinx Heritage Month at the Pond!
It is with a lot of excitement and joy that today's post marks the beginning of our Latinx Heritage Month at The Quiet Pond! Between today, September 15th, and October 15th, we will be hosting 12 Latinx authors, bookish content creators, and book bloggers visit the Pond to talk about anything and everything Latinx and Latinx literature.
Similarly to our previous month-long events (Asian Heritage Month during May and Pride Month during July), you'll find myself as Xiaolong, Joce as Cuddle, and Skye as Sprout inviting new friends to visit us at the Pond for author interviews, blogger interviews, and insightful discussions. Get your reading lists ready, friends – because you're going to be adding a lot of Latinx books!
To kick us off, I invite you all to have a read through past Our Friend is Here! posts that feature Latinx authors and content creators!
Happy Latinx Heritage Month and happy reading, friends!
---
Latinx Heritage Month at the Pond 2020