Our Friend is Here! is a guest feature at The Quiet Pond, where authors, creatives, and fellow readers, are invited to 'visit' the Pond! In Our Friend is Here! guest posts, our visitors (as their very own unique character!) have a friendly conversation about anything related to books or being a reader — and become friends with Xiaolong and friends.

Our Friend is Here: Asian and Pasifika Heritage Month Edition is a month-long event at The Quiet Pond during the month of May, where Asian and Pasifika authors are invited to celebrate being Asian and Pasifika work and literature! Find the introduction post for Asian and Pasifika Heritage Month here.
To kick off the first day of Asian Pasifika Heritage Month at the Pond, we have a very exciting guest! A little over two months ago, I read a phenomenal book called She Who Became the Sun, a queer historical retelling of the founding emperor of the Ming dynasty. Within the book was a stunning yet absolutely brutal story about a girl who takes her brother's fate and name, becomes a monk, and ascends through the ranks, fulfilling his destiny of greatness. She Who Became the Sun is a story about war, ambition, desire, and fighting fate – and I think about this story often.
Friends, I am delighted to have the author of She Who Became the Sun, Shelley Parker-Chan visiting us at the Pond today as a bespectacled pangolin! She Who Became the Sun is their debut and it is absolutely stunning. After I finished the book, I had so many questions. (In saying that, this post is entirely spoiler-free!) It is a huge honour to interview Shelley about her book, and I'm incredibly excited to show you all the wonderful interview that I did with them.
Before we dive into the interview, it is my pleasure to formally introduce you to She Who Became the Sun! Because if this book isn't on your radar, you will want to add this book to your July to-read list immediately.
She Who Became the Sun by Shelley Parker-Chan
"I refuse to be nothing…"

In a famine-stricken village on a dusty yellow plain, two children are given two fates. A boy, greatness. A girl, nothingness…

In 1345, China lies under harsh Mongol rule. For the starving peasants of the Central Plains, greatness is something found only in stories. When the Zhu family's eighth-born son, Zhu Chongba, is given a fate of greatness, everyone is mystified as to how it will come to pass. The fate of nothingness received by the family's clever and capable second daughter, on the other hand, is only as expected.

When a bandit attack orphans the two children, though, it is Zhu Chongba who succumbs to despair and dies. Desperate to escape her own fated death, the girl uses her brother's identity to enter a monastery as a young male novice. There, propelled by her burning desire to survive, Zhu learns she is capable of doing whatever it takes, no matter how callous, to stay hidden from her fate.

After her sanctuary is destroyed for supporting the rebellion against Mongol rule, Zhu takes the chance to claim another future altogether: her brother's abandoned greatness.
Goodreads | Amazon | Indiebound | Book Depository | Bookshop | Read my review
---
Author Interview: Shelley Parker-Chan
CW: Hi Shelley! A big, big and warm welcome to the Pond; it is such a huge honour to have you! She Who Became the Sun was one of my most anticipated books of 2021, and it just… absolutely delivered in ways I could have imagined. But, before we delve into your book, can you tell the friends out there who may only be meeting you for the first time about yourself?
Shelley: Thank you for having me! As a brand new author I've been really moved by bloggers' commitment to lifting up new diverse voices. I'm an Asian-Australian with Malaysian Chinese roots. I grew up in Australia, and I'm back here now, but I lived in Southeast Asia for many years. I'm a second-gen nerd! My mother was a stereotypical Tiger Mom in many respects, but she was also a proto-fangirl and read classic SF and watched Trek. So I found SFF early, and by my teens I was writing fanfiction. She Who Became the Sun is my first book—but more accurately, my first work of original fiction.
CW: Let's talk She Who Became the Sun, your adult historical fantasy debut because… whew! You talked about how the idea for She Who Became the Sun and its protagonist, Zhu Chongba, came to be in your interview with SciFiNow and how the story derived from your interest in the idea of monks and asceticism. Taking a step back a bit – what inspired these interests?
Shelley: My family always jokes about how my D&D alignment is, at best, Lawful Neutral. I'm a total rule-follower. I don't say that's a good thing—probably the opposite—but it's the way I am. I love order and abhor chaos. I'll be the first to admit that what I yearn for in the idea of religious asceticism is a fantasy that has nothing to do with the reality of life in a religious order, either now or historically. It's a fantasy that's simultaneously about control and submission. It's the idea that if you submit to an external set of rules—if, paradoxically, you can be strong enough to perfectly control your fallible self in the face of intense suffering—you can be a good person. You can be enough.
I'm very aware that I hold this idealised Christian concept of religious submission precisely because I was raised non-religious (or at least in the ABC church of 'Good Grades are the Only Thing That Make You Good.') In any case, Zhu in SWBTS is a Buddhist rather than Christian monk. She excels at the physical and mental endurance parts of that lifestyle—but her moral compass is, shall we say, deficient. She's not a rule-follower!
CW: She Who Became the Sun is a beautiful, beastly thing; there's so much detail, the plot is thoughtful, the pace deliberate, and I imagine that you did a lot of research for this as well. How has the story evolved from your first draft to its now final form? What was a distinct challenge that you encountered when crafting and refining the story?
Shelley: I went through a lot of drafts, as I suppose most people do with their first book. I faced two major craft challenges. The first was that because I was telling a "Chinese TV drama" type of story, I saw it in my head as though it were onscreen, and tried to transcribe what was happening. But as any scriptwriter will tell you, writing for the screen and the page are different crafts! They have different storytelling techniques. My early drafts had a million POVs, and they were all very detached perspectives—characters seen from the outside. There are genres for which that can work, but I wanted to write a hyper-emotional story and it just wasn't right. So with my agent's guidance I lost the minor POVs and went deep into just a few characters with the aim of letting the audience really understand what was happening with them, emotionally.
My second big challenge was that I was used to writing romantic fanfiction. Romances have their own structure, and their engine is interpersonal dynamics. I had no idea how to develop a single character arc that was strong enough to pull a whole story along behind it. In early drafts, Zhu was a fully-formed sociopath from beginning to end: she never doubted, she never changed. Which might be fine for a villain who never gets a POV, but wasn't so great for a protagonist! It took me a long time to figure out that the core of her character wasn't ambition, but fear.
CW: You were previously an Australian diplomat and international development adviser, working on human rights, gender equality and LGBT rights in Southeast Asia. (Which is amazing!) How does your career influence or shape the stories that you will be telling?
Shelley: I always tell people SWBTS is a melodrama, not a political or military fantasy. But I suppose it did come out of my professional interest in revolution. Not the political side so much, but the human dimension. I find it endlessly fascinating to think about what kind of person is capable of conceiving of and instigating change at that scale. When I was working on SWBTS, I thought a lot about a certain country I worked in—a country that had only gained its independence a few years before. The leaders of that country had been charismatic rebel leaders and guerillas and activists. The historical narrative tends towards hagiography, but those people were people like any other: their motivations for doing what they did covered the full spectrum from selfishness to selflessness. What was interesting to me—and frustrating, from a human rights perspective—was how the very qualities that made many of them successful rebels—ambition, grandiosity, ruthless pragmatism—made them terrible leaders of a fragile democracy. People are flawed and messy, and as the stakes get higher they only get messier. I guess that's what my stories are all about.
CW: Gender and the way it can both liberate and constrain is such a fascinating underlying theme of She Who Became the Sun. The way you explore gender is particularly compelling, because of the historical and cultural background the story is set in – and you pull it off in such a powerful yet subtle way. What motivated you to explore and depict this complex intersection between gender and culture? How much of this intersection is personal to you?
Shelley: The good thing about fiction is that you can dump a lot of very complex issues into it without needing to make watertight arguments. I would never be confident writing a nonfiction essay about the intersection of gender and Chinese culture. I don't know enough about history, I only have patchwork hand-me-down culture, I don't speak Chinese. But what I do have is my own unique lived experiences of that intersection. My feelings about those experiences are what I've placed as honestly as I can onto the palette of this story. So you'll find my frustrations at being AFAB in a Chinese diaspora community that continues to privilege sons—but also my attachment to that same community. You'll find my feelings about being genderqueer; my anger at how Asian-Australians have been mocked and othered by white Australians; my rage at being coded female in a misogynistic society. They're all in SWBTS, mixed and matched and transformed by analogy and metaphor. It was never my intent to write a book that made a clear argument, like, "gender is bunk." And I wasn't aiming to write something that was historically accurate, either. I threw all that aside in favour of the one thing I wanted to do: to show what it feels like.
CW: Having read She Who Became the Sun, I loved all of your characters and how fleshed out, interesting, and complex they were in their desires and motivations. Without spoiling what happens, which character do you think is the most like you – and why?
Shelley: There's a little bit of me in all the POV characters—I would find it hard to write them otherwise. That's probably why Zhu gave me the most trouble—she's the least like me, and for the longest time I didn't understand her. All she has is my "I'll never lie down and die" attitude. In contrast, Ouyang was a breeze! Yeah, the authorial stand-in is the rage-powered eunuch murder machine who worships at the altar of toxic masculinity, and was voted "most in need of therapy." Sucks to be him, because Chinese families aren't big on therapy.
CW: I imagine you would be working on the sequel to She Who Became the Sun, but do you have an idea of what you might be working on next? (Any hints?!) And are there any genres outside of historical fantasy that you would like to explore one day?
Shelley: Well, I know for sure that I'm done with imperial China! I do have this big, amorphous literary idea that terrifies me, and that I'm pretty sure I'm not good enough to write yet. That one is the one about religious faith and asceticism. When I think about that idea, I think about VE Schwab saying that she sat with the idea for Addie LaRue for years, prodding it every now and then: "hmm, not ready for this one yet." And then, one day, she was ready. I live in hope that, like VE Schwab, one day I'll be ready to bang out a NYT bestseller, lol. But something else might have to come first!
CW: And for our final question, one that we love to ask all of our guests at the Pond! What is a food that feels like 'home' to you – wherever or whoever that may be?
Shelley: When I was a kid, my mother would often make jook—congee. I didn't realise until later that it was a particularly diasporan congee, because instead of century eggs or whatever, she flavoured it with cabbage and sliced sandwich ham. The idea has horrified every mainlander I've ever told this to. But you know what, it's actually delicious! Comfort in a bowl. I make it for my kid now, when she's sick.
About the Author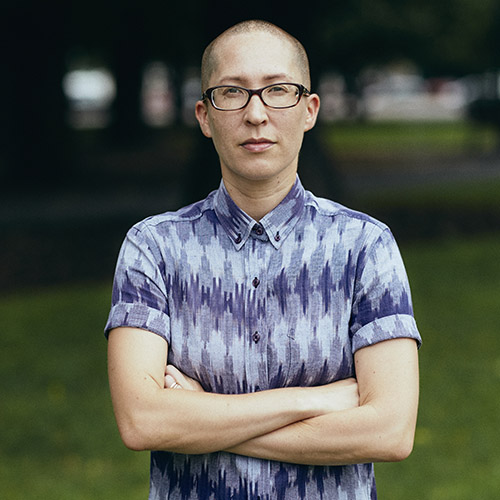 Shelley Parker-Chan is an Asian-Australian former diplomat and international development adviser who spent nearly a decade working on human rights, gender equality and LGBT rights in Southeast Asia. Named after the Romantic poet, she was raised on a steady diet of Greek myths, Arthurian legend and Chinese tales of suffering and tragic romance. Her debut novel She Who Became the Sun owes more than a little to all three. In 2017 she was awarded an Otherwise (Tiptree) Fellowship for a work of speculative narrative that expands our understanding of gender. She currently lives in Melbourne, Australia, with her family.