Our Friend is Here! is a guest feature at The Quiet Pond, where authors, creatives, and fellow readers, are invited to 'visit' the Pond! In Our Friend is Here! guest posts, our visitors (as their very own unique character!) have a friendly conversation about anything related to books or being a reader — and become friends with Xiaolong and friends.

Our Friend is Here: Asian and Pasifika Heritage Month Edition is a month-long event at The Quiet Pond during the month of May, where Asian and Pasifika authors are invited to celebrate being Asian and Pasifika work and literature! Find the introduction post for Asian and Pasifika Heritage Month here.
Earlier this year, I read this absolutely incredible middle-grade book called A Thousand Questions by Saadia Faruqi. While also a story that had coming-of-age elements and friendship, I was absolutely blown away by its deeply profound themes about identity, privilege, and how the story explores the gap – and ultimately bridges that gap – between a Pakistani-American girl, whose parents immigrated to America, and a Pakistani girl, who has lived in Pakistan all her life. True to the story's title, I had so many questions I wanted to ask Saadia after reading her incredible book – which, to my delight, brings us here today.
I am incredibly honoured to have Saadia visiting us at the Pond today – and she visits us as a regal hijabi grey cat, wearing a crown! As well as A Thousand Questions, Saadia is also the author of the multi-book young readers series called Yasmin – stories about a young Pakistani girl who solves life's problems! (The series is illustrated by Hatem Aly!) Saadia's author career is absolutely phenomenal, and I am so privileged and grateful that she is visiting us today for Asian Pasifika Heritage Month at the Pond.
I've praised A Thousand Questions a lot already, so for those of you who are not familiar with her book, I am very excited to tell you more about it. I cannot recommend this wonderful middle-grade book enough!
A Thousand Questions by Saadia Faruqi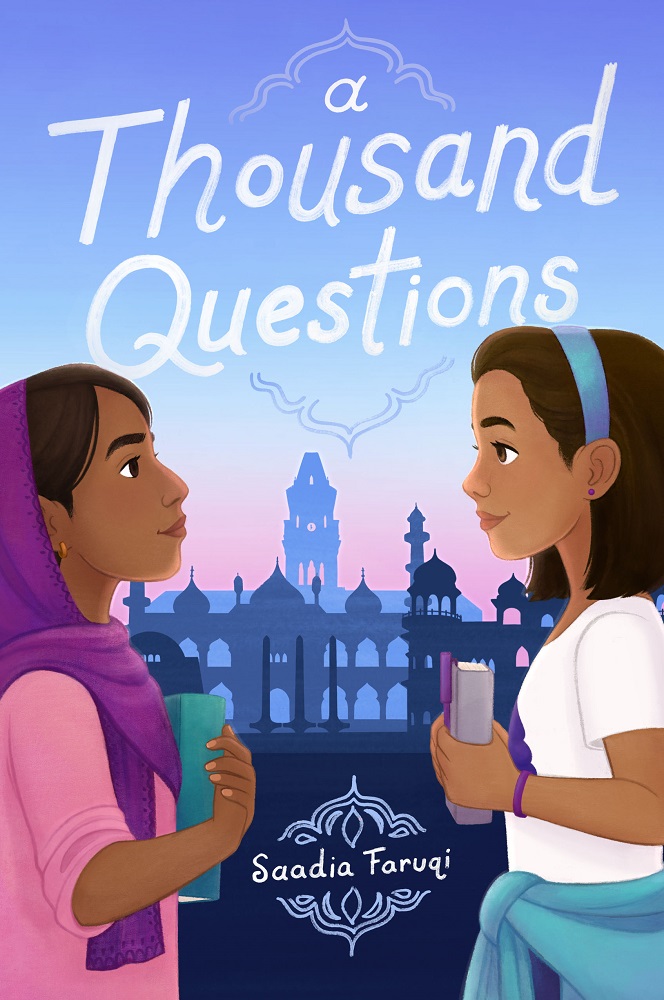 Set against the backdrop of Karachi, Pakistan, Saadia Faruqi's tender and honest middle grade novel tells the story of two girls navigating a summer of change and family upheaval with kind hearts, big dreams, and all the right questions.

Mimi is not thrilled to be spending her summer in Karachi, Pakistan, with grandparents she's never met. Secretly, she wishes to find her long-absent father, and plans to write to him in her beautiful new journal. The cook's daughter, Sakina, still hasn't told her parents that she'll be accepted to school only if she can improve her English test score —but then, how could her family possibly afford to lose the money she earns working with her Abba in a rich family's kitchen? Although the girls seem totally incompatible at first, as the summer goes on, Sakina and Mimi realize that they have plenty in common—and that they each need the other to get what they want most.
Find A Thousand Questions:
Goodreads | Amazon | Indiebound | Book Depository | Bookshop

---
Author Interview: Saadia Faruqi
CW: Hello Saadia! A warm welcome to The Quiet Pond! Thank you so much for visiting us today; I'm so excited to have you visit. For our friends out there who may only be meeting you for the first time, can you tell us a little bit about yourself?
Saadia: Thank you for inviting me! I'm a Pakistani American writer and interfaith activist. I write mostly books for children of all ages, such early readers, middle grade novels, and graphic novels.
CW: Your children's early reader series, Yasmin, are such delightful stories about a young Pakistani-American girl, Yasmin, who has to use creativity to solve life's problems. What inspired the series, and where do you find your ideas, now that the series now spans 16 books?
Saadia: My daughter inspired the series when, as a little girl, she kept complaining that there were no books about kids like her. I decided to write a story about a first generation Pakistani American girl from a family like mine, having every-day adventures in second grade. The ideas for the various titles come from all over the place: my kids' earliest experiences, observations of my friends' kids, and sometimes even things that happened in my own childhood. Often my readers send me suggestions of what Yasmin should do next, and if I keep hearing the same idea over and over, I decide to go for it!
CW: Your most recent middle-grade book, A Thousand Questions, was such a phenomenal story about two girls – one Pakistani, the other Pakistani-American – who navigate an eventful summer of friendship and change in Karachi. You mentioned that the story was inspired by your own experience of taking your children to Pakistan for the first time, where they experienced a range of emotions. As a parent and a writer, what was the 'place' you were writing from when writing A Thousand Questions? What were your hopes when writing this story?
Saadia: Yes, that was a story that came to me as a result of watching my two kids react to their summer vacation in Pakistan. I tend to do that a lot as a parent… watch my kids go through life experiences, both good and bad, and then try to process by writing about it. I think this happens mostly because my own childhood was so different from theirs, and I often can't relate or help them. After all, the cultural barrier between immigrant parents and their first generation children is often vast. That's the place I write from, and somehow my parenting is mixed up with my writing, as I try to figure out my children's lives through my words.
CW: Something that resonated with me, as a someone part of diaspora, was how you tackle the differences and consequent rift between people of diaspora and people that live in sourcelands. This emotional space can be so fraught, filled with friction, and can be challenging to navigate at times. What personal experiences, or other real life sources, did you draw from when exploring the differences between diaspora and sourceland experiences?
Saadia: Yes, this is exactly what I love writing about! I'm sort of obsessed with this dichotomy that comes from the two different experiences, since that's what I've been thinking about personally for the last two decades. I arrived in the U.S. as a twenty-two year old, so I already had the "homeland" very strongly within me. And now, twenty-some years later, I'm split into two halves: the homeland one and the American one. Plus, raising first generation kids in the U.S. while trying to help them maintain some sort of emotional connection with the homeland has been a very interesting (and often frustrating) experience. As a writer, I want to explore all these themes, not only for myself but because I know my readers are going through the same challenges.
CW: In A Thousand Questions, you handle the concept of privilege really well; it was explained and explored in such a simple and accessible way, without framing either child as 'wrong'. I was in awe! When writing stories for young readers in general, how do you approach taking these 'big topics' and writing them for younger audiences?
Saadia: Thank you, it's definitely a challenge writing tough topics for a younger audience. I find this easy to do, because as a parent I've always treated my kids as little adults, rather than babies who needed to be shielded from the bad news of the world. I write books the same way: treating my readers as smart, presenting them with information that may be stressful but knowing that they can handle it. It's strange how often I start thinking like a mom when I'm writing those difficult themes, but it definitely helps.
CW: Your other middle-grade book, A Place at the Table, that you have written with Laura Shovan, is a wonderful story about Sara, a Pakistani-American girl, and Elizabeth, a white Jewish girl, who cook together. What was the story behind the conception of A Place at the Table? Why did you focus on food as a significant theme?
Saadia: Laura had the initial idea of writing a story about a first generation Jewish girl like herself, whose mother was becoming a citizen of the U.S. She approached me to ask if I'd be willing to write a similar story from a POC perspective. I agreed because I realized we could compare and contrast those two experiences, and explore all that immigrant families have in common: the uncertainty of building a new life, financial concerns, mental health issues, and the inability to really fit in. We focused on food because it's the one thing that helps bring people together in a way nothing else can, and the one connection immigrant families often have to their homelands.
CW: You've written a stellar array of children's fiction as well as adult fiction. Can you tell us about two things that you are really proud of in your writing career?
Saadia: Thank you so much! There's a lot to be happy for, but there's not any one thing that stands out as better than the others. The larger emotions within me are gratitude and wonder that readers allow me the chance to tell stories that are so personal to me, but also resonate with a wider audience. I hope I'm making them proud every single day!
CW: Thank you so much for visiting us today, Saadia! My last question is a question I ask all of our guests – What is a food that reminds you of 'home' – wherever or whoever that may be?
Saadia: Wow, there are so many Pakistani foods that I love. The one that reminds me of home and family is the paratha. You'll find it in almost all my books, and know that I'm thinking of my mother and grandmother when I write about it.
About the Author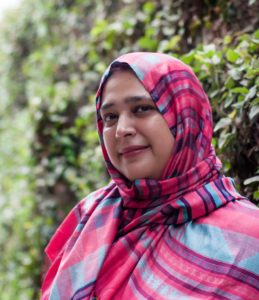 Saadia Faruqi is a Pakistani American author, essayist and interfaith activist. She writes the children's early reader series "Yasmin" published by Capstone and other books for children, including middle grade novels "A Place At The Table" (HMH/Clarion 2020) co-written with Laura Shovan, and "A Thousand Questions" (Harper Collins 2020). She has also written "Brick Walls: Tales of Hope & Courage from Pakistan" a short story collection for adults and teens. Saadia is editor-in-chief of Blue Minaret, a magazine for Muslim art, poetry and prose, and was featured in Oprah Magazine in 2017 as a woman making a difference in her community. She resides in Houston, TX with her husband and children.