Our Friend is Here! is a guest feature at The Quiet Pond, where authors, creatives, and fellow readers, are invited to 'visit' the Pond! In Our Friend is Here! guest posts, our visitors (as their very own unique character!) have a friendly conversation about anything related to books or being a reader — and become friends with Xiaolong and friends.

Our Friend is Here: Asian and Pasifika Heritage Month Edition is a month-long event at The Quiet Pond during the month of May, where Asian and Pasifika authors are invited to celebrate being Asian and Pasifika work and literature! Find the introduction post for Asian and Pasifika Heritage Month here.
What an incredible month Asian Pasifika Heritage Month has been. We have had the privilege to host an array of wonderful guests, who visited us and shared with us their work, their thoughts, and their passions. Today guest is one that, if you have visited us at the Pond for awhile, will be known to you. I am a huge fan of her work – I've read all of her books and her epic urban fantasy trilogy, The Green Bones Saga, remains to be one of my favourite series of all time – so you would have undoubtedly heard me rave about her. Friends, our very last guest for Asian Pasifika Heritage Month at the Pond 2021 is the brilliant Fonda Lee.
I am immensely and immeasurely honoured to have Fonda visit us at the Pond today. She visits us as a snow leopard, donning a black leather jacket and boots! I have followed her writing career since her very first book, Zeroboxer, a book I picked up by chance at my local library. From there, I read her sophomore book, Exo, and after reading Jade City in 2018 – well, the rest is history!
I am so excited to share with you all my interview with Fonda. But, before we delve in, I would love to tell you about The Green Bones Saga – because if you haven't read it yet, then you absolutely have to in time for the release of the final book in the series, Jade Legacy.
The Green Bones Saga by Fonda Lee
Blurb for Jade City:
Magical jade—mined, traded, stolen, and killed for—is the lifeblood of the island of Kekon. For centuries, honorable Green Bone warriors like the Kaul family have used it to enhance their abilities and defend the island from foreign invasion.

Now the war is over and a new generation of Kauls vies for control of Kekon's bustling capital city. They care about nothing but protecting their own, cornering the jade market, and defending the districts under their protection. Ancient tradition has little place in this rapidly changing nation.

When a powerful new drug emerges that lets anyone—even foreigners—wield jade, the simmering tension between the Kauls and the rival Ayt family erupts into open violence. The outcome of this clan war will determine the fate of all Green Bones—from their grandest patriarch to the lowliest motorcycle runner on the streets—and of Kekon itself.

Jade City begins an epic tale of family, honor, and those who live and die by the ancient laws of jade and blood.
Find Jade City:
Goodreads | Amazon | Indiebound | Book Depository | Bookshop
Find Jade War:
Goodreads | Amazon | Indiebound | Book Depository | Bookshop
Find/Pre-order Jade Legacy:
Goodreads | Amazon | Indiebound | Book Depository
---
Author Interview: Fonda Lee
CW: Hello Fonda! A big and warm welcome to The Quiet Pond. I've been such a huge fan of your work and I'm thrilled that you are visiting us today. For our friends out there who may only be meeting you for the first time, can you tell us about yourself? 
Fonda: Thank you, CW, for inviting me to visit The Quiet Pond! For those of you new to my work, I'm a fantasy and science fiction author whose novels include the epic urban fantasy Green Bone Saga (beginning with Jade City, which won the World Fantasy Award, then continuing in Jade War, and concluding later this year with the release of Jade Legacy) as well as the science fiction duology Exo and Cross Fire, and the standalone Zeroboxer. Although I've wanted to be a writer since I was ten years old, I had a previous career as a corporate strategist before taking the leap into writing about ten years ago. I'm from Canada and now live in the Pacific Northwest of the United States. I love food, dogs, and movies.
CW: The Green Bones Saga trilogy concludes with Jade Legacy, which releases later this year in December. What a journey it must have been for you and I am excited and terrified that Jade Legacy spans 20 years. I guess it's hard to encapsulate the rich experiences you must have had over the course of writing this series in one singular question, but now that Jade Legacy is written and releasing soon… How did you feel when you figuratively put down the pen and finished Jade Legacy? How are you feeling, now that it is done? 
Fonda: It's difficult to describe the mixture of emotions. The Green Bone Saga is my biggest creative project. I've been working on the trilogy for over six years, and I've spent countless hours in Kekon and with the Kaul family. Bringing the story to a close feels like… sending a child away to college, perhaps. An immense amount of happiness, sadness, relief, and pride. One part of me is exhausted, another part of me is excited and chomping at the bit to start working on new projects, and another part of me can't bear to leave this world and these characters that I know so well and have grown so attached to. The journey isn't over because there will be marketing and promotion activities to launch the third book, as well as some other Green Bone Saga-related projects, but I've told the story I set out to tell. It's hard to believe. 
CW: Your incredible adult series, the Green Bones Saga, is probably my favourite series of all time. (I will never forget how much Jade War made me restlessly pace around the house, sweating and silently screaming.) In what ways did your experiences of writing Jade City, Jade War, and Jade Legacy differ? What differed and what felt the same? 
Fonda: With each subsequent book, I felt as if I was pushing my storytelling limits as far I could. I thought Jade City was a challenging book to write because of the intensive worldbuilding and multiple points of view, but then in Jade War, I was balancing storylines in different countries, and in Jade Legacy, I was telling a generational story with years of change in the world and characters. I discovered I had to write each book in a different way. For example, I wrote Jade War out of order, writing many chapters about one character, and then another, before stitching the story together. With Jade Legacy, I broke the story down into smaller "eras," treating them almost like seasons of a TV show. Another difference was that while I was writing the later books, I was also launching and promoting the earlier ones, and could see people's reactions to them, which could be distracting at times (even when it was in a good way)! And of course, this past year of the pandemic added an additional layer of struggle to everything, especially creative work. 
The one thing that's felt the same, however, is my sense of the characters and the setting. Writing about Janloon and the Kaul family feels smooth and instinctive for me; the particular omniscient voice of this series, the personalities of the main characters, and the feel of Janloon—they come to me so easily that I wonder if I'll ever have that with another project.
CW: You've talked about your inspirations of Jade City frequently, and how it's a blend of your love for gangster sagas and kung-fu films! While you've talked about your inspirations for the conception of the series frequently, what were the inspirations you drew from when writing Jade War and Jade Legacy? What inspirations helped shape your stories' momentum?
Fonda: The gangster kung-fu mashup tone and aesthetic of Jade City carries through the entire trilogy, but I wanted to explore particular other themes in Jade War and Jade Legacy. A big part of Jade War is the expansion of the story to Espenia. With Anden's arc, I wanted to portray immigration and modern cultural diaspora in a way that I hadn't seen in other fantasy novels. I was also obsessively determined to avoid "second book syndrome" and turn out a sequel that was as good or better than the first book, so I studied my favorite movie sequels: Aliens, Terminator 2, The Godfather Part II, and The Empire Strikes Back to figure out how to do it. 
In Jade Legacy, I wanted to do something else that I rarely see in fantasy—depict the evolution of a magic resource and the culture that surrounds it over time in an accelerating modern world. And I wanted that to be the backdrop to an epic family story that moved smoothly through time. One unexpected inspiration for me in this regard was the musical Hamilton, because it covers an era—the founding of a nation—while never losing sight of the main characters as they grow and change over the course of their lives.
CW: What were some of your greatest challenges when writing the Green Bone Saga? And likewise, what are some things that you are especially proud of?
Fonda: The greatest challenge was probably the sheer scope and complexity of the saga. At times, I felt as if my brain would break from managing all the pieces I was assembling. The plot, the motivations and relationships of the multiple protagonists, the politics, the violence, the antagonists, all the secondary and minor characters…everything was connected to everything else in one great machine, and above all, the story's emotional heart had to be kept front and center. It was a lot. 
The other big challenge was selling this book and building a readership. The Green Bone Saga didn't really have any comparable titles. It's not a traditional epic fantasy, but it's also not a traditional urban fantasy. It's not historical fantasy either. It takes place in a secondary world, but a recognizably modern one. To be honest, that's still a challenge—getting readers to notice and embrace something that doesn't fit particularly well into the range of what they're familiar with.
However, both of those challenges are related to the aspects I'm most proud of. I'm deeply satisfied that the whole thing worked, that my vision for this unconventional modern epic fantasy came together and has found such devoted readers and fans. And above all, I'm most proud of the characters I've created. I think I've written a story that does them justice.
CW: Across your work – in your YA sci-fi about zero-gravity boxing, Zeroboxer, your YA alien sci-fi, Exo, and Jade City – your stories often center on morally ambiguous characters. Can you tell us about your love for moral ambiguous characters? And, a little 'bonus' to the question: Did your career as a corporate strategist shape the way you craft your characters?
Fonda: I don't think of myself as writing morally ambiguous characters—I think I write morally ambiguous societies, with characters trying to do their best within brutal constraints and with no good choices. We're all a product of our time, culture, and upbringing, and when readers say a character is morally ambiguous, sometimes it's because we're judging them by Western civilization's modern day standards. When I create moral ambiguity, really what I'm doing is writing a world and a social context that places characters in pressure cooker situations where they're forced to act, maybe to do things they might not want to, that might appall us. I want to immerse readers in that situation deeply enough to understand the characters' actions. 
I do think my career in business strategy prior to being an author has caused me to write books that pay a particular attention to the economic aspects of the fictional world, as well as the elements of politics and leadership. I've thought a lot about the organizational structure of the clans and the relative strengths and weaknesses of different Pillars' management styles.
CW: Jade City is going to be adapted into a TV series – and I cannot wait to see our favourite characters on the screen. Can you give us any hints about where the adaptation is right now?
Fonda: There are never any guarantees in Hollywood, the steps take a long time, and as the author, I have some involvement but no control over the process. I can tell you there's a writer, director, and producers attached, and that a pilot script exists. Fingers crossed for more news! 
CW: Now that the Green Bones Saga is complete, what's next for you?
Fonda: Something short, thankfully! I just turned in The Jade Setter of Janloon, a standalone novella set in the Green Bone Saga world, which will be published in early 2022. I have another novella project that hasn't been announced yet, as well as a YA project that is very much under wraps. After that, I plan to tackle this idea for another adult series that's been in my head… stay tuned! 
CW: It was such a huge honour to have you visit us today, Fonda! My last question is a question I ask all of our guests – What is a food that reminds you of 'home' – wherever or whoever that may be?
Fonda: My family has a tradition of making dumplings together on special occasions, so I'd have to say that homemade dumplings are always "home" for me. 
About the Author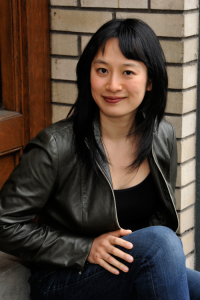 Fonda Lee is the author of the epic urban fantasy Green Bone Saga (beginning with Jade City and continuing in Jade War and the forthcoming Jade Legacy) and the science fiction novels Zeroboxer, Exo and Cross Fire.
Fonda is a winner of the World Fantasy Award, as well as a three-time winner of the Aurora Award (Canada's national science fiction and fantasy award), and a multiple finalist for the Nebula Award, the Locus Award, and the Oregon Book Award. Her novels have garnered multiple starred reviews, been included on numerous state reading lists, named Junior Library Guild selections, and appeared on Best of Year lists from NPR, Barnes & Noble, Syfy Wire, and others. Jade City has been translated in multiple languages and optioned for television development.
In addition, she has written acclaimed short fiction and comic books for Marvel. She is a frequent speaker and instructor at writing workshops including Viable Paradise and Clarion West.
Fonda is a former corporate strategist and black belt martial artist who loves action movies and Eggs Benedict. Born and raised in Canada, she currently resides in Portland, Oregon.
Find Fonda on: Website | Facebook | Twitter | Goodreads | Tumblr