Friends, I think we have to admit something that we all know: we're pretty bad at doing these wrap-up posts. To be fair, the last three months have been incredibly busy at the Pond. In May, we had Asian Pasifika Heritage Month, in June we had Pride Month, and July we were all having naps to recover from the sheer workload of it all.
But look: we made it to the end of July and we're doing a wrap-up today! Look at us go!
CW's Wrap-Up
Books I Read in May, June, and July
I'm really going to do this! I'm going to tell you about the books that I read in the last three months (or since our last wrap-up… in March.)
In the past, I'd always write a blurb about each book, but I'm going to challenge myself and write only one sentence about my thoughts on each book. All of you know that I ramble – I love rambling! – so this is going to be tough. But, I read so many cool books over the last three months and my love for the books I read prevails over my love for rambling.
Between Perfect and Real by Ray Stoeve – A spectacular, vulnerable, and affirming stories about transitioning, questioning, and what it means to become the person you've always meant to be – loved this so much and highly recommend. Read my review.
Up All Night: 13 Stories between Sunset and Sunrise edited by Laura Silverman – My favourite stories were about a queer teen superhero (Julian Winters), a bittersweet story about friendship (Maurene Goo), and a wholesome tribute to Pokemon Go and friendship (Laura Silverman), but otherwise this anthology did not work for me. Read my review.
In the Watchful City by S. Qiouyi Lu – A phenomenal novella set in a bio-cyberpunk world, about stories within stories, gender, diaspora; a transcendent piece of SFF storytelling. Read my review.
Not Here to Be Liked by Michelle Quach – An sharp and funny feminist contemporary romance that explores sexist double standards, the messiness of feminism and advocacy with a hate-to-love romance with great emotional depth. Read my review.
Made in Korea by Sarah Suk – Warm and heartfelt, a rivals-to-lovers romance about two Korean teens with K-beauty who go head-to-head in an all-or-nothing bet! Adored this and I loved how it manages and explores the miscommunication trope. Read my review.
The Comeback by E.L. Shen – If you love sports/ice-skating books, then you'll love this; a story about a Chinese-American teen who grapples with racism, bullying, and also the pressures of competing in ice skating. A solid middle-grade book.
Chlorine Sky by Mahogany L. Browne – A contemporary story told in verse, about a Black-American teen who grapples with a toxic friendship breakdown, misunderstandings and miscommunication, and first love. The writing style didn't gel with me, but it was a good read nonetheless.
Get a Grip, Vivy Cohen! by Sarah Kapit – Another sports middle-grade book told in epistorary form, about an autistic Jewish girl who writes letters to her baseball hero; about bullying, sexism in games, and doing what you love.
Redemptor by Jordan Ifueko – The sequel to Raybearer; Redemptor sealed the deal for me that this series is one of the best YA fantasies out there. A stunning conclusion to Tarisai's story that is satisfying and elevates the story to new heights. Read my review.
It Goes Like This by Miel Moreland – A gorgeous young adult contemporary about the members of a teen pop group, who come together after a messy breakup for one last benefit concert; loved the exploration of friendship, second-chance romance, and fandom. Read my review.
Cece Rios and the Desert of Souls by Kaela Rivera – A wonderful fantasy about a girl who becomes a bruja in order to save her sister; a spectacular adventure and perfect for those looking for an action-packed read about unlikely friendships and family.
How It All Blew Up by Arvin Ahmadi – Amazing, amazing, amazing. Loved this messy story about a gay Iranian-American teen who escapes to Rome; about identity, perceptions and biases, and how sometimes love is confusing and genuine. Read this in a day and loved it with my whole heart.
The Many Mysteries of the Finkely Family by Sarah Kapit – A fun and unexpectedly emotional story about an autistic Jewish girl who starts her own detective agency and discovers that some mysteries are bigger than those in the mystery books – especially when family is involved.
These Feathered Flames by Alexandra Overy – A retelling of the Firebird, about two sisters: one a queen and one who possesses the power of the Firebird, a powerful being and equaliser of magic. Has political intrigue, but didn't quite hit the spot for me – a good read nonetheless though!
The Darkness Outside Us by Eliot Schreffer – A thrilling and evocative story about two boys stuck in space on a mission, with mystery and thriller elements. I had no idea what was going to happen going into this book and I loved every single minute, every single twist and turn. Memorable and mind-blowing.
The Seep by Chana Porter – A fascinating cerebral science-fiction story about a trans Native-American woman who loses her wife when the latter decides to be reborn as a baby in a world invaded by benevolent aliens. Great concept, shaky and choppy execution.
Off the Record by Camryn Garrett – Camryn never misses and Off the Record is phenomenal. A story inspired by #MeToo, about a Black teen journalist who uncovers a terrible industry secret and works to expose them.
Felix Ever After by Kacen Callender – I finally read this! An affirming and messy story about a trans demiboy who questions his identity, whilst grappling with an anonymous anti-trans troll. Nuanced, illuminating, and so personal.
A Clash of Steel by C.B. Lee – Meet my new favourite pirate book; a retelling of Treasure Island set in 1890's Asia, about a girl who is whisked away on an adventure of a lifetime in search of treasure to prove her worth – and falls in love with a girl she isn't sure she can trust. Trope galore, so delightful. Read my review.
The Marvelous by Claire Kann – A unique story with an interesting premise; six teens locked in a mansion play a high-stakes game. Mysterious, intriguing, and character-driven; I found this entertaining but some moments didn't quite land for me.
Light From Uncommon Stars by Ryka Aoki – An amazing story about a runaway trans girl, a violin teacher who made a deal with a demon, and a refugee space captain who runs a donut shop. Unlike anything I've read but so soft and vulnerable despite all the hurts and trauma lay bare.
Love & Other Natural Disasters by Misa Suguira – A hilarious story with fake-dating, enemies-to-lovers, and a heartfelt exploration of family, bigotry, and how sometimes life isn't like the movies. I've loved all of Misa's books and this one is a delightful and fun queer disaster.
The Mirror Season by Anna-Marie McLemore – A lyrical yet devastating retelling of The Ice Queen that explores sexual assault and how a girl and boy's lives are intertwined from one unspeakable night. Loved how affirming and vulnerable this was; my favourite Anna-Marie McLemore story to date.
Hani and Ishu's Guide to Fake Dating by Adiba Jaigirdar – A fantastic fake-dating romance with a sunshine/grump couple; also explores complex family dynamics, racism, microaggressions, and toxic friendships.
Never Look Back by Lilliam Rivera – A contemporary retelling of Orpheus and Eurydice with an Afro-Latine and Latine cast, magical realism elements, and a love letter to Puerto Rico. I haven't quite figured out my feelings for this book yet, but I liked it well enough.
Elatsoe by Darcie Little Badger – An imaginative and incredible mystery/urban fantasy/paranormal story about an ace Lipan Apache teen who can raise the spirits of the dead – and has to uncover the mystery of her murdered cousin.
The Dreamweavers by G.Z. Schmidt – A love letter to Chinese folklore; about two young siblings with the ability to weave dreams go on an unforgettable adventure to save their grandfather – but first, they break a curse, infiltrate the royal palace, and cross paths with a Jade Rabbit and a powerful poet.
A Cuban Girl's Guide to Tea and Tomorrow by Laura Taylor Namey – A soft and gentle story about a Cuban teen and baker sent to England to overcome her heartbreak, and forges a new path forward (and making friends along the way), forms life-time friendships, and maybe falls in love once more.
How Moon Fuentez Fell in Love with the Universe by Raquel Vasquez Gilliland – This book has my whole heart; it destroyed and ruined me and I'd like to thank Raquel for it. A wonderful story about abuse, fatness, sexuality, religion, and self-love at the end of it all. Read my review.
Furia by Yamile Saied Méndez – An incredible feminist story about soccer, feminism, sexism, family, and first love. Loved the nuance in this and loved its wonderful and empowering end.
---
CW's Posts During March, April, and May
There's going to be a LOT of posts, so I thought I'd just highlight the series that we did and my favourite posts!
Asian Pasifika Heritage Month 2021
We hosted our second Asian Pasifika Heritage Month series! Some of my favourite posts: my author interview with Fonda Lee, author of Jade City; author interview with Jasmine Warga, author of The Shape of Thunder and Other Words for Home; and my book recommendations post with 35 Asian and Pasifika books. You can find a full list of our posts here.
Pride Month 2021
We also hosted our second Pride Month series. Some of my favourite posts: my author interview with Ray Stoeve, author of Between Perfect and Real; interview with S. Qiouyi Lu, author of In the Watchful City. Find a full list of our posts here.
Book Reviews
I also wrote some book reviews that I'm really proud of!
Book Recommendations
Book Recommendations: 11 Enemies/Rivals-to-Lovers Books to Read (and then Scream about in the DMs)
Joce's Wrap-Up
July has been an absolute tornado of a month for me, between my kiddo moving to a new preschool and slowly transitioning back to in person work, and coordinating schedules basically to the minute with my husband. Unfortunately I did not get to read a lot, and the reading I did do was so I could formulate coherent questions for the two interviews I had lined up with the respective authors. Thankfully, these were two of the best books I've read all year and one is my favorite book of all time. Here's to a better August! (Hopefully.)
Seven Days in June by Tia Williams
This is my new favorite book, no lie. I had multiple people text me when they saw the synopsis and ask me if I had wished this book into existence. It follows Eva, who is an author of a bestselling erotic paranormal romance series and Shane, who is an author of bestselling literary fiction. They had a whirlwind romance in high school where they helped each other survive the trauma they were experiencing then, and lost touch for many years thereafter until they met again at a conference for Black authors.
Apart from the second chance romance, Eva also experiences intractable chronic migraines and I always look for chronic pain rep as someone who also experiences chronic pain. There is also a huge mental health component and Eva's daughter Audre is basically the stand in therapist for her middle school peers. I was a little frightened that with my wildly high expectations that I would be let down, but I absolutely was not and this book blew me away.
The Other Black Girl by Zakiya Dalila Harris
The Other Black Girl is an absolute force of contemporary narrative with thriller and horror elements. I was delighted to talk to Zakiya (actually this morning at 7:30am), who was such a pleasure to interview. The story revolves around Nella who is a Black editorial assistant at Wagner Books, and one of the only Black employees there. She is ecstatic when Hazel, another Black woman, is also hired there. The book spirals from there in a taut mystery plotline with Nella receiving ominous letters that she should leave the company and navigating her colleague relationship with Hazel.
I unfortunately was very sick leading up to the interviews so I was on a time crunch to read, but I didn't have to be told twice because of the engaging social commentary and the twists and turns that were keeping me turning pages until the early morning.
Skye's Wrap-Up
Hello! The last time I did one of these, it was November of last year—and gosh, how are we already over halfway through 2021?! I've read so many wonderful books in the interim that I hope I'll get to talk about here soon, but zooming into what I've read this past month: five lovely lovely books, three of which were absolutely delightful middle-grade fantasy graphic novels!
The Okay Witch and the Hungry Shadow by Emma Steinkellner
This is a sequel to The Okay Witch, a graphic novel I read last year that I really adored, so I jumped on this one right on release day! It was so wonderful to be able to dive into Moth's world again, and I really liked the exploration of bullying in this sequel, and though this was written by a white author, I think it adequately tackles the issue of how bullying can affect marginalised and non-marginalised kids differently. I think this series is honestly a little underhyped, and I'd love to see it get more attention in the book community! To this end, here's the synopsis for the first book:
Thirteen-year-old Moth Hush loves all things witchy. But she's about to discover that witches aren't just the stuff of movies, books, and spooky stories. When some eighth-grade bullies try to ruin her Halloween, something really strange happens. It turns out that Founder's Bluff, Massachusetts, has a centuries-old history of witch drama. And, surprise: Moth's family is at the center of it all! When Moth's new powers show up, things get totally out-of-control. She meets a talking cat, falls into an enchanted diary, and unlocks a hidden witch world. Secrets surface from generations past as Moth unravels the complicated legacy at the heart of her town, her family, and herself.
Add to Goodreads: The Okay Witch | The Okay Witch and the Hungry Shadow
Where the Drowned Girls Go by Seanan McGuire
The forthcoming installment in Seanan McGuire's landmark Wayward Children series, another favorite of mine. This is an odd-number book in the series, which means it is a sequel story to the overarching narrative (as opposed to the even-numbered standalones). This time, we're following Cora, a fat girl who was once a mermaid, as she transfers to the 'other school' in an attempt to free herself from the grasp of the Drowned Gods, who are giving her nightmares and making her afraid of water. I loved this new chapter in Cora's story and getting a glimpse into the terrifying and oppressive alternate school. But then again, I'll love anything Seanan writes. Digital ARC provided by the publisher through Edelweiss.
Releases Jan 4th 2022. Add Where the Drowned Girls Go to Goodreads!
My Aunt is a Monster by Reimena Yee
This was a VERY VERY early copy, which I got the honor of taking a tiny peek at! AND FRIENDS. friends. You will want to add this to your TBR shelves for 2022. Trust me on this. My Aunt is a Monster follows a blind, story-loving girl named Safia, who goes to live with her aunt when her parents tragically pass away in a fire. Little does she know, her reclusive aunt Whimsy was once The Greatest Explorer of All Time, and she's hiding a big secret… This story was so warm and whimsical and full of wanderlust, and gave me so much joy when I was starting to feel super restless at home from a perpetual lockdown. You can find more info about the comic here on Reimena's blog! Digital ARC provided by the author.
Releases sometime 2022. Add My Aunt is a Monster to Goodreads!
Tidesong by Wendy Xu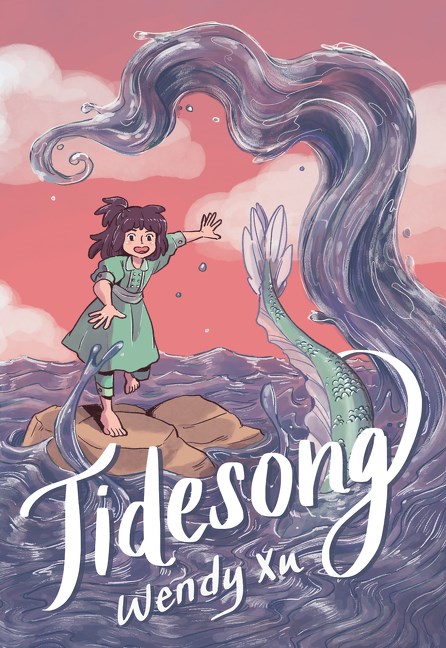 I've been eagerly anticipating this comic ever since it was announced last year, and friends, Wendy Xu's comics just never miss. Tidesong follows Sophie, who comes from a long line of water-magic witches who can commune with dragons, the masters of the sea. When she is sent off to a sleepy seaside town to train for her upcoming auditions for a prestigious magic school, Sophie soon begins to feel stifled by the criticism and tedious training she receives from her stern, disapproving great-aunt. One stormy, stormy night, she accidentally tangles her magic with that of Lir, a young water dragon who ends up amnesiac the next morning. This was an adorable read, and I wish I could spend more time in its world! I really love Wendy's brand of quiet, slice-of-life stories filled with magic, and the grounded, complex characters that inhabit them. Digital ARC provided by the publisher.
Releases November 16th. Add Tidesong to Goodreads!
After the Dragons by Cynthia Zhang
This was a really sweet indie-published m/m SFF novella set in an alternate Beijing, where pollution and climate change has led to the creation of new incurable illnesses, and where dragons are mundane. Our protagonist, Kai, is a terminally ill, cynical loner of a college student who lives in a dingy apartment filled with stray dragons he rescues from the streets. When his life collides with Eli, a visiting grad student from America who takes an interest in him and his dragons—for what he allegedly claims is for his immunology research—between them begins to grow something more. This book doesn't sound like the typical story I'd pick up on a whim, but I am so so SO glad I gave it a chance when Stelliform Press reached out to the Pond for a feature! I was enraptured by the world this book manages to condense within its short length—the beautiful dragons, especially, were such a wonderful touch of whimsy and charm in a rather bleak setting. This book also has a LOVELY grumpy x sunshine AND height difference romance (in which the short guy is feral and the tall one is sunshine)! I've got a full review of this in the works too, so be sure to keep an eye out if this book sounds interesting to you too! 👀 Digital ARC provided by the publisher.
Releases August 19th. Add After the Dragons to Goodreads!
Skye's Posts During July
Book Recommendations – 12 Wholesome, Healing Reads for a Sad Day
Other Stuff Skye Has Been Up To
Life after college has been so strange! Not having a daily schedule anymore means I can do whatever I want, and that kind of unbridled freedom has honestly been a little scary. I'm still taking it one step at a time in terms of what my future plans are, but for now, I'm looking into taking a gap year before I set off on my next adventure!
I finally, finally have an AMPLE amount of time to spend on video games, which means I'm currently speeding through (and greatly enjoying) The Great Ace Attorney Chronicles, slowly going at both the remastered Okami on the Switch and Final Fantasy X (my first Final Fantasy game, which I'm trying out at CW's behest because it's like, her favorite game of all time), AND I also recently bought both Cozy Grove and Ni no Kuni: Wrath of the White Witch too, both great games which I've heard so much about??? Goodness, what a mouthful.
I'm currently reading both Laughter at the Academy, an SFF short story collection by Seanan McGuire, and Briar Girls by Rebecca Kim Wells, which is a loose retelling of Sleeping Beauty releasing later this year!
What a whirlwind 2021 has been already! We hope you've enjoyed reading our massive wrap-up post today, friends, and that the days are treating you kindly despite the chaotic state of the world at large. Hopefully it won't be too long until our next wrap-up!