Summary:
Dragons were fire and terror to the Western world, but in the East they brought life-giving rain…

Now, no longer hailed as gods and struggling in the overheated pollution of Beijing, only the Eastern dragons survive. As drought plagues the aquatic creatures, a mysterious disease—shaolong, or "burnt lung"—afflicts the city's human inhabitants.

Jaded college student Xiang Kaifei scours Beijing streets for abandoned dragons, distracting himself from his diagnosis. Elijah Ahmed, a biracial American medical researcher, is drawn to Beijing by the memory of his grandmother and her death by shaolong. Interest in Beijing's dragons leads Kai and Eli into an unlikely partnership. With the resources of Kai's dragon rescue and Eli's immunology research, can the pair find a cure for shaolong and safety for the dragons? Eli and Kai must confront old ghosts and hard truths if there is any hope for themselves or the dragons they love.

After the Dragons is a tender story, for readers interested in the effects of climate change on environments and people, but who don't want a grim, hopeless read. Beautiful and challenging, focused on hope and care, this novel navigates the nuances of changing culture in a changing world.
If you, like me, think the world is in sore need of more quiet slice-of-life fantasy stories about ordinary people, I have just the recommendation for you today. Set in the near-future of a hazy alternate Beijing, Cynthia Zhang's After the Dragons is a lovely urban fantasy novella about saving stray dragons, queer romance, and what it means to have hope in a world you cannot save on your own.
Beijing is drought-stricken. The price of water rises as citizens begin experiencing a new kind of terminal disease: throat scorch, or shaolong, caused by prolonged exposure to polluted air. The lungs of the sick burn slowly along with the city—and there is, as of yet, no cure. The drought has also affected the increasing stray dragon population in the city, as their survival, unlike the fiery dragons of the West, depends mostly on water. Kai, a loner college student with a shaolong diagnosis, spends what is left of his days in a small apartment, saving abandoned dragons from the street. At a dragon-fighting ring, his paths cross with the visiting Eli, a biracial Afro-Asian medical student from America on an internship with Peking University. When Eli finds out that Kai has shaolong and is refusing treatment, he resolves to find a way to help.
I was enraptured by the world this book manages to condense within its short length; the beautiful dragons, especially, are such a wonderful touch of whimsy and charm in what is otherwise a rather grounded and realistic setting. A lot of time is spent languidly meandering through the city, taking in its sights, sounds, smells. This works because Zhang is really good at writing atmosphere. The vibe of the book reminds me of the concept of ma in Ghibli films: intentional emptiness that suffuses a story with a quiet, introspective quality. As a reader from Southeast Asia, the vivid descriptions of Beijing gave me so many flickers of recognition: the pristine condo sitting unused in the middle of a low-cost housing area, the hot dusty air tempered by constant indoor air-conditioning, a city sitting in between scarcity and indulgence. Absent the mythical dragons and shaolong (which honestly feels like a plausible disease even in our world anyway), this book feels like it was set in a world I am intimately familiar with.
The story progresses at a leisurely pace, but the characters easily carry the narrative forward without need for big external conflict. Kai and Eli are both really compelling characters, and their relationship progress feels natural and rooted in common ideals, if not shared personalities. Kai, self-sufficient and guarded to a fault, outright refuses any sort of help or pity for his condition out of hand. This frustrates Eli, who cannot bear to see Kai suffer despite the availability of resources and research on shaolong at the university he works at. As Eli and Kai bond over caring for the many, many little dragons in Kai's apartment, Kai slowly learns to allow himself to be the one looked after for once, instead of assuming his default role as caretaker. The two end up developing an almost sunshine tol x grumpy smol romance dynamic, which delighted me so much. They also lightly discuss the intersections of racism, queerness, and the nuances of diaspora vs native relationships to a culture throughout the book, and these conversations felt authentic and appropriate without veering into heavy emotional territory.
The SFF genre is often filled with worlds in peril that are saved by individual heroes, but the Beijing of After the Dragons is full of issues that are too large for any one person to handle alone. The systemic nature of these problems becomes a source of conflict between Kai and Eli, as Kai's cynicism frequently gets in the way of allowing himself to receive treatment for shaolong. At one point, he wonders: 'How much does his inherent goodness matter when he's one person in a country of billions?' His own tireless dragon rescue efforts barely make a dent in the city's stray dragon population, anyway. For many of us living in parts of the world that have been irreparably wracked by recent unrest and the pandemic, Kai's exhausted hopelessness probably hits closer to home than we would like. But in this way, I think, After the Dragons is a balm of a book uniquely perfect for our times: it acknowledges the strength it takes to imagine a better world in the face of insurmountable futility, but it dares to hope anyway. On our own, we cannot save the world—but what we can do is take care of each other.
MY CONCLUSION: HIGHLY RECOMMENDED
After the Dragons is a quiet SFF novella about the impact of big, systemic, world-defining anxieties—and how, despite it all, two ordinary young adults can find love in a complicated world. I loved getting to spend time with its evocative world and charming characters, and I am greatly looking forward to picking up whatever Zhang writes next. I also really wish dragons were real now.
Digital ARC provided by the publisher in exchange for an honest review.
Is this book for you?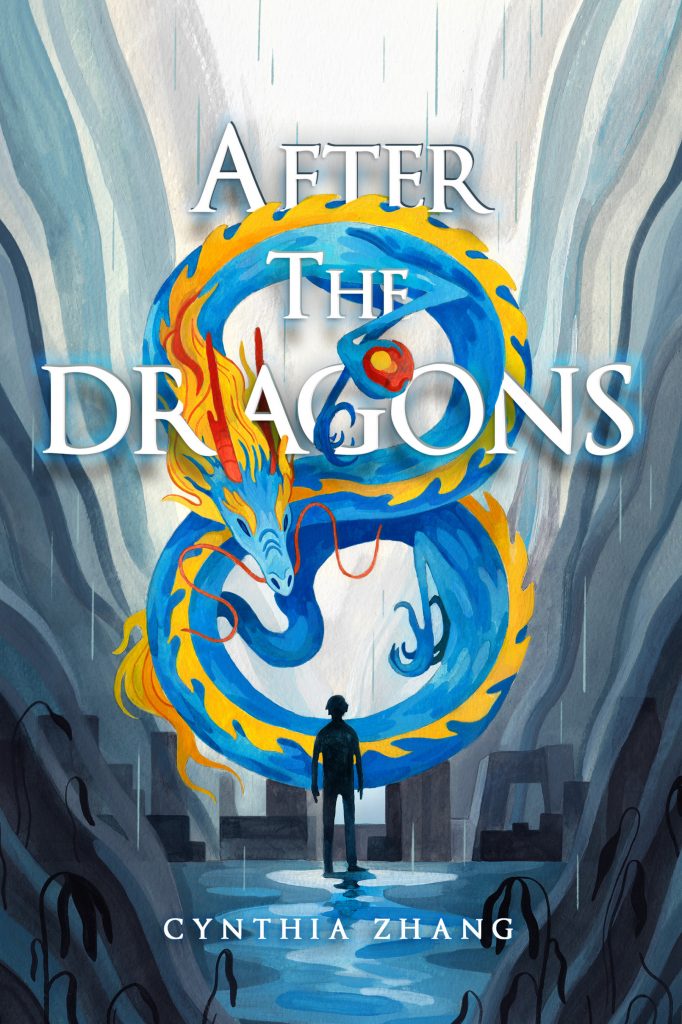 Premise in a sentence: A quiet romantic fantasy set in alternate Beijing featuring dragons and two queer college students who find love.
Perfect for: fans of character-driven, introspective narratives with a touch of fantasy
Think twice if: you want a fast-paced, action-packed story
Genre: adult, fantasy
Trigger/content warnings: suicide ideation, animal mistreatment, mention of death of grandparent
Goodreads | Publisher's Website | Indiebound
BookDepository | Bookshop [affiliate link] | Amazon