Our Friend is Here! is a guest feature at The Quiet Pond, where authors, creatives, and fellow readers, are invited to 'visit' the Pond! In Our Friend is Here! guest posts, our visitors (as their very own unique character!) have a friendly conversation about anything related to books or being a reader — and become friends with Xiaolong and friends.
2022 is promised to be a spectacular reading year with Daughter of the Moon Goddess releasing in January next year. In case you haven't heard, Daughter of the Moon Goddess is a forthcoming fantasy inspired by the Chang'e legend and all of us at the Pond are so excited to read it! If you need another reason to be excited, Sue Lynn Tan revealed the cover of her debut last week – friends, if you haven't seen it, then prepare for it to take your breath away.
I am incredibly excited that Sue Lynn is going to be visiting us at the Pond today to talk about her gorgeous debut and her writing journey. (This visit has been a long time coming, so I'm thrilled that I get to share this interview with you all today!) I certainly learned a little more from my interview with Sue Lynn, who visits us a rabbit wearing celestial robes reminiscent of Chang'e, and I hope all of you will enjoy reading her answers as much as I did.
In case you haven't heard of Daughter of the Moon Goddess and you haven't seen the cover yet, I'm delighted to take this opportunity to share with you the book cover and the synopsis for the book! So, without further ado, here is Daughter of the Moon Goddess and my interview with Sue Lynn!
Daughter of the Moon Goddess by Sue Lynn Tan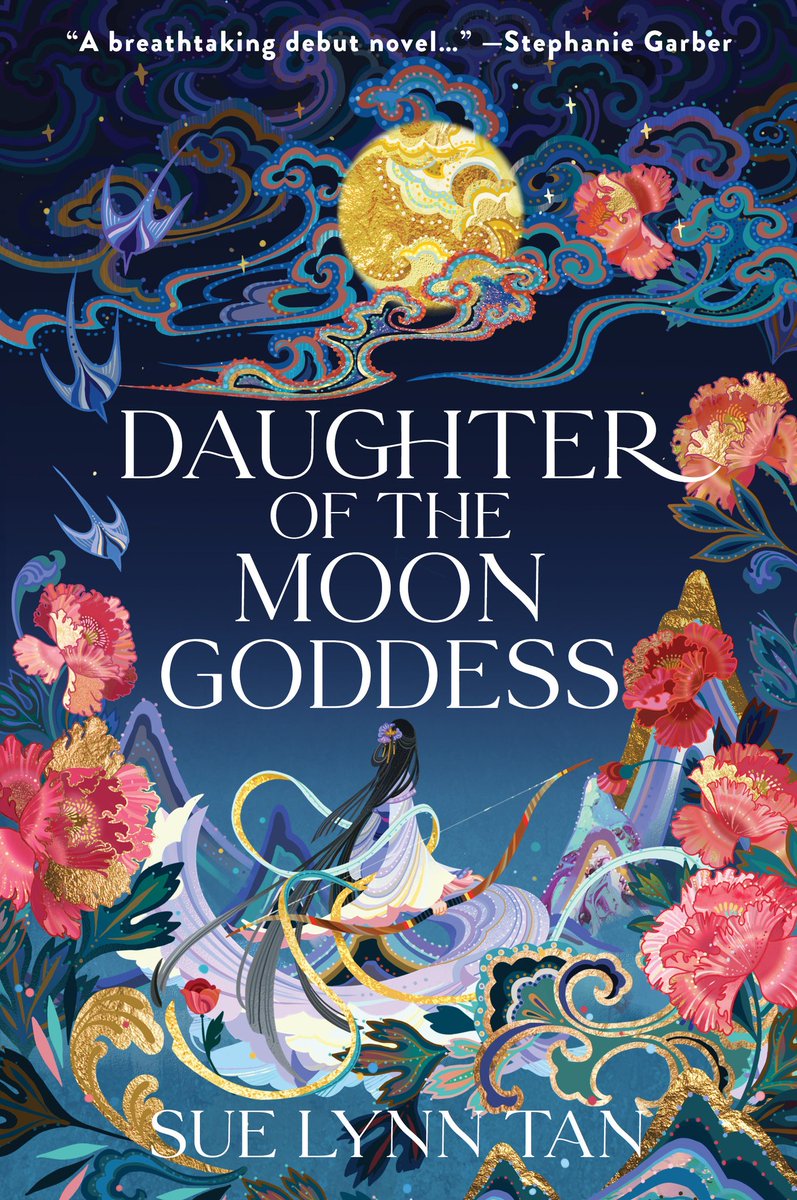 Cover artist: Kuri Huang | Designer: Jeanne Reina
Growing up on the moon, Xingyin is accustomed to solitude, unaware that she is being hidden from the feared Celestial Emperor who exiled her mother for stealing the elixir of immortality. But when Xingyin's magic flares and her existence is discovered, she is forced to flee her home, leaving her mother behind.

Alone, powerless, and afraid, she makes her way to the Celestial Kingdom, a land of wonder and secrets. Disguising her identity, she seizes an opportunity to train alongside the emperor's son, mastering archery and magic, even as passion flames between her and the prince.

To save her mother, Xingyin embarks on a perilous quest, confronting legendary creatures and vicious enemies. However, when treachery looms and forbidden magic threatens the kingdom, she must challenge the ruthless Celestial Emperor for her dream—striking a dangerous bargain in which she is torn between losing all she loves or plunging the realm into chaos.
Find and pre-order Daughter of the Moon Goddess on:
Goodreads | Bookshop | Indiebound | Amazon
---
Author Interview: Sue Lynn Tan
CW: Hello Sue Lynn! A warm and excited welcome to The Quiet Pond. This interview and your visit has been a long time in the making, so I am so delighted that you are finally here today! For our friends out there who are only meeting you for the first time, can you tell us about yourself?
Sue Lynn: Thank you for having me and I'm so happy to be here! A little about me – I was born in Malaysia, studied in London and France, and currently live in Hong Kong with my family. I love being outdoors whether it's running or hiking (maybe because I spend so much time in front of my laptop), reading, watching dramas, and jewelry making. I have a weakness for chocolate and bubble tea – which manifests especially strongly during deadlines – and while I love eating, sadly, I'm a terrible cook.
CW: I'd love to learn more about your writing journey! Where did your love for stories and writing originate from, and what has your journey as a writer looked like?
Sue Lynn: As a child, my favorite books were those big compilations of fairytales and myths, before moving on to fantasy. I've always loved writing but never imagined I would have the chance to do this full-time (ex-finance graduate here, though with questionable math skills). Whenever I had brief periods in between work, I would pick up my laptop and begin typing out snatches of ideas, a few lines, character outlines. A couple of years ago, the idea for Daughter of the Moon Goddess struck and I haven't looked back since.
I wrote the story whenever I could—in the middle of the night, before dawn, during my holiday— there was an intensity in me which I had never felt before. After querying, I ended up with a few offers, then signed with my wonderful agent. A few months later, Daughter of the Moon Goddess sold to Harper Voyager—an imprint I love, which has published so many incredible and diverse titles, like The City of Brass and The Poppy War. Sometimes all this still feels like a dream and I'm so grateful for this opportunity.
CW: Being based in Hong Kong, what was your publishing journey like? What were your biggest challenges on the road to being published, and what advice do you have for aspiring authors out there, particularly those who live outside of the publishing hubs?
Sue Lynn: It was hard, one of the hardest things I've ever done! Not just the hours of unending work but the strain on the mind and emotions because writing is something which comes from the heart – vulnerable, precious, and fragile. In all honesty, I had no idea what I was doing when I started out – I had never taken a writing class or read a book on it, and I didn't know any writers until I signed with my agent and got on social media. Google was my 'go-to' for everything. And I hope this gives anyone who is starting out, hope, that if I somehow managed to muddle through this, anyone can!
It feels strange to be advising aspiring authors when I feel like one, myself! I would say, wherever you are, research everything you can. While in Asia, outside the publishing hubs, we might not be able to attend writer workshops or conferences, there is so much information online these days if we're willing to look for it.
Patience is crucial. Writing is such a long and hard road, that when you type "The End" there is this irresistible temptation to leap to the next step – at least, for me. Don't rush it. Wait to query until the manuscript is polished, and that could take two, three or more rounds of reading and editing. There are only so many agents out there, first impressions matter—and you need to make the best case for you and your story.
It's also important to be tenacious, and to do things in stages to give yourself a chance to improve. Rejections hurt, I think they'll always hurt, but it's important to take any feedback, strip away the emotions around it and try to figure out what can be improved on.
CW: Your debut, Daughter of the Moon Goddess, releases January 11th 2022 and is inspired by the legend of Chang'e, who is one of my favourite beings in Chinese mythology. What do you love about the Chang'e legend, and what does her story mean to you personally?
Sue Lynn: I love so many things about this legend! The story is so moving, beautiful and evocative – from Houyi shooting at the suns, to Chang'e flying to the moon. A tale of love and heartbreak, courage and magic.
This legend is often retold during the Chinese Mid-Autumn Festival. One of my earliest memories of this was going to buy mooncakes with my mother and staring at the tin with the beautiful goddess upon it, flying among the clouds. I also loved the family gatherings, the food, and the tradition of lighting the lanterns at night.
This festival also evokes many precious memories for me. I lost my father a long time ago, far too early, and during this time of the year – this celebration of family and reunion – I always think of him more. And wherever I am, I try to celebrate this day, whether it's just eating a traditional meal or mooncakes, or taking my kids for a walk with their lanterns.
CW: At the center of Chang'e's story is love. Reading the synopsis of Daughter of the Moon Goddess, I feel like your story will be very much about love as well. What kind of loves can we expect to see in Daughter of the Moon Goddess?
Sue Lynn: That is so insightful, and something which goes to the core of the tale. Daughter of the Moon Goddess is a sweeping fantasy of immortals, grand kingdoms, and magic—yet at its heart, it is a story of love. I wanted to tell a tale of the trials which we can all relate to: of loss and separation, of love, heartache and renewal, as equal stakes alongside these great events.
Daughter of the Moon Goddess portrays several kinds of love: between a mother and daughter, the joy and awakening of first love, and the sorrow which comes with parting. I believe there are many ways that love can manifest – whether an inexplicable emotional connection, a physical draw, or admiration for a person's character which grows over time. In Daughter of the Moon Goddess, the romance builds up slowly, the characters grow to discover each other before falling in love – a love that reaches deep, grounded by friendship, shared memories, and respect – and all the more passionate because of it.
CW: Publishing is often a long and arduous road, so I'd love to take a moment to reflect on some nice things! What has been the most rewarding part of your writing and publishing journey with Daughter of the Moon Goddess so far?
Sue Lynn: Without a doubt, it would be having my work read by others. When I queried, my manuscript had only been read by my husband and best friend. I confess to doubting their impartiality at times, although my husband is also my fiercest critic. Since then, it has been such a privilege and honor to have Daughter of the Moon Goddess read by my agent and editor, and then the amazingly talented authors who were so generous as to read an early version of the manuscript. Now that it is up on Netgalley and Edelweiss, I'm both excited and nervous for Daughter of the Moon Goddess to make its way into the hands of readers.
CW: Thank you so much for visiting us today, Sue Lynn! My last question is a question I like to ask all of our guests at the Pond: What is a food that reminds you of 'home' – wherever or whoever that may be?
Sue Lynn: I love this question because I grew up in Malaysia where food is our passion! My favorite places to eat in Malaysia are not the nice or trendy restaurants, but the hawker stalls and what we call the "coffee shops", where the best of our local food can be found. One of my favorite dishes is "char kuay teow"– flat noodles fried with prawns, fishcake, Chinese sausage, eggs, spring onions and chili paste – best when it is individually cooked over a flaming wok for that charred aroma which is incredibly hard to find outside Malaysia. Which might be why I associate this dish so strongly with home.
About the Author
Sue Lynn Tan writes fantasy novels inspired by the myths and legends she fell in love with as a child. Born in Malaysia, she studied in London and France, before settling in Hong Kong with her family.
​Her love for stories began with a gift from her father, her first compilation of fairytales from around the world. After devouring every fable she could find in the library, she discovered fantasy books – spending much of her childhood lost in magical worlds.
​Her debut, Daughter of the Moon Goddess, will be published by Harper Voyager in early 2022, with a sequel to come. It is an enchanting fantasy of love and family, immortals and magic – inspired by the beloved Chinese legend of Chang'e flying to the moon upon taking the elixir of immortality.
​When not writing or reading, she enjoys exploring the many hills, lakes, and temples around her home. She is also grateful to be within reach of bubble tea and spicy food, which she unfortunately cannot cook.
​Find her on Instagram and Twitter @SuelynnTan, or on her website www.suelynntan.com. She is represented by Naomi Davis of Bookends Literary Agency.