Our Friend is Here! is a guest feature at The Quiet Pond, where authors, creatives, and fellow readers, are invited to 'visit' the Pond! In Our Friend is Here! guest posts, our visitors (as their very own unique character!) have a friendly conversation about anything related to books or being a reader — and become friends with Xiaolong and friends.
If you love the sound of a The Bachelorette-inspired YA romantic comedy about a Korean American adoptee whose family set her up with three boys to show her that she's worth more than her cheating boyfriend, then friends – you really have to read The Jasmine Project. I've been in the mood for a funny and heartwarming book about love, and The Jasmine Project hit all the right spots (and if you're curious, I had the privilege of sharing the first two chapters of The Jasmine Project last week)!
Given how much I loved The Jasmine Project, I am truly delighted to have the author, Meredith Ireland, visiting us at the Pond today as a grumpy cat wearing a bathrobe! I adored The Jasmine Project, and I had so many questions about the book – from how Meredith pulled off a great romance with different dynamics, all engaging and delicious in their own way, as well as a heartfelt story about an adoptee teen who learns to love herself (and that love has nothing to do with being an adoptee or searching for her birth parents).
I think you're all going to love reading this interview, friends. So, without further ado, before I share my interview with Meredith, let's have a quick look at the cover and synopsis for The Jasmine Project!
The Jasmine Project by Meredith Ireland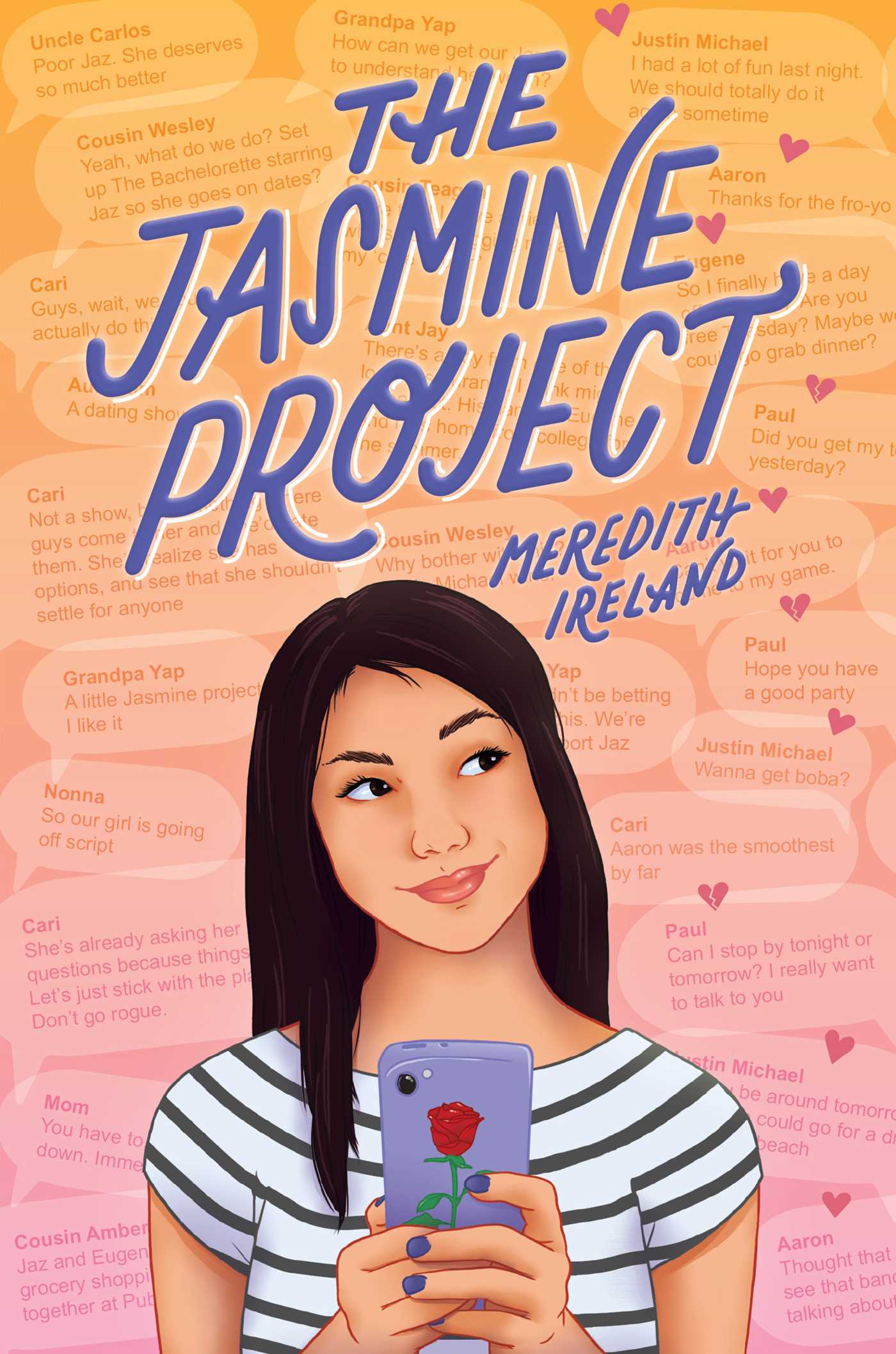 Illustration: Kat Goodloe | Art Direction: Krista Vossen
Jasmine Yap's life is great. Well, it's okay. She's about to move in with her long-time boyfriend, Paul, before starting a nursing program at community college—all of which she mostly wants. But her stable world is turned upside down when she catches Paul cheating. To her giant, overprotective family, Paul's loss is their golden ticket to showing Jasmine that she deserves much more. The only problem is, Jasmine refuses to meet anyone new.
But…what if the family set up a situation where she wouldn't have to know? A secret Jasmine Project.
The plan is simple: use Jasmine's graduation party as an opportunity for her to meet the most eligible teen bachelors in Orlando. There's no pressure for Jasmine to choose anyone, of course, but the family hopes their meticulously curated choices will show Jasmine how she should be treated. And maybe one will win her heart.
But with the family fighting for their favorites, bachelors going rogue, and Paul wanting her back, the Jasmine Project may not end in love but total, heartbreaking disaster.
Find and pre-order The Jasmine Project on:
Goodreads | Bookshop | Indiebound | Amazon | Preorder campaign
---
Author Interview: Meredith Ireland
CW: Hi Meredith! A warm, warm welcome to The Quiet Pond; it's lovely to have you visit us today! For our friends out there who may only be meeting you for the first time, can you please tell us a little bit about yourself and shout-out some of your favourite books?
Meredith: Thanks so much for having me CW! I'm so happy to be here. So, a little about me: I'm a Korean American adoptee, an attorney, a mom, and a writer of kidlit books. Some of my favorite recent reads, both adult and kidlit are: Black Sun, the Jade City series, Damsel, the Aru Shah series, and Hello Universe.
CW: Before we dive into your wonderful debut, I'd love to hear more about your writing journey! When did your love for stories start, and when did you start writing? What has your writing journey been like?
Meredith: Well, my dad was a librarian, just like the dad in The Jasmine Project, but unfortunately he passed away when I was young. I always wrote, though–journals and stories to process what was going on in life. Then about six years ago I started taking it seriously. Four years ago I signed with my agent through the fantastic first #DVPit event. We tried to get my adult books acquired, but the climate was different then for diverse stories. I decided to make one of them YA since I really enjoy reading YA and my writing caught the eye of my editor. Together we came up with The Jasmine Project!
CW: A huge congratulations on your debut, The Jasmine Project! I absolutely adored it. There were definitely a few times when I wanted to squeal into a pillow because of how cute it was, and I liked that you balanced the soft and funny parts with some serious stuff too. What inspired you to write The Jasmine Project? And how has the story grown since its first draft?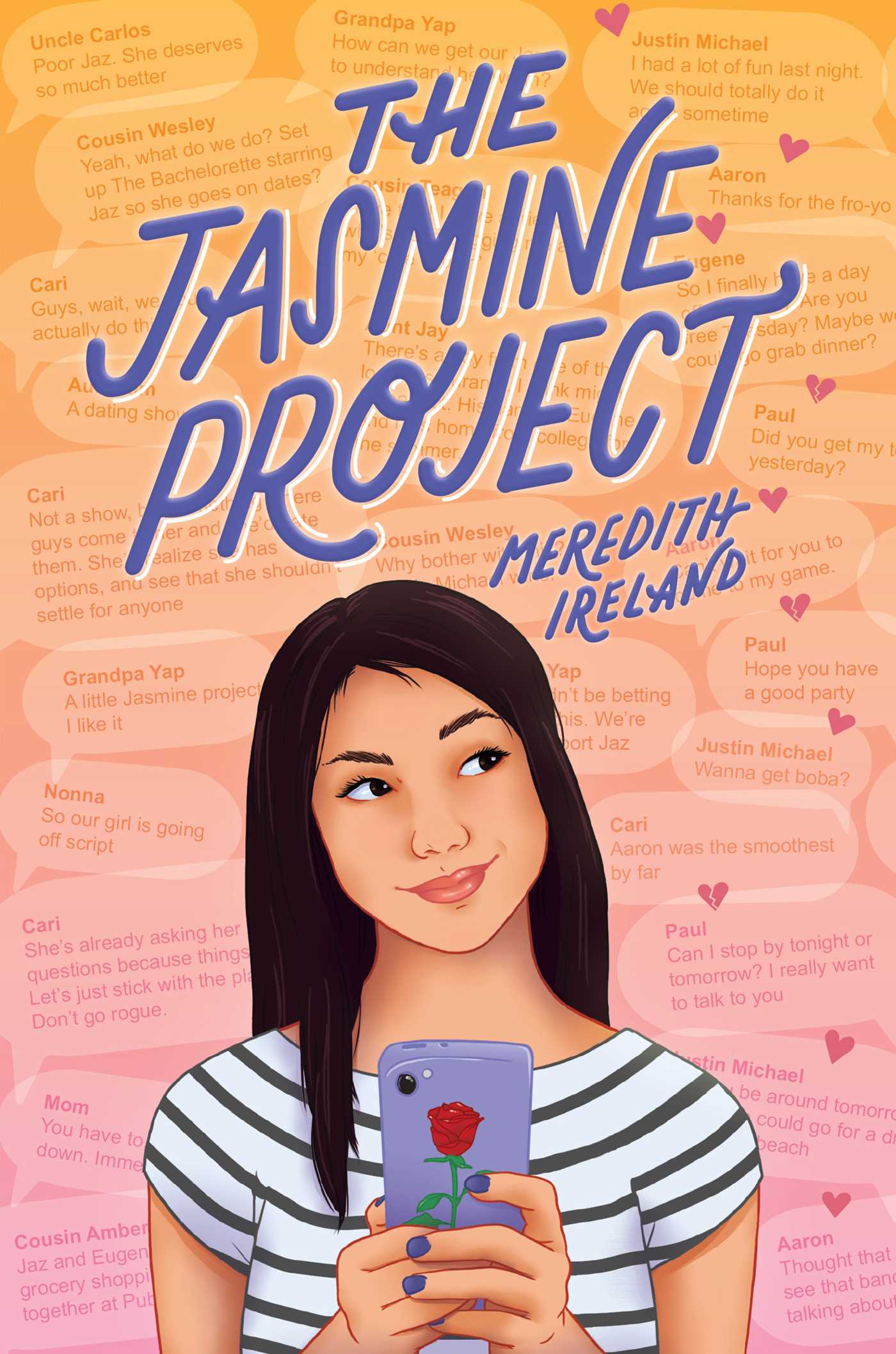 Meredith: That's so wonderful to hear! Truly, it just is so fulfilling to know someone enjoyed my story. I love stories that have both light and dark and I'm glad it read as balanced!
The story was very collaborative with my editor. My editor liked the idea of having this big, unwieldy family and the whole cast just came to me so organically. And then we both love reality shows (Love is Blind super fan over here) and it all flowed together from there. I went to college in Florida and Orlando was the first place that really felt like home to me, so I wanted to set it there. The story grew so much emotionally with the help of my editor. She really brought out the essence of Jasmine and why she was afraid to follow her dreams.
CW: Jasmine was such a gorgeous character and I love her with my whole heart. Self-love is a big theme in The Jasmine Project. What was your motivation behind characterising Jasmine as someone who genuinely struggles with feeling good and confident about herself, but then goes on a journey of learning to love and respect herself?
Meredith: I was honestly worried Jasmine would be disliked because she's not this fierce, burn down the world character that has become popular in YA. She's a girl who struggles but has inner strength. I think the hardest journey in life is the one you take with yourself–who you want to be. This is true for everyone, but especially teenagers, and I wanted to reflect that. I really hope it'll help someone out there who is struggling with similar issues to Jasmine.
CW: Let's talk a little bit about the romance in The Jasmine Project! I liked that you balanced this delicious tropey fun (friends-to-lovers! falling into his arms! the loveable jock!) but then the story evolves into this heartfelt journey about falling in love. From a writing perspective, how did you balance three different dynamics and relationships between the three boys? Did you always know which boy Jasmine would 'choose' when crafting the story?
Meredith: I love reading romance! I love that I know the entire formula but still get swept up. I remember being thirteen and reading Nora Roberts, so I love all the tropes as well. When writing my debut I wanted to craft three boys who each bring out a different side of Jasmine, but also serve as a foil to Paul, her sort of ex. Through them she sees what she likes about herself as well as what she thinks should change.
I actually didn't know who she was going to choose! When I began writing this I thought she'd pick someone differently, honestly. But then when I got into it there was a clear choice. My editor was also okay with her ending up alone and it being all about self-discovery.
CW: Jasmine is a Korean-American adoptee, adopted by her Filipino father and White mother, and she has one other adoptee sibling as well. How much does writing a character who is an adoptee mean to you personally? And what do you hope other adoptee readers take away from Jasmine's story?
Meredith: I wanted to, first and foremost, have an adopted main character who is doing something other than searching for her birth parents, where it's just a background facet in her life because that's the way it is for me. Growing up, I didn't see myself reflected in books and even today I'm not usually the audience for adoptee stories–they're very clearly written with a non-adoptee audience in mind. Too often the stories are penned by people who aren't adopted themselves and they're unintentionally offensive. I want other adoptees to know they are indeed my intended audience. I have a sibling who I am not related to biologically but I've known as my sister my entire life. And I have friends who were adopted and then have another adoptee sibling and for all of us, luckily, they're just family. I wanted to depict that reality.
CW: Something that I also loved about The Jasmine Project was Jasmine's big, chaotic, and unconditionally loving and supportive family. (The chapters with the family group chat were one of my favourites; it reminded me so much of my own family's chaotic group chats!) What was your thought process behind giving Jasmine a big family with (what feels like) hundreds of aunties, uncles, and cousins?
Meredith: I loved the group chats too! I thought it was a great way to get so many characters across without them bogging down the narrative.
I used to have a very large Italian family. Sadly, they were mostly elderly by the time I came along, so my family isn't as big now, but I remember Sunday dinners and large family parties and the various distinct personalities there. I wanted to give people who may not have large loving, supportive families as safe place, even for just 400 pages, where they'd feel loved and included too.
CW: Thank you so much for visiting today, Meredith! My last question is one I ask all of our guests (and I suppose it's quite topical, since Jasmine loves to cook): What is a food that reminds you of 'home' – wherever or whoever that may be?
Meredith: Sunday dinner! My family is Italian American and Sunday was about antipasto, pasta with gravy, braciole, meatballs, sausage, roasted chicken, pastry boxes with red string, and cards after dinner.
About the Author
Meredith Ireland is a Korean-American attorney and writer, born in Seoul. She is a Rollins College and University of Miami School of Law alumna. She writes adult and children's books and is proudly represented by Lauren Abramo of Dystel, Goderich & Bourrett LLC. Her debut novel, THE JASMINE PROJECT will be published on September 7, 2021 by Simon & Schuster Books For Young Readers. The forthcoming follow up EVERYONE HATES KELSIE MILLER is scheduled for Fall 2022.
Meredith resides in New York with her two children and a county fair goldfish who will probably outlive them all.