Our Friend is Here! is a guest feature at The Quiet Pond, where authors, creatives, and fellow readers, are invited to 'visit' the Pond! In Our Friend is Here! guest posts, our visitors (as their very own unique character!) have a friendly conversation about anything related to books or being a reader — and become friends with Xiaolong and friends.

Our Friend is Here: Latine Heritage Month Edition is a month-long event at The Quiet Pond between September 15 – October 15, where we invite Latine authors to celebrate being Latine and Latine books! Find the introduction post for Latine Heritage Month here.
One of my favourite kinds of middle-grade books are those that take you on an adventure; the kind where, after finishing the book, you felt that you've traveled to a place far away and have returned to yourself changed. That's how I felt after reading Cece Rios and the Desert of Souls by Kaela Rivera, an action-packed and exciting Latine fantasy adventure. Cece Rios takes you on an unforgettable world, a place full of magic, where the desert feels vast, and the criatura are mysterious and powerful.
So I absolutely knew that I had to invite Kaela to the Pond to talk about her wonderful middle-grade debut – and I'm so delighted that she's here to visit us for Latine Heritage Month! I loved Kaela's answers to my interview today, and I cannot wait for you all to read them. Kaela visits us today as a coyote wearing red wellies – and if you've read Cece Rios, then you can probably guess how excited I am to have Kaela as a coyote!
I have a lot of love for Cece Rios, but in case you have never heard of it before, then allow me to introduce to you Kaela's wonderful book: Cece Rios and the Desert of Souls!
---
Cece Rios and the Desert of Souls by Kaela Rivera
Living in the remote town of Tierra del Sol is dangerous, especially in the criatura months, when powerful spirits roam the desert and threaten humankind. But Cecelia Rios has always believed there was more to the criaturas, much to her family's disapproval. After all, only brujas—humans who capture and control criaturas—consort with the spirits, and brujeria is a terrible crime.

When her older sister, Juana, is kidnapped by El Sombrerón, a powerful dark criatura, Cece is determined to bring Juana back. To get into Devil's Alley, though, she'll have to become a bruja herself—while hiding her quest from her parents, her town, and the other brujas. Thankfully, the legendary criatura Coyote has a soft spot for humans and agrees to help her on her journey.

With him at her side, Cece sets out to reunite her family—and maybe even change what it means to be a bruja along the way.
Find Cece Rios and the Desert of Souls on:
Goodreads | Indiebound | Book Depository | Bookshop | Amazon
Author Interview: Kaela Rivera
CW: Hi Kaela! A big, big welcome to The Quiet Pond – it's so wonderful to have you visit us today! For our friends out there who are only meeting you for the first time, can you tell us a little bit about yourself?
Kaela: Hola! I'm Kaela Rivera, and I've been writing since I was ten years old. Cece Rios and the Desert of Souls is my first novel, and I'm so delighted that I'll get to write a second and third book to tie up the series, too! I absolutely love action-adventure stories with a serious heart, and I love eating junior mints while I write. When I'm not writing, I like to illustrate character concepts and go axe-throwing. It's so wonderful to be here–thank you for having me, pond friends!
CW: A few months back, I read your fabulous book, Cece Rios and the Desert of Souls. I was captivated by Cece's journey – by her bravery, compassion, and determination to do the right thing, as she navigates secretly becoming a bruja to save her sister, forming unlikely friendships with criatura, and also her family situation as well. What was the 'spark' behind Cece's story? And how did you balance writing a story that has themes that will resonate with readers while also keeping it magical, action-packed and exciting?
Kaela: There were really two sparks that struck CECE into being. The first was a question I'd been asking myself for years: what would it be like if people had souls on the outside of their bodies? I wrote a few drafts–all very different from CECE–exploring that idea, but none of them felt quite right. Then came the next spark! I reconnected with my Mexican side of the familia when I went to stay with my abuelo for a few weeks during winter break in college. He told me beautiful stories about growing up in Mexico, and it's like another part of myself I hadn't had words for suddenly came alive. He told me amazing stories about growing up in Mexico, and it inspired a new love for the settings he described. One night, I decided to put those two things together, and CECE's world came into being so quickly I was almost stunned.
As for the balance, honestly, most of that comes down to revisions, my amazing editor, and my own need to keep changing up the status quo to keep myself interested. I find that I really enjoy well-rounded stories. I want all the good stuff in one go! I want deep themes to chew on and fun, commercial adventure. I want to see sorrow and joy, pain and love. It's so satisfying to see both sides of the coin in a story, so I find I have to write that way myself.
CW: Let's talk about worldbuilding, because I loved the vast world that you created in Cece Rios – I really felt like I was in the desert with her! I especially loved the magic and mystery of fire and water. Can you tell us about the inspiration or sources that you drew from to create Cece's world and the magic in the story? And how did you approach making the magic and lore your own?
Kaela: CECE is blended with a lot of mixed folklore and mythology from Mexico, as well as my own feelings about emotions and how I think elements can represent them in interesting ways.
I hand-picked myths from the Aztec and Mayan myth canons as well as Spanish legends and more modern south-western folktales. I chose that broad spectrum because I wanted to show the mixed nature of Mexico's heritage, and I selected the legends I did (like La Llorona, El Sombrerón, and Tzitzimitl) because I thought they either already went well with the kind of themes I was exploring, or–because they were too cool not to include, haha! I highly recommend David Bowles's Mexican Bestiary, which I used a lot to scour legends en masse, to find the ones that resonated with me.
I think my favorite parts of CECE ended up being where I found tiny, important facts about Mexico or ancient mesoamerican myths that excited me so much I ran with them to explore the feelings and questions they aroused in me. The more I revised, the more I could refine those into something that resonated with readers too. For example, there's an ancient mural in the Sun Sanctuary in the story, and I've filled it with stones that are deeply important to mesoamerican history and culture. It was the little details like that that made me feel the world more powerfully. And I'm glad to see that most of that seems to have come through for others too!
CW: In Cece Rios, I loved the criaturas and I'm excited for readers to meet them. I loved that all the criaturas were different, with different personalities, powers, and appearances. What was the most fun part about creating the criatura characters in your story? What was the most challenging?
Kaela: Oh I absolutely loved writing the criaturas! I have a thing for cool character introductions, even when I'm watching TV or reading someone else's books, so it's one of my absolute favorite things to write. Sometimes I even have to stop myself from throwing more characters in. So just getting to introduce each one, and seeing how they affected the plot's status quo or Cece's interpretation of what was happening, was a delight!
As for challenges, I think Coyote's character was one of the most challenging to pin down. He was a bit mysterious, and it took me a while to get a read on him even as the author, so it took a few revisions before I was finally able to pull his full character arc out. But I have to say, I love him and his arc all the more because of how hard I had to hunt his story down.
CW: I'd love to know your thoughts on the themes that we see across Latine books. What do 'Latine themes' mean to you personally, and what are some cultural nuances within Latine books that some readers may not see? (And are there any Latine books you'd like to highlight that have these nuances?)
Kaela: One of my favorite things about reading other cultures' work is seeing how 1. How similar our cultural values can be and 2. Learning to look past what the themes mean to me from the outside and learn what it means to another culture on the inside. It's such a beautiful way to cultivate empathy. It's not just considering how you'd feel in the person's situation (that's sympathy)–but understanding how they feel in their situation, even if you disagree.
You'll have to excuse me for waxing poetic! I get excited about looking at cultural themes in books. I think some of my favorite Latine themes focus on familia, death, and duality. Those are ones I've leaned into in CECE, probably because they fascinate me the most personally.
Familia is the center, the heartbeat, I think, of most Latine stories. Familia is everything. Even stories about rebelling against familia is still about familia–about how your familia is part of you, how it lingers with you, and how you change outside or inside of it. CECE explores that a lot in the very premise, since it's all about Cece going to rescue her older sister, no matter the impossible odds.
I knew someone who once said "What's with Mexican stories and being all about death?" And they had a point! (Though of course that's not something Mexican stories have a monopoly on.) Death is something most Latine stories explore in one way or another because it's something we live close to in real life, or at least, live alongside. The movie Coco does a great job exploring both death and familia–how death is the flipside of life, how it's something we know well, something we accept, as much as it is something we may sometimes fear or at least respect the power of. That's a big reason I wanted high stakes in CECE. I wanted to showcase that feeling of living close to the possibility of death, or at least very real peril, that is so strong throughout our myths and folklore.
Duality is something that shows up again and again in mesoamerican folktales, and that's one of the main reasons I picked the ancient goddess/demon Tzitzimitl as the first criatura readers meet when they open CECE. Immediately, I wanted to dive in and explore that concept of duality–of great destruction and great creation living in the same creature–that Tztizimitl's legend so perfectly captured. It's something I've tried to capture throughout the rest of the book too, and if you reach a Latine book, you'll very likely find that theme woven throughout somewhere.
These kinds of themes aren't restructured to the Latine community either, of course, but they're a powerful part of our culture and storytelling, part of the lens we use to navigate the world.
CW: 2022 is going to be an exciting year of books, so let's do some shoutouts! What are some Latine books releasing in 2022 that you're looking forward to reading?
Kaela: I'm really excited for 2022 and all the wonderful books it will bring! I could go on forever, but I've exercised some self control (you're welcome) to give you a variety of genres and age groups:
Pilar Ramirez and the Escape from Zafa by Julian Randall (March 2022)
Witchlings by Claribel Ortega (February 2022)
Heartbreak Symphony by Laekan Zea Kemp (April 2022)
The Hacienda by Isabel Cañas (May 2022)
And Cece Rios and the King of Fears, the sequel to my first book! (Fall 2022)
Was that last one too self-serving? Haha forgive my excitement, friends.
I haven't read any of the books on this list yet, but they're all on my radar and sound so fun (or in The Hacienda's case, very spooky). Add them on goodreads so you've got awesome options later!
CW: Thank you so much for joining us today, Kaela! It was so lovely to have you. My last question is a question I ask all of our guests: What is a food that reminds you of 'home' – wherever or whoever that may be?
Kaela: Thank you so much for having me, CW! It's an honor to visit the pond.
If I have to pick favorites, I'd narrow it down to buñuelos (and chocolate) for dessert, eggs and tortillas for breakfast, and cornish pasties or hand-mashed potatoes and brown gravy for dinner. Each of these represent something comforting about
home for me–you can definitely see my mixed heritage here, huh? Haha!
About the Author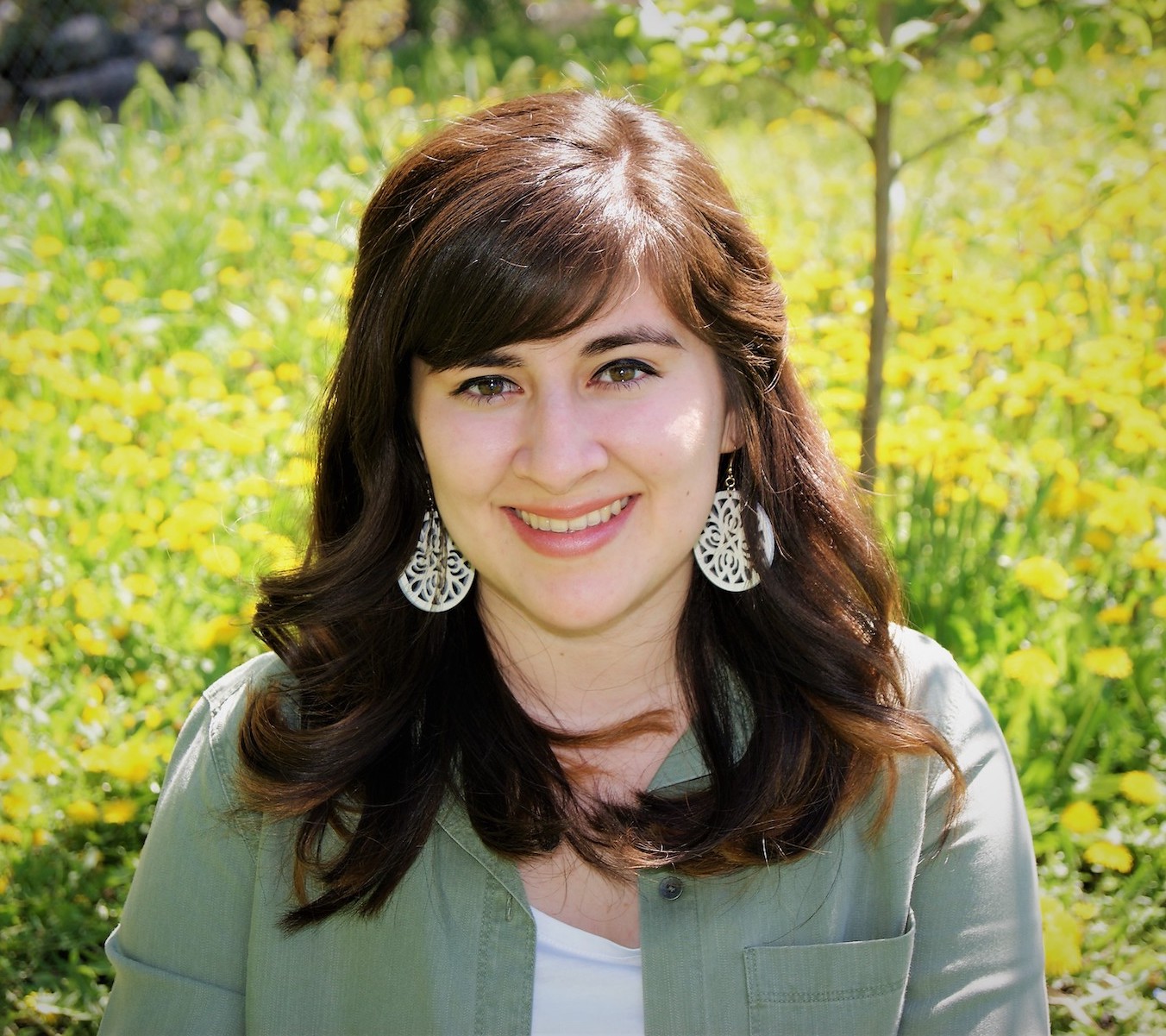 Kaela Rivera was raised to believe in will-o'-the-wisps and el chupacabra, but even ghost stories couldn't stop her from reading in the isolated treetops, caves, and creeks of Tennessee's Appalachian forests.
She still believes in the folktales of her Mexican-American and British parents, but now she writes about them from the adventure-filled mountains of the Wild West. When she's not crafting stories, she's using her English degree from BYU-I as an editor for a marketing company (or secretly doodling her characters in the margins of her notebook). Her debut novel, Cece Rios and the Desert of Souls, comes out April 13, 2021.
Her biggest hope is to highlight and explore the beauty of cultural differences—and how sharing those differences can bring us all closer.