Our Friend is Here! is a guest feature at The Quiet Pond, where authors, creatives, and fellow readers, are invited to 'visit' the Pond! In Our Friend is Here! guest posts, our visitors (as their very own unique character!) have a friendly conversation about anything related to books or being a reader — and become friends with Xiaolong and friends.

Our Friend is Here: Latine Heritage Month Edition is a month-long event at The Quiet Pond between September 15 – October 15, where we invite Latine authors to celebrate being Latine and Latine books! Find the introduction post for Latine Heritage Month here.
When I saw the cover of Fat Chance, Charlie Vega, I knew I had to pick it up. On it, there is a gorgeous, fat Latine teenage girl in a beautiful lace-adorned green dress, a piece of clothing that becomes pivotal in her journey within the pages. It was one of my favorite books this spring and included relationships I won't soon forget, from Charlie's best friendship with Amelia, her budding relationship with Bryan, and her complicated mother-daughter dynamics. I knew immediately that I wanted to have a conversation with Crystal to talk more about all of these dynamics and I am beyond grateful that she has joined us for Latine Heritage Month.
If you have not read Fat Chance, Charlie Vega, well, allow me to acquaint you with my review here, I promise it will be a book that will live in your heart for a long time.
Fat Chance, Charlie Vega by Crystal Maldonado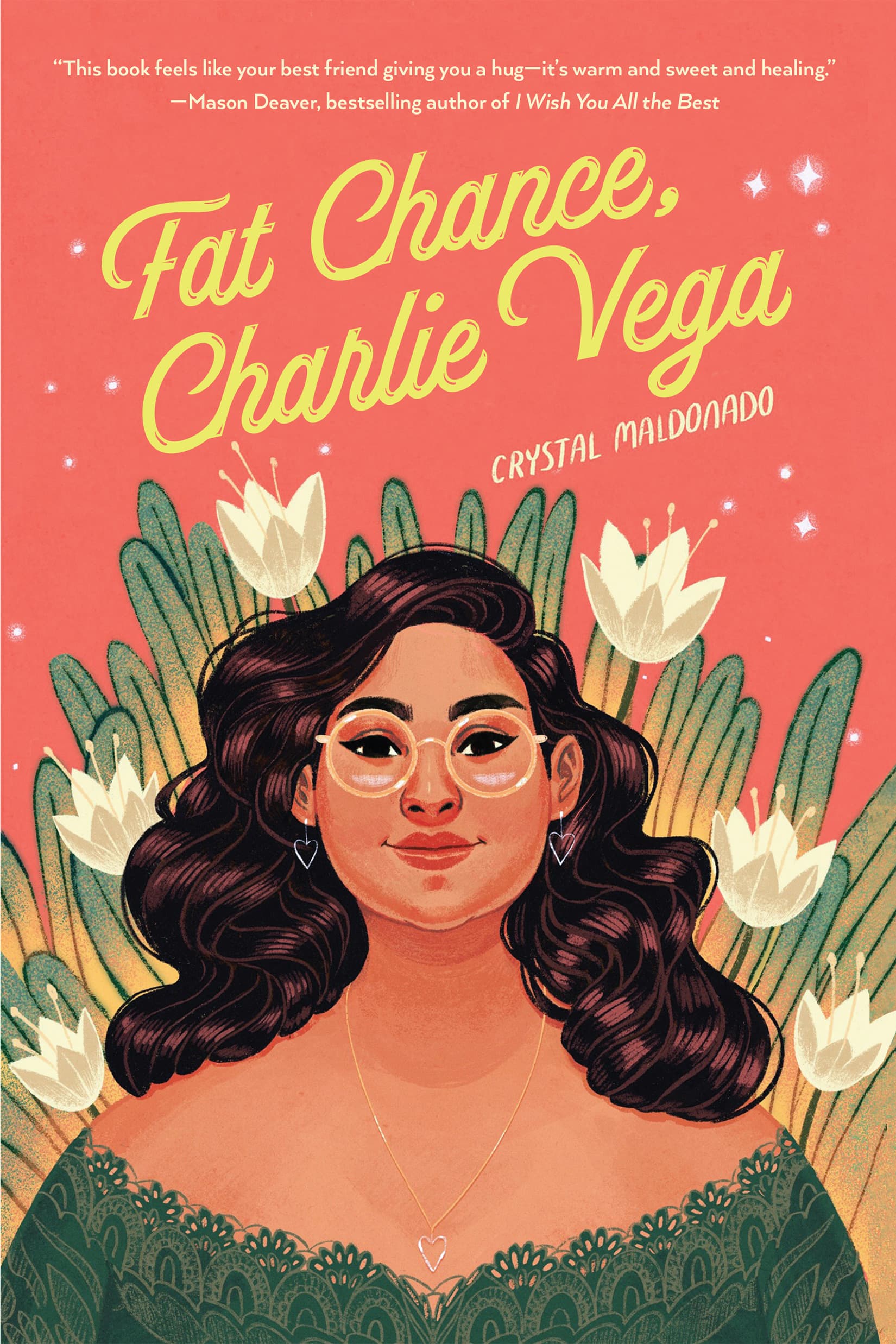 Charlie Vega is a lot of things. Smart. Funny. Artistic. Ambitious. Fat.

People sometimes have a problem with that last one. Especially her mom. Charlie wants a good relationship with her body, but it's hard, and her mom leaving a billion weight loss shakes on her dresser doesn't help. The world and everyone in it have ideas about what she should look like: thinner, lighter, slimmer-faced, straighter-haired. Be smaller. Be whiter. Be quieter.

But there's one person who's always in Charlie's corner: her best friend Amelia. Slim. Popular. Athletic. Totally dope. So when Charlie starts a tentative relationship with cute classmate Brian, the first worthwhile guy to notice her, everything is perfect until she learns one thing–he asked Amelia out first. So is she his second choice or what? Does he even really see her?

Because it's time people did.
Find Fat Chance, Charlie Vega on:
Goodreads | Indiebound | Book Depository | Bookshop | Amazon
Author Interview: Crystal Maldonado
Joce: Hi Crystal, and a warm welcome to the Pond! Can you please start off by introducing yourself?
Crystal: Hi, friends at The Quiet Pond! Thank you so much for having me, and I'm really excited to be at the Pond. The vibes here are superb. I'm the YA author of FAT CHANCE, CHARLIE VEGA and the forthcoming NO FILTER AND OTHER LIES, both from Holiday House, and I have a lot of feelings. Outside of writing, I love glitter, shopping, and Beyoncé!
Joce: What was your process of writing Fat Chance, Charlie Vega like? Were there any surprises along the way?
Crystal: My writing process for my debut vs. my writing process for my sophomore book was so different, which in itself surprised me! For Fat Chance, Charlie Vega, I really took my time. The writing was a luxurious process, and I was able to revisit the story whenever the mood struck—at coffee shops, on lazy Saturday mornings, in evenings when it was raining. It was so nice! But I wrote my next book on deadline during a pandemic while the world was in total chaos, so I think the biggest surprise in both instances was that I actually finished the books. I'd tried so many times before Charlie to write a novel and never made it to the finish line, but both of these felt so right, and I'm very thankful for that. 
Joce: Charlie has a complicated relationship with social media, where people receive conflicting messages about encouraging self-love versus promoting popularity and celebration of thin bodies. How did you approach social media as you crafted Charlie's journey?
Crystal: I tried to incorporate the very real ways in which social media can affect us, both for better or worse. I think it's hard for women especially to constantly be bombarded by messages that tell us we need to be thinner or change ourselves in certain ways, while simultaneously being told we're failing if we're not embracing self-love and waking up totally happy with our appearance every single day. How exhausting! Charlie, like so many of us, can cognitively recognize that she doesn't need to lose weight and that her body is great as it is, but has a hard time applying that mentality to herself. The truth is that self-love is a process, and an imperfect one that I think a lot of people can relate to.
Social media is such a powerful tool, and we see Charlie at the start of the book still somewhat bending under those mixed messages; later in the book, she figures out a better way to curate her feed. She follows fat fashion bloggers, looks at photos of girls with bodies like her, seeks out fashion from fellow fats. That to me is truly where social media's power lies—when we can seek out and celebrate the things about ourselves that have historically made us feel insecure, and find community with others like us.
Joce: I loved every wholesome, and every complex aspect of Charlie's friendship with her best friend Amelia. What would you like readers to know about their friendship?
Crystal: Thank you so much! I really hoped to create a friendship between Charlie and Amelia that mirrored many of the friendships I've been lucky enough to have throughout my life, but also a friendship that felt real. They experience their ups and downs: they feel jealousy and sometimes have communication issues, but at the end of the day, both girls know they would do absolutely anything for one another. I hope we can all find our version of that strong, grounded friendship someday.
Joce: Brian is the kindest, most patient, genuine guy and I could seriously start a fan club for him. What was your inspiration or introductory ideas for his relationship with Charlie?
Crystal: Ahhh, thank you! He really is so wholesome. My inspiration for Brian was twofold. First, I wanted to create this sweet, funny, and gentle character who embraced things that might not be "traditionally masculine" (whatever that means!) and who also got to be the really cute boy that the main character crushed on. Hopefully fellow quiet artists feel a little validated when they see how great Brian is! Beyond that, Brian was very much inspired by my real-life husband, who I met in high school. He is truly the most thoughtful, caring, and patient person in the world, so I wanted to pay tribute to him through Brian. Since I'm Crystal and my husband's name is Bill, I also intentionally gave Charlie a C-name and Brian a B-name as a little wink to our real-life love story.
Joce: Charlie's mom is, for better or for worse, a very familiar figure for many people. What would you like readers to take away from their relationship?
Crystal: Charlie's mom really is complex. The first thing I'd want readers to take away from that character is that if they have someone like this in their life, family or not, the things that person says or does is not okay. I do think Charlie's mom is well intentioned in what she's doing, but it's still not right. That's what makes it so hard for poor Charlie! She loves her mom, but her mom is actively hurting her. So, it unfortunately is up to Charlie to determine boundaries and determine what she will and won't accept. That's enormously difficult, especially with loved ones, and no matter how old we get. But it's an important skill to work on (and one I'm still working on myself!). 
I'd also say we can take a few lessons from Charlie's mom as well, including the importance of caring for your mental health. She's clearly still grieving the loss of her husband and not handling it in the healthiest way. Unfortunately, Charlie suffers for it. In addition, I'm a firm believer that we shouldn't comment on people's bodies—good or bad. It's almost never helpful, and as a fat person who has received comments on her body her whole life, I can confirm that nothing anyone has said has ever magically made me smaller. Let's just fat people live!
Joce: Tell us a little bit about that gorgeous cover! I absolutely adore that the all-important and beautiful green dress is featured on it.
Crystal: I am still so obsessed with this cover and I give all the credit to incredible illustrator Ericka Lugo, who captured Charlie so, so perfectly. Ericka originally designed three options for the cover, but it was this one that stole everyone's heart—the way Charlie looks so serene, her bold stance, the flowers behind her blooming (a little homage to Charlie's own flourishing), her body. It felt so powerful! And that dress. Although the night Charlie has in it is flawed, the green dress comes to symbolize so much about where she's going to go, and it commemorates a night in which she felt beautiful. We all deserve that. If I ever get a chance to revisit Charlie, I would love for the green dress to make a comeback!
Joce: In celebration of Latine Heritage Month, what are a few titles written by Latine authors that you would recommend to our friends?
Crystal: I have SO many Latine titles to share with you all! Some of my absolute faves right now: 
Anything readers can do to help support pandemic book releases, especially by marginalized authors, is huge. So, thank you for allowing me to shout out some of these amazing titles and authors!
Joce: What's next for you? (And I hope it is many, many more books because Charlie is one of my faves!)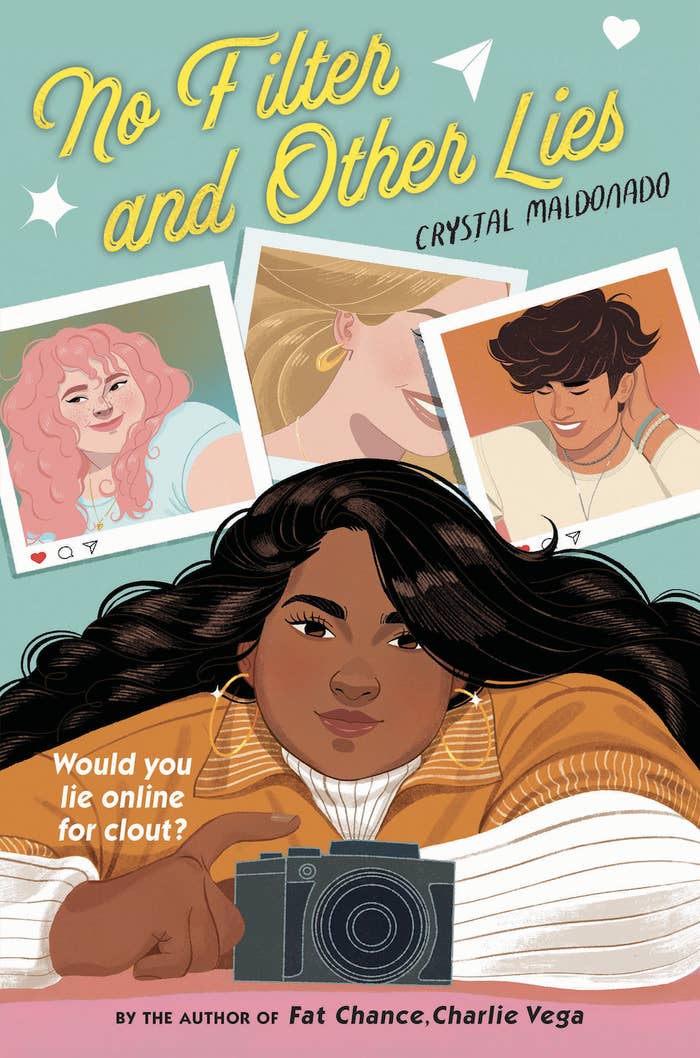 Crystal: You are so sweet! I honestly do hope to write many fat brown girl books in the future—ones about fatness and ones that aren't. My next book releases on Feb. 1, 2022, and it's called NO FILTER AND OTHER LIES. It follows 17-year-old Kat Sanchez, a fat, Puerto Rican photographer who desperately wants to be recognized for her art. After a bad night that leaves her feeling rejected by friends, family, and just about everyone around her, she decides she's tired of being herself. So, she steals a friend's photos and makes a new account as a fake person on Instagram, and suddenly she finally has that clout and a shiny, perfect life she's always dreamed of. Things are going great until she meets someone she likes as this catfish… and it's all downhill from there. This book explores self-image, first love, queerness, and complicated, messy relationships. And there are a lot of sweet, lovable dogs in it, too!
About the Author
Crystal Maldonado is a young adult author with a lot of feelings. Her debut novel, Fat Chance, Charlie Vega, was a Cosmopolitan Best New Book and a POPSUGAR Best New YA Novel. Her next novel, No Filter and Other Lies, explores teenage life in the social media age—and the lies we tell to ourselves and others.
By day, Crystal is a social media manager working in higher ed, and by night, a writer who loves Beyoncé, shopping, spending too much time on her phone, and being extra. Her work has also been published in Latina, BuzzFeed, and the Hartford Courant.
She lives in western Massachusetts with her husband, daughter, and dog.