Our Friend is Here! is a guest feature at The Quiet Pond, where authors, creatives, and fellow readers, are invited to 'visit' the Pond! In Our Friend is Here! guest posts, our visitors (as their very own unique character!) have a friendly conversation about anything related to books or being a reader — and become friends with Xiaolong and friends.

Our Friend is Here: Black History Month Edition is a month-long event at The Quiet Pond during the month of February, where Black authors are invited to celebrate being Black and Black books! Find the introduction post for Black History Month here.
For our friends out there looking for a story that will feel like the most exciting video game you know, look no further! When I heard of Janelle McCurdy's upcoming middle-grade debut, Umbra Tales (UK title: Mia and the Lightcasters; US title: The Lightcasters), a story that gives me monster tamers vibes, has realms of light and darkness, and a high-stakes story with a Black main character, I knew I had to invite Janelle to the Pond so we – well, I! – could learn more about her awesome debut.
Today, I am overjoyed and excited to have Janelle, visiting as a purple red panda wearing cat headphones and holding a PlayStation controller, here at the Pond today for Black History Month 2022! I loved doing this interview with Janelle (and it absolutely amplified my excitement for Umbra Tales) and I know that, by the end, you're going to be excited for Umbra Tales as well.
But in case you haven't heard of Janelle's fantasy middle-grade, let's have a quick look at her stunning UK cover and also the book's blurb!
Umbra Tales by Janelle McCurdy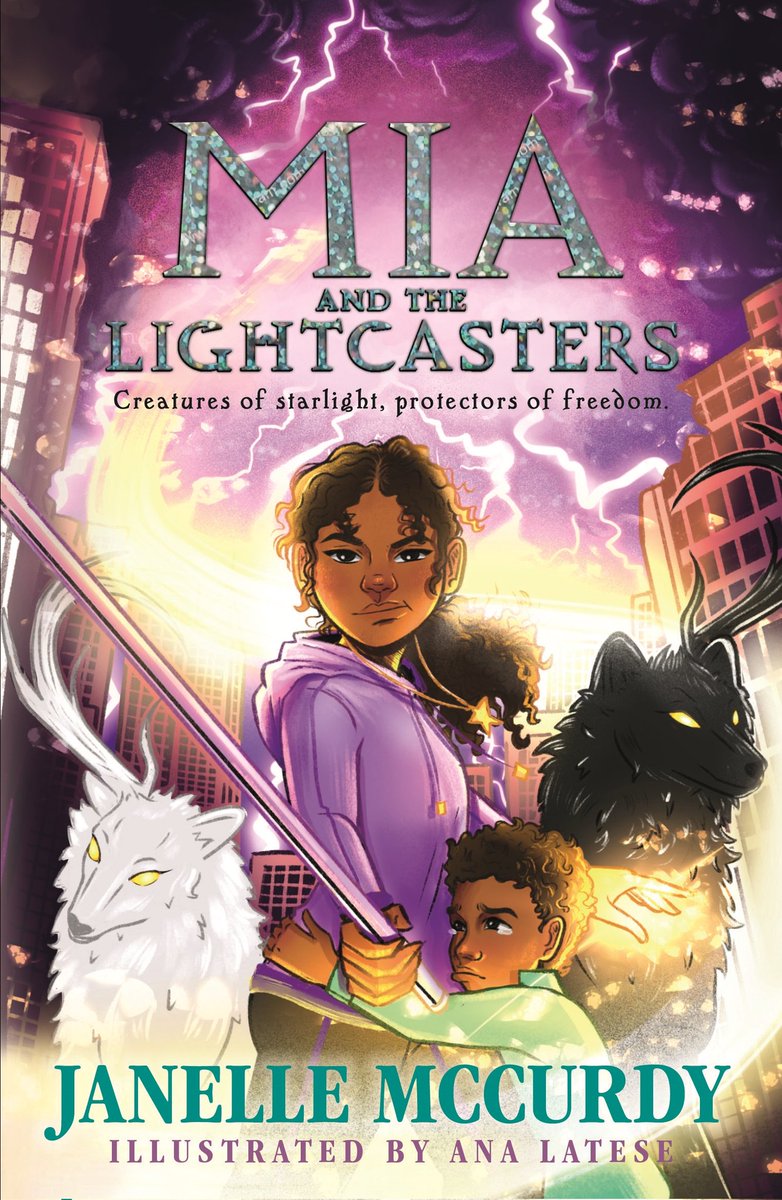 UK title: Mia and the Lightcasters | US title: The Lightcasters
Twelve-year old Mia has always dreamed of being an umbra tamer. Like many other cities, Nubis has been plunged into Darkness by the shadowy Reaper King – a figure the children of Nubis only know in their nightmares, and through horrible rhymes warning them to stay safely inside the city walls.

When the Reaper King's minions capture her parents and take over the city, Mia, her friends and her little brother must travel across the Nightmare Plains to reach Stella, the City of Light. But getting there isn't going to be easy. Mia must learn to harness her umbra taming abilities if she stands any chance of confronting the king and rescuing her parents. If she can't, she'll lose her soul, and her family, to the Darkness forever . . .
Goodreads | Waterstones | Amazon (UK) | Book Depository
Author Interview: Janelle McCurdy
CW: Hi Janelle! A huge welcome to The Quiet Pond; I'm excited to have you visit us today! For our friends out there who are meeting you for the first time, can you tell us about yourself?
Janelle: Hi CW! Thank you so much for having me! Well first and foremost I'm a gamer and lover of anime haha! Inuyasha is one of my favourites and I would literally game and watch anime all day if I could haha. I'm also 26, Black British and from a Jamaican family. Some random facts about me, is that I'm currently learning Japanese, I used to cosplay a lot and I love wearing hoodies and cat ear headbands haha!
I studied Criminology and Sociology at Royal Holloway University and started this journey to becoming an author when I was 16, although I've been writing stories since I was even younger than that.
CW: Your forthcoming debut, Umbra Tales (UK: Mia and the Lightcasters; US: The Lightcasters), sounds like such an exciting middle-grade story. Can you tell us what it's about and tell us your favourite thing about your book?
Janelle: Umbra Tales is about a twelve-year-old girl called Mia McKenna, who always wanted to become an Umbra Tamer – a warrior who fights alongside shadow creatures to push back against the Darkness and the Reaper King's minions who are taking over the cities of Lunis.
When the Reaper King's minions capture her parents and take over her city, Mia, her friends and her little brother must travel across the Nightmare Plains to reach Stella, the City of Light. But getting there isn't going to be easy. She must try and harness her powers to tame an umbra, a creature made of shadow and stars, or risk losing her soul, parents and her city forever.
My favourite thing about Umbra Tales is that it is literally my gamer heart turned into book form. Everything I love about gaming, from world building to enemies is put into this book series. I also love the scary edge it has. I hope other gamers in particular will see and feel this when they read it.
CW: Can you tell us the inspiration behind Umbra Tales, and how your story has evolved since its first draft?
Janelle: One of the inspirations behind writing Umbra Tales is that growing up I didn't see magical fantasy books with Black children front and centre of the stories. I want the children of this generation and future generations to feel seen in my books. I want them to get lost in the world of Umbra Tales, letting their imaginations run wild and basically have characters they can grow up with.
Honestly this story has evolved so much since the first draft. I kinda underestimated just how big the world I created was, but it was a brilliant challenge to have and it was fun to expand and delve into even more!
After a month of editing with my agent, it was snapped up pretty much within a week of going out on submission to editors and once I decided to go with Aladdin (US) and Faber Children's (UK), the hard work began again and it took a year of editing and hard work to get it right, but we made it haha!
I'm also extremely happy to have Ana Latese as my illustrator for the UK edition with stunning illustrations inside. The US cover artist is still a secret for now, but their work is amazing as well!
CW: You are a gamer – hello fellow gamer! – and I'd love to hear about how games have influenced your work. How has gaming influenced your writing, and Umbra Tales, in particular? 
Janelle: Ayeee! I love meeting fellow gamers!
Honestly, gaming had A LOT of influence in my writing haha! The idea for Umbra Tales actually sparked when I was playing Final Fantasy XV and Resident Evil 7 at the time. I'm a huge lover of horror games and have been since I was a child, so that's where the scary edge in Umbra Tales comes from. The huge mystical world of my book came from games like Final Fantasy and Tomb Raider as the worlds in those games are adventurous and beautiful. I was really excited to incorporate that in this series.
CW: Tell us about your journey as an author – what did your journey look like? What is a lesson that you learned that you'd like to share with aspiring authors?
Janelle: It's been a long journey with lots of ups and downs. I officially started querying when I was 16 and it wasn't until eight years later did I get my amazing agent Rachel Mann from Jo Unwin literary agency at the age of 24. I had queried her with Umbra Tales just before my twitter pitch did extremely well online in 2020 and it kick started my first offer of rep from a different agent and I signed with Rachel.
Before that though I had countless rejections on other books I had written. It was the full manuscript request rejections that hurt a lot and my mental health took a bit of a hit each time. Looking back, I'm glad everything played out how it did because nothing happens before it's time, and I wouldn't be where I am today if I had given up.
I attended various writers workshops to meet other writers, agents and how to better my craft. But most importantly, I learned the importance of having a strong support system.
I'm lucky to have a very supporting mum and before my nan passed away she was also a great support system to me as well. My mum is literally my rock and has been with me every step of the way on this journey to fulfilling my dreams and becoming an author. When I needed to vent and cry, she was there. She helped me through my depression and when I finally signed my amazing book deal, she was right there to celebrate with me. I also had my friends and gamer buddies supporting me along the way as well. I would play games on my playstation whenever I needed a distraction from it all. Whilst writing is something I love with all my heart, having a hobby outside of that was great for my mental health.
So in terms of advice for aspiring authors and lessons I learned that may help, it's this: Never give up on your dreams, it may be hard and it may be long, but if you keep going and don't give up, you can't lose. Everyone's journey is different. Also, have a support system, have a friend or a family member you can talk to. The path to becoming an author can be lonely so have someone you can lean on.
CW: Author journeys are often arduous, so let's take a moment to reflect. What was the most challenging part of your author journey? And what are you most proud of?
Janelle: The most challenging part of my journey was getting rejected for the first time on a full manuscript request by an agent. I still remember the exact moment I received the full manuscript request, I was at work and I literally screamed with excitement. It was my first ever full request, and at the time it felt like my dreams were on the brink of coming true. It was for a YA book I had written, and I think I was about 17/18 at the time. The rejection came about a week or so later and I was absolutely crushed. It felt like I was so close to my dream and all of a sudden it was snatched away. My mental health took a real hit and I took a long time out of writing. I felt like I had lost my big chance to be an author.
Looking back, I really understand the term "Everything happens for a reason" and it's weird to say, but I'm glad I was rejected that day. It took me a while, but after allowing myself to sit in the sad emotions, I came back more determined to fight for my dreams. I needed to know the feeling of what it was like to face rejection on this journey, and after that I faced a few more full manuscript rejections from agents. It still hurt each time, but I learned from my mistakes and wrote better books afterward. I understand now that I wasn't ready to be an author back then, but I've grown ten-fold since then and now I'm living my dream.
I'm proud of the fact that I never gave up. I had a break from writing and querying to take care of my mental health, but I came back fighting for my dream once again. It may have taken many MANY years, but I'm finally here and I couldn't have asked for a better agent, publisher and book deal. I'm extremely grateful for this life I live.
CW: Let's do a quick-fire round of favourites! Tell us about:
Your favourite book: Legendborn by Tracey Deonn
Game: Ooo this is a hard one! I'm gonna be cheeky and say two: Resident Evil 7 and Tomb Raider: Legend
Music artist: Ella Mai
Movie: Attack The Block
TV show/series: Black– The Korean Netflix show
Place to be: A cabin in Woburn Forest. Although, it'll be a DREAM when I can go to Japan!
Something you can't live without: My Playstation haha!
CW: Thank you so much for visiting us at the Pond, Janelle! It was a pleasure to have you. My last question is one that I ask all of my guests: What is a food that reminds you of 'home' – wherever or whoever that may be?
Janelle: Thank you so much for having me. It's been a lot of fun!
What a great last question! A food that reminds me of home is Jamaican curry chicken! Especially how my mum makes it. She makes the best curry chicken ever!
About the Author
Janelle is an author and fully-fledged gamer. Having started writing and querying at only sixteen years-old, she joined Jo Unwin Literary Agency in her early twenties. After graduating from Royal Holloway University with a Criminology and Sociology degree, Janelle moved back home to London, and began writing middle-grade fantasy.
In her free time, you can find her holed-up in her room, gaming and watching anime (some of her favourites being Inuyasha, Dragon Ball Z and Death Note), or attending numerous comic cons and gaming events.
Agent: Rachel Mann