Synopsis:
Nothing is more important than loyalty.
But what if you've sworn to protect the one you were born to destroy?

Tarisai has always longed for the warmth of a family. She was raised in isolation by a mysterious, often absent mother known only as The Lady. The Lady sends her to the capital of the global empire of Aritsar to compete with other children to be chosen as one of the Crown Prince's Council of 11. If she's picked, she'll be joined with the other Council members through the Ray, a bond deeper than blood. That closeness is irresistible to Tarisai, who has always wanted to belong somewhere. But The Lady has other ideas, including a magical wish that Tarisai is compelled to obey: Kill the Crown Prince once she gains his trust. Tarisai won't stand by and become someone's pawn—but is she strong enough to choose a different path for herself?
CW's Review:
I feel incredibly out of depth writing this book review. I mean, I spent a solid twenty minutes trying to come up with a book review title that would adequately and succinctly describe the beautiful mess of feelings that I have for Raybearer. There are many, many, many reasons why I think Raybearer is fantastic – and I'll do my best to articulate them well, because, wow, I feel so much for this book. In the fewest words possible, I genuinely think that Raybearer may be my 'the fantasy of the year'.
Even summarising what this book is about is a challenge – because this book is just, wow! – but I'll do my best. Raybearer follows Tarisai, a young girl bound by a magical wish by her absent and distant mother: kill the Crown Prince. When Tarisai is sent to the capital to compete to be part of the Crown Prince's council, Tarisai finally finds what she had always craved: love, belonging, connection. Torn between her genuine love for the Crown Prince and a magic that compels her to fulfil the wish, Tarisai must fight the destiny laid out to her – or succumb to being a pawn and destroy everything she has grown to love.
But to be honest, I feel like the summary above doesn't quite do it justice, so I can't help but elaborate a bit more. Without giving away too many details of the story, because I feel like this is the sort of book that you will enjoy more if you don't know too many details, the worldbuilding and the story come together beautifully with its fascinating magic system. In the world of Raybearer, some people possess 'Hollows' – a magic ability. For Tarisai, she possesses a powerful Hollow which enables her to see or manipulate the memories of those she touches. Central to the story is a Hollow passed down through royal lineage, a Hollow called 'the ray', which enables those of royal blood, specifically the Emperor and the Crown Prince (that Tarisai is wish-bound to kill). Every boy of the royal family must choose a council of eleven, thereby choosing eleven people from each realm and sharing a lifelong bond where they can communicate telepathically and communicate emotions. This is the council that Tarisai must infiltrate, grow close to the Crown Prince, and then kill him once she joins his council.
In my title for this book review, I said that Raybearer will sweep you off your feet – and I meant that wholeheartedly. Raybearer chronicles Tarisai's growth as a young neglected child to a child who feels the light and love of bonds to a young woman who fights her fate. After I finished Raybearer, I felt like I had returned from this grand, once-in-a-lifetime adventure and had grown with Tarisai. There are twists and turns that made me gasp and my heart ache, and the way that Ifueko subverts common fantasy tropes was so delightful and exciting. Raybearer is about Tarisai's journey but, thematically, it's also about friendship, love in all forms, belonging, generational trauma, justice, being a woman in a patriarchal system, and fighting our fate.
Tangentially related, the first thing I want you to know about Raybearer is that, despite being 368 pages, it feels like it was so much longer – and I mean this in the absolute best way possible. The pacing of this book was incredible. Often when I say that a book felt much longer than its pages, it's usually a bad thing. With Raybearer? It was a gift; that Ifueko had given me such a powerful and illuminating story that feels so immense and rich in a book less than 400 pages. To me, that's a phenomenal achievement, and is owed to Ifueko's fantastic storytelling that is amazingly well-paced and carefully plotted.
Part of what makes this book feel so immense and rich is the thoughtful and beautifully crafted worldbuilding. I was in awe of how visual and vivid and lush the world felt, and it is so evident that Ifueko had put countless hours into constructing her world. Influenced by West-African mythology and legends, I loved that it is filled with unique cultures, religions, belief systems, and traditions that never feel superfluous or overwhelming. It's difficult to pull off that balance of 'just enough detail to feel meaningful and whole without feeling vague', and I feel like Ifueko pulls it off. By the book's end, it felt so real – and for a fantasy that achieves such a feeling of wholeness in its short length? Amazing.
The characters in Raybearer also deserve so much love and praise. From the main characters like Tarisai to The Lady to the Crown Prince, every single character is fleshed out, complex, and so interesting. And just when you think you have gotten a firm grasp of who the character is and their motivations, the story peels away a layer, revealing that they are more complex and more interesting that you may initially believe.
Tarisai was also an incredibly compelling main character; her motivations and her genuine good and just heart conflict with her destiny and how she grapples with conflict is so interesting. As a reader, you witness her lose and win and grow and regress, see her witness every single shade and colour of life, see her fight for herself and those she loves, and see her at her most vulnerable. Tarisai's emotional journey is amazing and a highlight of Raybearer, and I'm excited for you all to meet her when you read this book.
MY CONCLUSION: HIGHLY RECOMMENDED
I don't quite know what to say, other than I hope that my book review of Raybearer has done it some semblance of justice. This is such an incredibly fantastic book – amazing beyond words, to be honest – and is, I'm calling it, my 'must-read fantasy book of the year'. Read it, read it, read it.
---
Is this book for you?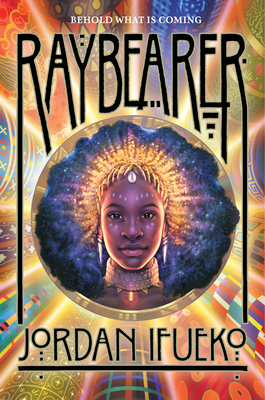 Premise in a sentence: Follows Tarisai, a girl who wants nothing more than the love and warmth of family. When her mother, known as 'The Lady', sends her to compete with other children to become part of the Crown Prince's Council, she also sends her on a mission to kill him.
Perfect for: Readers who love a complex, immersive, and rich fantasy; readers who like interesting and morally-grey characters with complex motivations.
Think twice if: You aren't a fan of slow-burn story/plot developments.
Genre: young adult, fantasy
Trigger/content warning: attempted murder, child abuse (neglect), graphic violence, death of loved one, death of children
Goodreads | Blackwells | Indiebound | Book Depository | Bookshop | My short review on Goodreads